Published December 2021
Toluene is used in the manufacture of benzene, p-xylene for polyethylene terephthalate (PET) resins, and toluene diisocyanates (TDI) for polyurethane applications, and is widely used as a solvent. The majority of toluene production is unrecovered (i.e., not isolated from other aromatic constituents) and is consumed as a constituent of various refinery streams, primarily in gasoline. Additional quantities of isolated toluene are blended into unleaded gasoline for octane enhancement. This report focuses on toluene that is recovered for subsequent processing in chemical operations.
Nearly half of all toluene consumed was for the production of on-purpose benzene, mixed xylenes, and pxylene in 2021. This market has increased steadily in the last five years, leading to adjustments in operating rates for hydrodealkylation/toluene disproportionation (HDA/TDP) units. Strong demand for benzene and pxylene derivatives led to increased operation of HDA/TDP units before the economic downturn in 2008. Then, a surge of new p-xylene capacity in Asia, India, and the Middle East also put pressure on toluene disproportionation units, so toluene demand from TDP and selective toluene disproportionation (STDP) has declined, while consumption in transalkylation units has increased.
The following pie chart shows world consumption of toluene: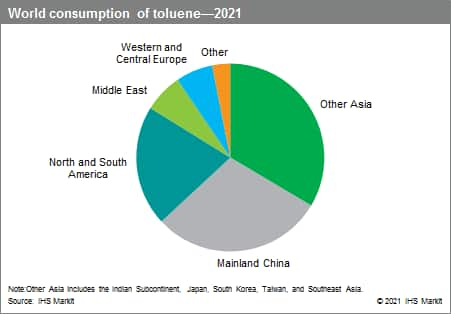 Over the next five years, good demand from the polyester sector will result in higher volumes of toluene being converted into mixed xylenes and p-xylene. Direct conversion of toluene into benzene via the hydrodealkylation process will continue to decline. Total consumption of toluene for benzene/xylenes is forecast to increase steadily over the next five years, following the start-up of facilities in Northeast Asia, Southeast Asia, and India.
For more detailed information, see the table of contents, shown below.
S&P Global's Chemical Economics Handbook – Toluene is the comprehensive and trusted guide for anyone seeking information on this industry. This latest report details global and regional information, including
Key Benefits
S&P Global's Chemical Economics Handbook – Toluene has been compiled using primary interviews with key suppliers and organizations, and leading representatives from the industry in combination with S&P Global's unparalleled access to upstream and downstream market intelligence and expert insights into industry dynamics, trade, and economics.
This report can help you
Identify trends and driving forces influencing chemical markets
Forecast and plan for future demand
Understand the impact of competing materials
Identify and evaluate potential customers and competitors
Evaluate producers
Track changing prices and trade movements
Analyze the impact of feedstocks, regulations, and other factors on chemical profitability