Published August 2023
Sorbitol is the largest-volume sugar alcohol. It offers a unique combination of functional properties — humectancy, sweetness, bulking, stabilization, softening and emulsification — at an attractive price. Because of its sweet taste, it is widely used as a partial replacement for sucrose (table sugar) in sugar-free foods, chewing gums and candies. In addition, sorbitol serves as a sweetener, humectant, and bodying agent in toothpaste and mouthwash and as a starting material for vitamin C production.
The following pie chart shows world consumption of sorbitol: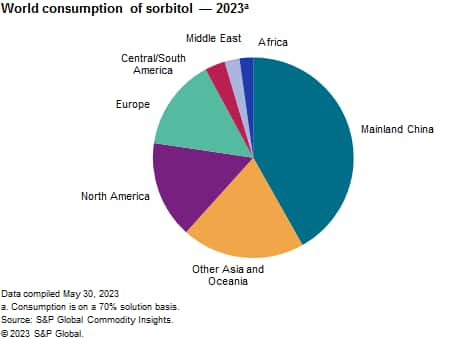 Use in personal care products (mainly toothpaste), food and confections, and vitamin C production account for the bulk of global sorbitol consumption in 2023. Other end uses include surfactants (sorbitan esters and polysorbates), pharmaceuticals and polyether polyols for polyurethanes.
Sorbitol competes with glycerin and other sugar alcohols, including xylitol and maltitol. In toothpaste, sorbitol faces competition from glycerin. Supplies of refined glycerin have increased — and prices have fallen — as worldwide biodiesel production has increased. Glycerin is a by-product of biodiesel manufacture.
For more detailed information, see the table of contents, shown below.
S&P Global's Chemical Economics Handbook –Sorbitol is the comprehensive and trusted guide for anyone seeking information on this industry. This latest report details global and regional information, including

Key benefits
S&P Global's Chemical Economics Handbook –Sorbitol has been compiled using primary interviews with key suppliers and organizations, and leading representatives from the industry in combination with S&P Global's unparalleled access to upstream and downstream market intelligence and expert insights into industry dynamics, trade and economics
This report can help you
Identify trends and driving forces influencing chemical markets
Forecast and plan for future demand
Understand the impact of competing materials
Identify and evaluate potential customers and competitors
Evaluate producers
Track changing prices and trade movements
Analyze the impact of feedstocks, regulations and other factors on chemical profitability