In April 2017, S&P Global Ratings launched its Green Evaluation global benchmark and published its analytic approach. This report answers some questions we are asked most frequently about our analytical approach.
Frequently Asked Questions
What is a Green Evaluation?
S&P Global Ratings' Green Evaluation is a point-in-time assessment of the relative environmental impact of a financing transaction or portfolio (for more information, see "Green Evaluation Analytical Approach," published April 26, 2017, on RatingsDirect). For environmental mitigation projects, the evaluation is a second opinion. The opinion considers the transaction's transparency, its governance, and the funded technologies' relative net environmental impact. The analysis scores the debt or equity transaction on a scale of 0 to 100. A higher score indicates a higher relative net environmental impact over the funded assets' life (see chart). Similarly, for adaptation projects, we evaluate the transaction's transparency and governance as well as assessing the cost-and benefit to derive a resilience level. The resilience level is mapped (and may be adjusted) to establish the adaptation score on a scale of 0-100.
For mitigation projects, we map the combined Transparency, Governance, and Mitigation score (0 to 100) to a scale of E1 to E4, where E1 is more beneficial. We do the same for the combined scores of resilience projects, where we use a scale of R1 to R4, R1 being more beneficial.
S&P Global Ratings does not limit Green Evaluations to labeled green bonds. We can also evaluate unlabeled bonds, equity transactions, bank loans, private placements, project finance debt, hybrids, portfolios, asset-backed securities and other financial transactions. Informing our evaluation are the processes and measures in the offering documents or other reports and committed to by the issuer.
A Green Evaluation is not a credit rating.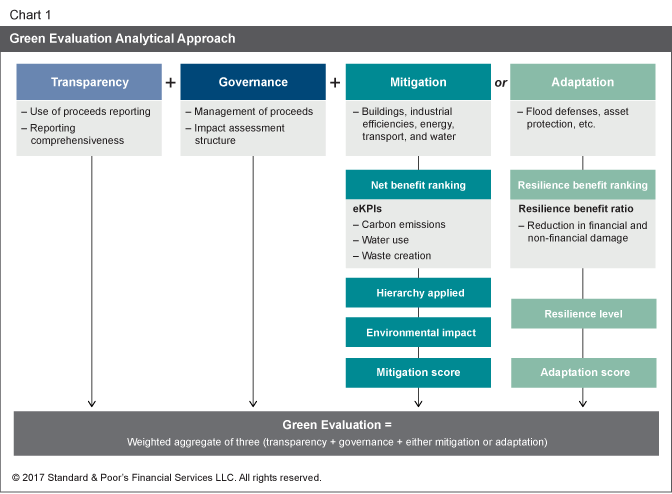 At what stage of a financing can S&P Global Ratings complete an evaluation?
At any stage. To date, we have completed our point-in-time Green Evaluation before issuance (Green Evaluation of a program -- Mexico City Airport Trust and Bazalgette Finance plc (Tideway) are two examples), before close of a refinancing (White Pines Hydro), and two years after financial close (Cross Sound Cable LLC).
A Green Evaluation looks at an asset's relative net environmental benefit over its expected life -- including construction, operations, and retirement. However, we can score the evaluation at any time during the asset's life: preconstruction, during construction, and during operations.
What technologies are in scope?
Table 1
Technologies In Scope -- Carbon Hierarchy
Green energy
Green transport
Green buildings
Energy efficiency
Nuclear power
Fossil fuel
Photovoltaic solar power generation
Urban rail (under and over ground)
Construction of new buildings
Energy efficient products (for instance, lighting, heating, and cooling equipment; electronics; appliances; office equipments; or commercial food services equipment)
New buildings
New clean coal power generation plants (super critical, ultra-supercritical, or advanced ultra-supercritical)
Concentrated photovoltaic solar power generation
Electric vehicles
Retrofit of existing buildings
Industrial efficiencies (for instance, steel making, aluminum production, pulp and paper production)
Coal to gas conversions
Solar thermal
Hybrid vehicles
Energy efficient heating, ventilation, and air conditioning systesm (HVAC)
Coal plant efficiency upgrades
Small hydropower generation (<30 MW)
Hydrogen fuel cell vehicles
Double glazing of glass windows to improve thermal insulation
Oil refinery energy efficiency improvements
Large hydropower generation (>30 MW)
National rail and freight systems
High-efficiency pool heating
Onshore wind power generation
High speed rail systems
Smart meters
Offshore wind power generation
Light rail/metro systems
High efficiency water heating
Wave and tidal power generation
Bus systems
Roof and wall insulation
Landfill gas power generation
Efficient LED lighting
Geothermal power generation
Biomass power generation
Table 2
Technologies In Scope -- Water Sector Hierarchy
Conservation measures (residential, commercial and industrial)
Smart metering (residential)
Water distribution utility water loss reduction
Desalination to supply potable municipal water
Recycling wastewater to supply potable water
Recycling wastewater to supply non-potable water for agriculture or industrial use
Wastewater treatment, with or without energy recovery
Has S&P Global Ratings used in-scope technologies as a proxy for out-of-scope projects?
Yes. In a number of instances, we believed renewables appropriately represented the environmental benefit of an electricity transmission project. We evaluated a recent transaction by TenneT Holding B.V. raising funds for a dedicated transmission line using offshore wind as a proxy. The transmission line was an integral part of the overall project to bring wind-powered electricity onshore, displacing more carbon-intense electricity on the local grid. The second example was the Cross Sound Cable LLC financing. The cable transmits renewable energy from New England to displace largely carbon-based electricity generation in Long Island. We used a proxy of 50% onshore wind power and 50% hydroelectric power generation based on the characteristics of the New England grid.
What groupings does S&P Global Ratings use to determine the Net Benefit Ranking of a mitigation project amongst its global peers?
In deriving the Net Benefit Ranking score for each green energy project, we consider all the renewable technologies listed in scope together. The actual renewable energy that an asset produces over its life will vary considerably depending on the type of renewable technology. Therefore, our approach tends to place small hydro assets at the top of the heap within the renewable sector (in most regions, hydroelectric generation facilities typically have a higher capacity factor than wind or solar assets, as well as a longer life, thereby generating a larger relative net environmental benefit).
In contrast, within the fossil fuel sector there are four peer groups: new clean coal, coal to gas conversions, coal-fired power plant upgrades, and oil refinery energy efficiency upgrades. The new clean coal peer group includes various super critical technologies. The power plant improvements peer group include upgrades to existing conventional technology such as coal drying, optimization of various key components (condensers, heat exchangers, boilers, and the like), and flue gas moisture recovery.
Within the water sector the peer groupings are more granular as each technology listed constitutes its own peer group (see table 3).
Table 3
Peer Groups
Green energy
Green transport
Green buildings
Energy efficiency
Nuclear power
Fossil fuel
Water
All renewable technologies constitute a single peer group
National rail systems
New build
Energy-efficient products
New nuclear plants and nuclear refurbishments
New clean coal power generation plants (super critical or more efficient)
Conservation residential buildings
Urban rail systems
Building refurbishment projects
Industrial efficiencies
Coal to gas conversions
Conservation commercial buildings
Efficient vehicles
Coal plants
Conservation industrial industries
Bus rapid transit
Smart meters in residential buildings
Water distribution network improvements
Seawater desalination plant construction
Water reuse plant construction
Agricultural recycled water
Other industry recycled water
Wastewater treatment potable water -- no energy recovery
Wastewater treatment potable water with energy recovery
How does S&P Global Ratings rank an adaptation project's resilience benefit?
The lowest resilience level indicates an adaptation project that would provide a lower resilience benefit than the financing amount. (The resilience benefit is the forecast reduction in the cost of expected damages caused by extreme weather events. It is based on the issuing entity's analysis, to which we can apply quantitative adjustments.)
To achieve the highest resilience level (1), the resilience benefit ratio (the ratio of the resilience benefit and the financing) must be at least 4x. We use this level because it is approximately the average and median figures achieved by adaptation projects as reported in academic studies. Our rationale is that this represents a significant resilience benefit relative to the cost of constructing the project. At the same time, we do not consider it appropriate to differentiate above the 4x level because to do so could reward projects that address highly vulnerable infrastructure, but on a smaller scale, instead of addressing vulnerabilities on a bigger scale, which carry lower resilience benefit ratio.
Will S&P Global Ratings expand the scope of its analytical approach to mitigation projects?
We do expect to broaden the scope of our analytic approach to include other technologies and sectors. In the spirit of transparency, before conducting any Green Evaluations, we would first publish our general approach to a new sector including which environmental key performance indicators (eKPIs) we would expect to use and where that sector was likely to fit within our carbon or water hierarchies.
Why does S&P Global Ratings distinguish between small and large hydro?
In our calculations of the carbon cost of a technology, we include greenhouse gases such as methane. We distinguish between small and large hydro because we believe that larger hydro facilities tend to be associated with larger reservoirs, which can result in methane production associated with rotting vegetation. This phenomenon is exacerbated in tropical climates, so we have allocated large hydro in tropical areas to a lower position in our carbon hierarchy. We also distinguish between the small and large hydroelectric facilities based on regional-specific historical capacity factor data.
How did S&P Global Ratings decide to differentiate between small and large hydro at such a low level (30 MW)?
The industry differentiates small versus large hydroelectric generation facilities at various levels. There does not seem to be one accepted number: some classify small hydro power (SHP) as low as 10 MW (International Energy Agency); China uses a bar of 25 MW; the U.N. refers to SHP as anything up to 50 MW. Classifications also vary across countries in South America ranging from up to 20 MW or to 30 MW. We chose 30 MW as being in the mid-range of global definitions, and is the threshold that the U.S. Department of Energy also uses.
Why does S&P Global Ratings only consider three eKPIs? Will it include others?
In our analytical approach, we identify the eKPIs that we use in our environmental net benefit calculations. We consider one-to-three of carbon, waste, and water typically associated with the construction, operation, and asset retirement of each technology within scope. Under carbon, we estimate all greenhouse gas emissions including methane, not just carbon dioxide.
We weight the impact of each selected eKPI on the net benefit depending on how relevant that eKPI is to the technology. Each eKPI for a given sector has a weighting, informed by using environmental valuations to understand the most material environmental impact of a particular activity. For instance, we weight water more heavily for water projects and carbon more heavily for fossil-related technologies. (Refer to paragraph 79 of our analytical approach) However, we could consider integrating additional eKPIs into our analysis if they are material to a new technology and we believe there is enough robust, comparable, global data available.
Under what conditions would S&P Global Ratings evaluate only a portion of a transaction?
There are several circumstances. One possibility applies to a financing transaction that is entirely devoted to environmentally beneficial projects that fit the sponsor's green selection criteria. However, we can only evaluate the portion of funds for technologies that fall within our in-scope list. An example of this situation is the Mexico City Airport Trust Green Evaluation, where we evaluated only 98% of the US$6 billion program. This was because 2% of the funds in this case were expected to be allocated to technologies that are not within our current scope.
There might be other circumstances where we are asked to evaluate a financing transaction where only a portion of the funds are intended for environmentally beneficial projects. In this case, not only would we only evaluate the portion going to green projects -- as defined by the entity seeking the financing -- but, based on our analytical approach, it would have a modest, negative impact on our governance score.
A single transaction could also receive an overall score between E1 and E4 for a portion of the proceeds allocated to mitigation projects and a second overall score between R1 to R4 for another portion of the transaction allocated to adaptation (resilience) projects.
Can S&P Global Ratings evaluate debt programs?
Yes. However, of importance, our Green Evaluation is a point-in-time assessment, so the evaluation would not apply to later issuances in the program.
Can S&P Global Ratings evaluate equity offerings?
Yes, as long as the equity is being allocated to green projects. Given the typical nature of an equity offering -- unless the issuer uses a green governance framework -- Transparency and Governance might be weaker than, for instance, a typical project financing where a lender benefits from strong legal structures, cash flow management, and reporting mechanisms. The nature of the capital (debt or equity), however, does not influence our evaluation of the Mitigation score of the assets being financed.
Can S&P Global Ratings evaluate portfolios?
Yes. We can evaluate a transaction (debt or equity) funding a portfolio of physical assets. For the most meaningful result, we would generally look for a list of the assets, their technology, their location, and the funds allocated (or to be allocated) to each. If these are not available, we would generally expect to use more conservative assumptions. If the sector is known (for instance, renewable energy) but the type of technology is not yet decided (for instance, solar, biomass, or onshore wind) we would expect to classify the technology as unknown and rank that portion of the funding transaction at the bottom of its peer group in determining the Net Benefit Ranking. However, we would still apply our carbon hierarchy adjustment given in this example we know the sector. Our White Pines Hydro analysis shows how we would conduct a Green Evaluation of a portfolio of physical assets.
We can also evaluate a transaction -- such as those from a supranational or a bank -- where funds are allocated to a variety of distinct assets with separate ownership, in multiple green sectors and countries. We would base the results on the projects' weighted-average Mitigation (based on funds allocation) combined with the transaction's Transparency and Governance scores. If only a proportion of the funds have been allocated and there aren't specifics about the remaining fund allocation within each sector, we would make conservative assumptions based on the entity's allocation criteria. In the absence of disclosure, we assume the technology within the sector and country mix with the lowest net benefit. (see paragraph 57 of our analytical approach). Without an indication of planned fund allocation between sectors (green energy, green building, transport, etc.), we are not able to evaluate a Mitigation score.
Can S&P Global Ratings assess asset-backed securities (ABS) transactions? If so, what information would S&P Global Ratings typically need to score the transaction?
Given sufficient disclosure and control of the asset base, we can evaluate an ABS transaction with green assets that fall within the scope of our approach. Our Transparency and Governance scores would reflect the portfolio's characteristics not the individual assets. S&P Global Ratings would ask for documentation describing the environmental standard set, how the assets to be included in the portfolio were to be vetted, and where the assets were located (regional asset value allocation).
Can S&P Global Ratings evaluate a green bond fund?
Yes, we can evaluate a fund made up of investments in green bonds. We would rely on publically available information about each green bond in the portfolio to determine a weighted-average Mitigation score. Without this information, we can't proceed.
In scoring Transparency and Governance of the fund, we would assess its framework for managing and reporting on investments, not for each individual bond (see paragraph 41 of our analytical approach).
Of importance, a Green Evaluation is point-in-time and holdings within green bonds funds tend to shift from quarter to quarter.
Why does S&P Global Ratings remove Green Evaluation reports from its public website after 18 months?
Our Green Evaluation is a point-in-time evaluation informed by past practice, future intentions of the entity sponsoring the transaction, and data that we update intermittently. We do not monitor our Green Evaluation reports after the point-in-time evaluation is completed. Given all this, we believe it generally makes sense to take down a point-in-time report on our website 18 months post-evaluation. There are several reasons for this. A project might be cancelled, the transaction might be refinanced, the asset might not perform to industry standards, the entity might not live up to the reporting commitments, or we may update the reference data we use for our Net Benefit Ranking calculations. Any of these outcomes could result in the environmental impact being different from what we had envisioned.
A Green Evaluation is confidential until the client requests that we publish the report. However, the 18-month clock starts when we complete the confidential evaluation, not on the publication date. Therefore, when we publish an evaluation, it might not remain on our public website for 18 months.
How many Green Evaluations has S&P Global Ratings completed?
Since we launched the product seven months ago, we have published 14 evaluations. We have published evaluations in the green energy, green building, waste water, and green transportation sectors. While the bulk of them are in Europe and the U.S., we have also evaluated issuers from the Asia-Pacific region, Europe, the Middle East, Africa, , the U.S., and Latin America. We published our first Green Evaluation two years post-financing on an unrated entity, while several others have dealt with refinancings at time of launch. Only some of the transactions were self-labeled as green bonds. All public evaluations to date have focused on mitigation projects.
How have they scored so far?
To date, most public evaluations have scored E1, the highest score on our scale of E1 to E4. There is one public E2. We also publish the overall evaluation scores on a scale of 0 to 100. Within the E1 category, public Green Evaluation scores have ranged from 77 to 95. The lowest public Mitigation score to date is 69, capping the overall score at an E2.
Most scores have been high to date because we have been asked mainly to evaluate transactions funding green energy projects and portfolios (48% of the total), which we believe contribute most to systemic decarbonization in our carbon hierarchy. We have evaluated three water projects, which also scored well, given they were at the top of our water hierarchy. The average Transparency score is 81, with the lowest at 44. The average Governance score is 84, with the lowest at 63.
We recently completed a retrospective study of self-labeled green bonds meeting the Climate Bond Initiative (CBI) eligibility criteria. The study suggests that self-labeled green bonds meeting CBI eligibility are likely to score from 50 to 100. Based on public information only, close to two-thirds (63%) in the sample scored E2.
While providing a useful reference point, the study is not representative of the wider unlabeled green finance universe excluded under the CBI criteria. Our sample selection criteria explain the limited number of bonds at the low end of our scale (E3 and E4). CBI eligibility excludes projects with limited environmental contribution, such as upgrades of fossil-fuel technologies. Our scale from E1 to E4 incorporates these upgrades, which generally score at the bottom half of our scale.
Related Research
Green Evaluation Analytical Approach, April 26, 2017
How Do Labeled Green Bonds Measure Up?, Nov. 8, 2017
Green Bonds Are Increasingly Expanding France's Public Sector Investor Base, Sept. 26, 2017
Green America: The Prospects For The Development Of The Green Bond Market In The U.S., Sept. 5, 2017
What's Next For U.S. Municipal Green Bonds?, Sept. 7, 2016
The Paris Agreement: A New Dawn For Tackling climate Change, Or More Of The Same?, Jan. 18, 2016
No content (including ratings, credit-related analyses and data, valuations, model, software or other application or output therefrom) or any part thereof (Content) may be modified, reverse engineered, reproduced or distributed in any form by any means, or stored in a database or retrieval system, without the prior written permission of Standard & Poor's Financial Services LLC or its affiliates (collectively, S&P). The Content shall not be used for any unlawful or unauthorized purposes. S&P and any third-party providers, as well as their directors, officers, shareholders, employees or agents (collectively S&P Parties) do not guarantee the accuracy, completeness, timeliness or availability of the Content. S&P Parties are not responsible for any errors or omissions (negligent or otherwise), regardless of the cause, for the results obtained from the use of the Content, or for the security or maintenance of any data input by the user. The Content is provided on an "as is" basis. S&P PARTIES DISCLAIM ANY AND ALL EXPRESS OR IMPLIED WARRANTIES, INCLUDING, BUT NOT LIMITED TO, ANY WARRANTIES OF MERCHANTABILITY OR FITNESS FOR A PARTICULAR PURPOSE OR USE, FREEDOM FROM BUGS, SOFTWARE ERRORS OR DEFECTS, THAT THE CONTENT'S FUNCTIONING WILL BE UNINTERRUPTED OR THAT THE CONTENT WILL OPERATE WITH ANY SOFTWARE OR HARDWARE CONFIGURATION. In no event shall S&P Parties be liable to any party for any direct, indirect, incidental, exemplary, compensatory, punitive, special or consequential damages, costs, expenses, legal fees, or losses (including, without limitation, lost income or lost profits and opportunity costs or losses caused by negligence) in connection with any use of the Content even if advised of the possibility of such damages.

Credit-related and other analyses, including ratings, and statements in the Content are statements of opinion as of the date they are expressed and not statements of fact. S&P's opinions, analyses and rating acknowledgment decisions (described below) are not recommendations to purchase, hold, or sell any securities or to make any investment decisions, and do not address the suitability of any security. S&P assumes no obligation to update the Content following publication in any form or format. The Content should not be relied on and is not a substitute for the skill, judgment and experience of the user, its management, employees, advisors and/or clients when making investment and other business decisions. S&P does not act as a fiduciary or an investment advisor except where registered as such. While S&P has obtained information from sources it believes to be reliable, S&P does not perform an audit and undertakes no duty of due diligence or independent verification of any information it receives. Rating-related publications may be published for a variety of reasons that are not necessarily dependent on action by rating committees, including, but not limited to, the publication of a periodic update on a credit rating and related analyses.

To the extent that regulatory authorities allow a rating agency to acknowledge in one jurisdiction a rating issued in another jurisdiction for certain regulatory purposes, S&P reserves the right to assign, withdraw or suspend such acknowledgment at any time and in its sole discretion. S&P Parties disclaim any duty whatsoever arising out of the assignment, withdrawal or suspension of an acknowledgment as well as any liability for any damage alleged to have been suffered on account thereof.

S&P keeps certain activities of its business units separate from each other in order to preserve the independence and objectivity of their respective activities. As a result, certain business units of S&P may have information that is not available to other S&P business units. S&P has established policies and procedures to maintain the confidentiality of certain non-public information received in connection with each analytical process.

S&P may receive compensation for its ratings and certain analyses, normally from issuers or underwriters of securities or from obligors. S&P reserves the right to disseminate its opinions and analyses. S&P's public ratings and analyses are made available on its Web sites, www.standardandpoors.com (free of charge), and www.ratingsdirect.com and www.globalcreditportal.com (subscription), and may be distributed through other means, including via S&P publications and third-party redistributors. Additional information about our ratings fees is available at www.standardandpoors.com/usratingsfees.

Any Passwords/user IDs issued by S&P to users are single user-dedicated and may ONLY be used by the individual to whom they have been assigned. No sharing of passwords/user IDs and no simultaneous access via the same password/user ID is permitted. To reprint, translate, or use the data or information other than as provided herein, contact S&P Global Ratings, Client Services, 55 Water Street, New York, NY 10041; (1) 212-438-7280 or by e-mail to: research_request@spglobal.com.