After a chaotic start to the year, U.S. insurance companies added USD 4 billion to exchange-traded funds (ETFs) to their general account portfolios in 2020. By year-end 2020, U.S. insurers increased their ETF AUM by 18% from 2019. Life companies, in particular, returned to the market and purchased large amounts of ETFs. In spite of, or because of, the volatility in the bond market, insurance companies had strong flows into Fixed Income ETFs, adding USD 5 billon in 2020.
In our sixth annual study of ETF usage in U.S. insurance general accounts, for the first time we analyzed the trading of ETFs by insurance companies (see page 37) in addition to the holding analysis. In 2020, insurance companies traded USD 63 billion in ETFs, representing a 10% growth over 2019's trade volume. On average, insurance companies traded twice as many ETFs during the year as they held at the beginning of the year. Certain categories have substantially higher trade ratios. We also noted interesting observations about the size of insurance company trades.
HOLDING ANALYSIS
Overview
As of year-end 2020, U.S. insurance companies invested USD 36.9 billion in ETFs. This represented only a tiny fraction of the USD 5.5 trillion in U.S. ETF AUM and an even smaller portion of the USD 7.2 trillion in invested assets of U.S. insurance companies. Exhibit 1 shows the use of ETFs by U.S. insurance companies over the past 17 years.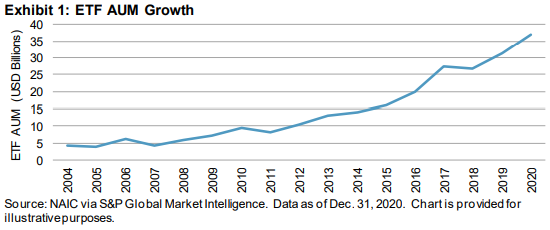 In 2020, ETF usage by insurance companies increased 18.4%; this is a slightly higher rate than the 16.0% increase in 2019. The growth rate has remained consistent since 2004, when insurance companies began investing in ETFs (see Exhibit 2). This growth rate implies a doubling of ETF AUM roughly every four to five years (see Exhibit 3).
In 2019, the number of ETF shares held by insurance companies declined for the first time in 12 years, but in 2020, the number of shares held increased by 8.5% (see Exhibit 4).
---