What's Driving Insurance Investments?
Explore the headwinds and tailwinds facing insurers and how these factors are impacting general accounts portfolios.
---
S&P CoreLogic Case-Shiller Index Shows Annual Home Price Gains Increased to 5.7% in August
NEW YORK, OCTOBER 27, 2020 – S&P Dow Jones Indices today released the latest results for the S&P CoreLogic Case-Shiller Indices, the leading measure of U.S. home prices. Data released today for August 2020 show that home prices continue to increase at a modest rate across the U.S. More than 27 years of history are available for these data series, and can be accessed in full by going to www.spdji.com.
Please note that transaction records for July 2020 for Wayne County, MI are now available. Due to delays at the local recording office caused by the COVID-19 lockdown, S&P Dow Jones Indices and CoreLogic were previously unable to generate a valid July 2020 update of the Detroit S&P CoreLogic Case-Shiller indices.
However, there are not a sufficient number of records for the month of August for Detroit. Since Wayne is the most populous county in the Detroit metro area, S&P Dow Jones Indices and CoreLogic are unable to generate a valid Detroit index value for the October release. When the sale transactions data fully resumes and sufficient data is collected, the Detroit index values for the month(s) with missing updates will be calculated.
YEAR-OVER-YEAR
The S&P CoreLogic Case-Shiller U.S. National Home Price NSA Index, covering all nine U.S. census divisions, reported a 5.7% annual gain in August, up from 4.8% in the previous month. The 10-City Composite annual increase came in at 4.7%, up from 3.5% in the previous month. The 20-City Composite posted a 5.2% year-over-year gain, up from 4.1% in the previous month.
Phoenix, Seattle and San Diego reported the highest year-over-year gains among the 19 cities (excluding Detroit) in August. Phoenix led the way with a 9.9% year-over-year price increase, followed by Seattle with an 8.5% increase and San Diego with a 7.6% increase. All 19 cities reported higher price increases in the year ending August 2020 versus the year ending July 2020.
The charts on the following page compare year-over-year returns of different housing price ranges (tiers) for Phoenix and Seattle.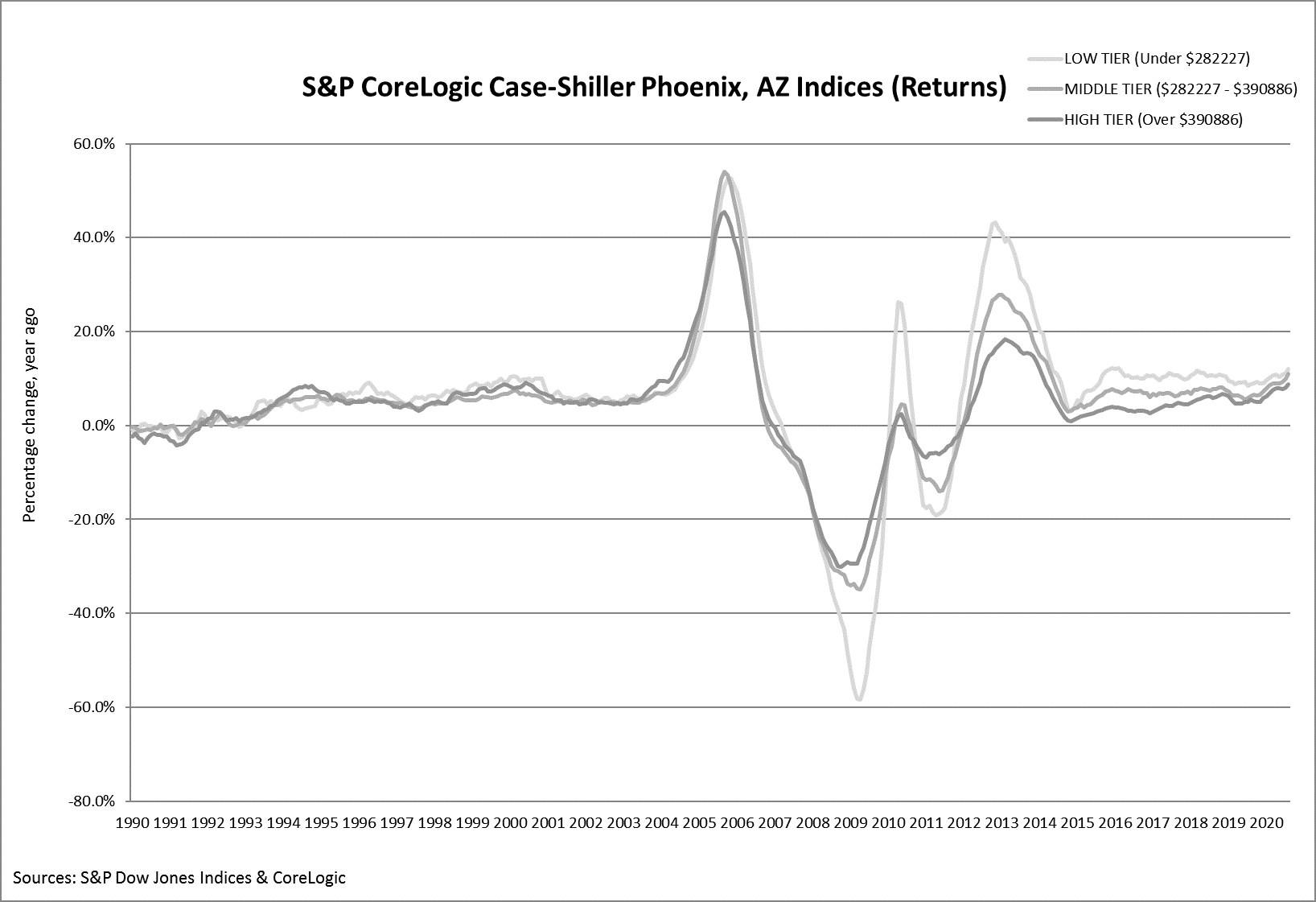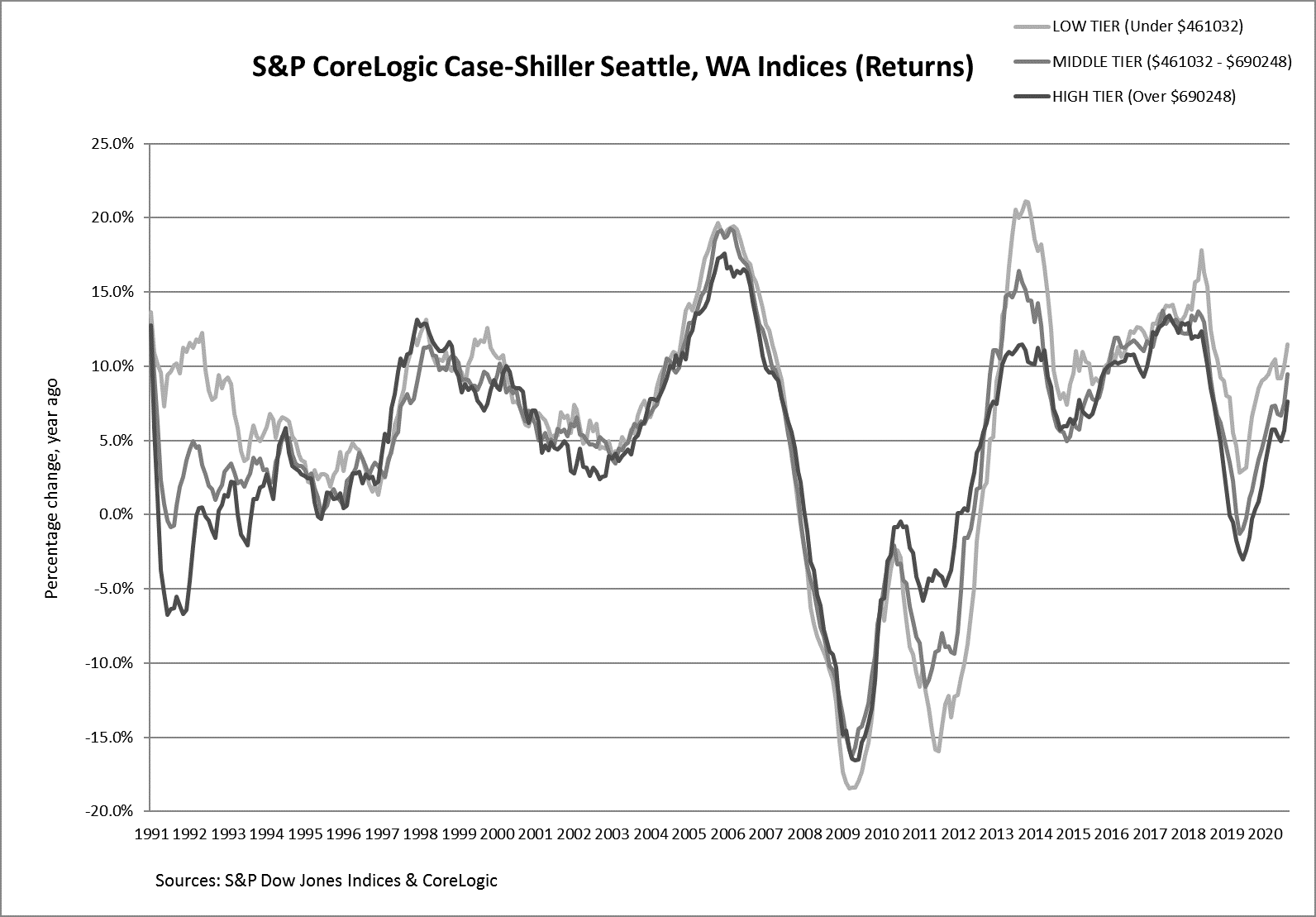 ---
How Target Outcome Indices Work
Indexing is democratizing access to defined outcomes, providing a simple, transparent, index-based blueprint for target outcome strategies that can be applied to both active and passive vehicles. Take a closer look at what makes these indices tick and the range of potential applications for these innovative tools.
---
S&P Dow Jones Indices Launches S&P/TSX ESG Indices
TORONTO, OCTOBER 8, 2020: S&P Dow Jones Indices (S&P DJI), the world's leading index provider, and TMX Datalinx(R), TMX Group's information services division, today announced the launch of the S&P/TSX ESG Indices, the latest in S&P DJI's growing family of global ESG indices based on some of the world's most highly-tracked regional and country-specific benchmarks.
The new indices are:
S&P/TSX Composite ESG Index: a broad-based benchmark maintaining similar overall industry group weights as the underlying S&P/TSX Composite.
S&P/TSX 60 ESG Index: weights the S&P/TSX 60 Index according to S&P DJI ESG score by overweighting and underweighting companies with relatively high and low scores.
The objective of the S&P/TSX ESG Indices is to give investors core exposure to the Canadian equities market while providing a significant boost in ESG score performance.
S&P DJI recently entered into a license agreement with Invesco Ltd. to launch a Canadian-listed ETF today tracking the S&P/TSX Composite ESG Index.
Eligibility and Construction
The S&P/TSX Composite ESG Index and the S&P/TSX 60 ESG Index exclude companies involved in controversial weapons, tobacco, and thermal coal as well as companies with disqualifying United Nations Global Compact (UNGC) scores. Companies with low S&P DJI ESG scores as defined in the index methodology are also ineligible for the S&P/TSX Composite ESG Index.
Eligible companies are then selected and weighted accordingly:
S&P/TSX Composite ESG Index: eligible companies in each GICS Industry Group are selected for inclusion in decreasing order of their respective S&P DJI ESG score until as close to 75% as possible of the float-adjusted market cap (FMC) is reached for each group. Constituents are weighted by FMC.
S&P/TSX 60 ESG Index: All eligible companies are selected for inclusion. Within each GICS Industry Group, companies with relatively high S&P DJI ESG Scores are overweighted while relatively low scoring companies are underweighted to improve the index's overall ESG exposure.
The full methodology for the S&P/TSX ESG Indices and S&P DJI ESG Scores are available at: www.spdji.com.
"In the last year, ESG has joined the mainstream of investing as market participants increasingly see the importance and relevance of indices that incorporate sustainability data and principles," said Reid Steadman, Managing Director and Global Head of ESG Indices at S&P DJI. "The S&P/TSX ESG Indices are designed to target the core of an investor's portfolio by giving them broad equity exposure in line with their sustainable investment goals. We're thrilled to work with TSX to bring this strategy to the Canadian market."
"We are excited to be working with S&P Dow Jones Indices to launch these enhanced tools to help integrate ESG considerations into the investment process," said Sarah Ryerson, President, TMX Datalinx. "As global interest in sustainable investing continues to grow, these indices will provide investors with increased exposure to sustainable investments and enable them to more efficiently manage risks associated with ESG in their portfolios."
S&P DJI has been a leader in ESG indexing for 20 years. Since the 1999 launch of the Dow Jones Sustainability Index (DJSI), the first global sustainability benchmark, S&P DJI now offers a range of ESG index solutions including carbon-efficient indices introduced in 2018. In April 2019, S&P DJI introduced the S&P 500 ESG Index based on the S&P 500®.
Please visit www.spdji.com for more information about the methodology behind our global family of ESG indices.
---
Assessing Gold's Ascent
What's driving demand for gold this year? S&P DJI's Jim Wiederhold and CME Group's Blu Putnam explore what's pushing gold prices up and how investors are putting the precious metal to work in portfolios.
---