June 2022 Commentary
Economic headwinds from high inflation and the impact of monetary contraction policies continued to pressure financial markets in June. In the U.S., investor sentiment shifted after the Federal Reserve delivered a rate hike of 75 bps, a significant increase not seen since 1994. The underlying narrative has broadened from concerns around high inflation and aggressive rate hikes to also include growth worries and recession anxiety. The 2s10s spread of the U.S. Treasury curve flattened dramatically in June, perhaps reflecting an outlook for weaker economic growth on the horizon. Both stocks and bonds in developed markets declined this month.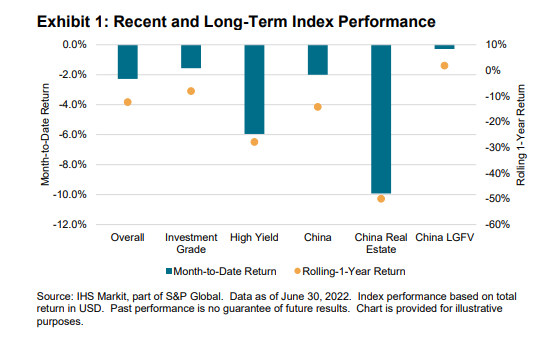 The iBoxx USD Asia ex-Japan Index dropped 2.28% in June and 10.2% YTD. Moreover, the index yield rose 0.52 bps to 5.83%, and the index spread widened 32 bps to 273 bps. Additionally, the cost of hedging this market from credit defaults, as tracked by iTraxx Asia exJapan Index (5Y), has risen to levels last seen in April 2020.
This month, negative performances were generally observed across maturity buckets. While the investment-grade (IG) and high-yield (HY) subindices fell in the red, the IG subindex outperformed its HY counterpart by 0.75%. Notably, losses increased in severity when descending from the BBB segment into the HY rating segments.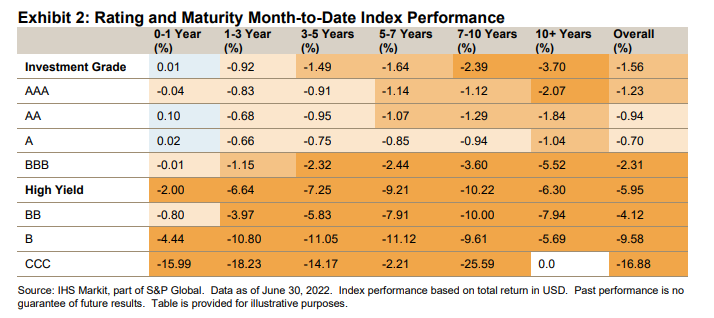 ---