July 2022 Commentary
Several central banks raised their policy rates in July, as inflationary impulses accelerated and became more broad-based globally. In the U.S., the Federal Reserve (Fed) delivered another 75 bps rate hike at the July meeting. Recently released data indicated that the U.S. economy may have hit a technical recession after consecutive quarters of negative GDP growth. Subsequently, stocks and bonds rallied moderately on the assumption of a Fed pivot toward a more gradual monetary tightening policy. But the visibility of the near-term path of inflation and growth remained uncertain due to external factors such as supply chain disruptions and geopolitical tensions. However, the path of the Fed policy, as emphasized by Fed Chair Jerome Powell, should be dependent on economic data.
Returns of Asian USD bonds turned positive in July, with the iBoxx USD Asia ex-Japan Index gaining 0.44%, the first positive monthly index performance since December last year. The index yield fell 0.25 bps to 5.58%, and the index spread narrowed 2 bps to 271 bps.
This month, the investment grade (IG) subindex considerably outperformed the high yield (HY) subindex by 2.11%. In the IG segments, significant gains were seen in long maturity buckets. In the HY segments, losses were generally observed across the curve, except for the 5-7 year maturity bucket.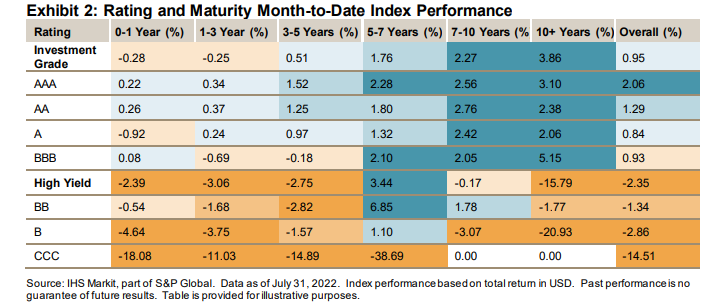 ---