July 2022 Performance
Singapore's central bank tightened monetary settings in July to combat further upside inflation risk. The off-cycle decision followed
the release of economic data, which showed zero economic growth in Q2, but prices picked up in a broad range of goods and services.
The Monetary Authority of Singapore (MAS) announced it would recenter the mid-point of the Singapore dollar nominal effective exchange rate (S$NEER)2 policy band to its prevailing level while keeping the slope and width of the band unchanged. The move set the path to a stronger local dollar in the medium term and may help to slow rising prices in the city.
Meanwhile, the central bank raised the full-year core inflation projection from an earlier forecast of 2.5%-3.5% to 3.0%-4.0% for the year.
Against this backdrop, stocks and bonds recorded strong performances in July. The Straits Times Index rallied 3.5%, while the
iBoxx Singapore Dollar (SGD) Overall Index returned 1.45%—the first monthly gain in 2022.

The investment grade subindex outperformed the high yield subindex by 263 bps this month. Returns from the 10+ year maturity buckets exceeded the returns from the short- and medium-end, and the AAA and AA segments of the overall index outshone other rating buckets.
The sovereign and non-sovereign subindices recorded gains this month. The top performers included long-dated Singapore government bonds and one small corporate bond from the REIT sector. The standout worst-performing bond was the BB rated MAGIC 3.5% Perp bond, which lost 6.10% in July.
The overall index ended the month with a yield of 3.05% and a duration of 6.54 years.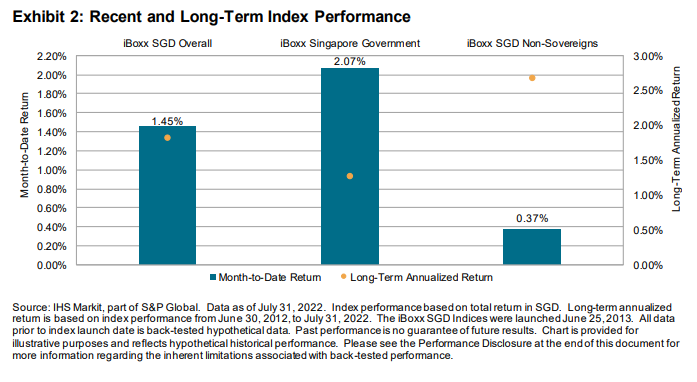 ---