July 2022 Commentary
In line with market expectations, the Federal Reserve raised its key benchmark rate by 75 bps in July—its second increase of this magnitude in consecutive months and its fourth hike this year. With the Hong Kong dollar pegged to the U.S. dollar, the Hong Kong Monetary Authority (HKMA) acted swiftly after the announcement and raised its base rate by the same margin (75 bps). Other Asian central banks also tightened their monetary policy over the past month, including the Bank of Korea (up 50 bps), Bank Negara Malaysia (up 25 bps), Bangko Sentral ng Pilipinas (up 75 bps) and Monetary Authority of Singapore (via raising the mid-point of the Singapore Dollar Nominal Effective Exchange Rate (S$NEER) policy band).
The S&P 500® recorded strong gains in July, up 9.11%, outperforming U.S. Treasuries (proxied by the iBoxx USD Treasuries), which returned 1.70%. U.S. TIPS (represented by the iBoxx TIPS Inflation-Linked Index) climbed 4.58%.
It was a good month for Asian fixed income as well. The iBoxx Asian Local Bond Index (ALBI) (unhedged in USD) gained 1.21%, supported by gains in all eligible underlying markets in local currency terms. This was despite FX losses against the U.S. dollar in all but two markets—
namely Singapore and Indonesia. South Korea was the top performer (up 4.42%), while Malaysia (up 2.58%) and Thailand (up 2.48%) were a distant second and third.
Looking at different maturity segments, it was largely a sea of green except for short-to-medium dated Indonesian government bonds. Bonds at the long end of the curve generally performed better, with South Korea 10+ Year (up 8.11%), Hong Kong 10+ Years (up 5.82%) and Thailand
10+ Years (up 5.18%) scoring the highest performance in July.
Yields (in semiannual terms) declined in all markets except Indonesia in July. As a result, the average index yield dropped 25 bps to 3.98%. The largest change came from South Korea (-46 bps), which offered an average yield of 3.07% as of July 31, 2022. India remained the highest-yielding bond market in the index, offering 7.42%, while China Onshore (2.91%) was the lowest-yielding market.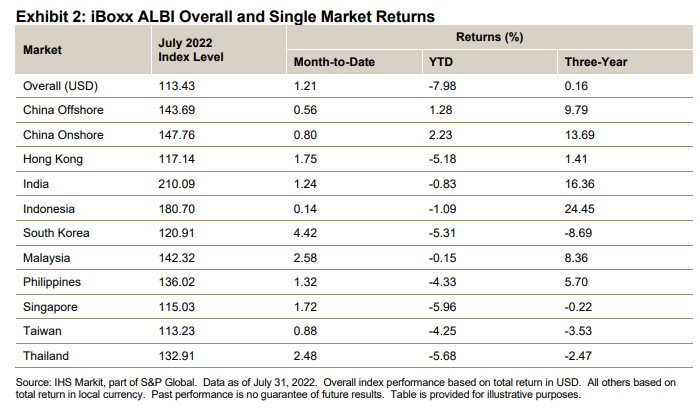 ---