August 2022 Commentary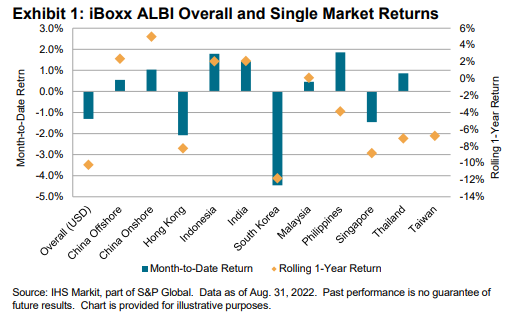 The Jackson Hole Symposium was one of the key events investors looked out for in August, as they paid close attention to the speech by the Federal Reserve Chair to anticipate the next move in the upcoming FOMC meeting in September. Markets were somewhat surprised by the hawkish stance, with a clear message that tackling inflation remained the main objective even at the expense of slower growth.
In the aftermath of the speech on Aug. 26, 2022, the S&P 500® lost 3.37% (one-day decline) and was down 4.24% for the month of August. U.S. Treasuries—as represented by the iBoxx $ Treasuries—also lost 2.64% in August.
It was a contrasting picture in Asia, as moves from central banks varied from market to market. The People's Bank of China lowered its five-year loan prime rate (LPR) by 15 bps to 4.30% and its one-year LPR by 5 bps to 3.65%. This came one week after lowering both the one-year medium-term lending rate (MLF) and seven-day reverse repo rate by 10 bps in mid-August in a bid to inject liquidity into the economy. The onshore bond market rallied as a result, which saw the iBoxx ALBI China Onshore—consisting of China Government Bonds and Chinese Policy Banks—return 1.03% in August.
From a broader Asian perspective, the iBoxx Asian Local Bond Index (ALBI) (unhedged in USD) fell into the red, returning -1.31%, largely due to local currency FX losses against the U.S. dollar. This was despite most markets (in domestic currency terms) recording positive returns, except for South Korea (-4.46%) and Hong Kong (-2.08%).
This month, the largest losses were concentrated in the 10+ maturity segment, where South Korea 10+ (-8.51%) and Hong Kong 10+ (-5.76%) stood out. There were a number of markets that saw gains across maturity segments this month, including China On- and Offshore, India, Indonesia, Malaysia, the Philippines and Thailand.
The overall index yield (in semiannual terms) rose above 4%, offering 4.09% as of Aug. 31, 2022. Hong Kong (up 57 bps), South Korea (up 56 bps) and Singapore (up 24 bps) contributed to the increase, while other markets saw their yields decline. India remained the highest-yielding bond market in the index, offering 7.30%, while China Onshore (2.78%) remained the lowest-yielding market.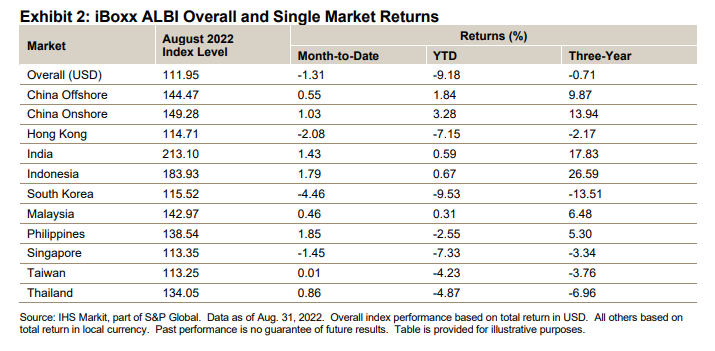 ---