The year 2007 was a mixed one for the European residential mortgage-backed securities (RMBS) market, with record issuance in the first half of the year that declined during market disruptions in the second half. The year 2008 is proving particularly difficult to read. Whatever happens, public issuance in the first half of 2008 will be very subdued compared with 2007. Thereafter, the trend will depend on whether the fundamental repricing that we are seeing across the whole credit spectrum, including RMBS, settles at a point where securitization transactions once more become an attractive financing tool for both investors and originators. If this comes to pass, we could see a strong pick-up in issuance in the second half of the year. Should this not occur, then it is likely that issuance volumes will lag those of 2007.
When reviewing the events of last year, it is important to note that many of the events that adversely affected the European RMBS market arose from developments that were not directly related to fundamental credit analysis. They did not typically reflect changes in the actual performance of collateral underlying transactions during that year—this remained relatively stable across most jurisdictions and subsectors. Nonetheless, looking forward there are some potential vulnerabilities in select jurisdictions and subsectors at both the collateral and the structural level, and consequently Standard & Poor's Ratings Services will maintain ongoing review regarding key variables that either affect, or indicate, the crystallization of these risks.
Volumes Closed Ahead Of Previous Year And Innovation Continued
Last year was a tale of two markets for European RMBS. The first half of the year was characterized by robust issuance volumes, but these subsequently tapered off rapidly during the second half of the year, as the structured finance market entered one of the more challenging environments that it has experienced. However, the very end of the year witnessed a resurgence of issuance once again, with particularly high volumes in December.
As a consequence of December's issuance, last year closed with total funded European RMBS issuance of €372.9 billion, a notable increase of 49.9% on 2006, when funded issuance totaled €248.7 billion. However, the volume of publicly placed issuance was slightly lower, given that a number of transactions in the latter part of the year were either privately placed or retained on-balance-sheet as collateral for short-term funding.
Nonetheless, the position of RMBS as the primary asset class in the European funded securitization market remained firm during 2007, with RMBS making up approximately 58.8% of all funded issuance during the year, compared with 47.4% in 2006. Geographically, issuance of funded RMBS continued to be concentrated in the U.K. (39.2%), with The Netherlands (28.3%) and Spain (16.5%) following behind in second and third places, respectively (see chart 1). Italy (5.7%) and Ireland (3.5%) also witnessed solid volumes, while issuance continued to lag both in France (1.3%) and Germany (0.2%).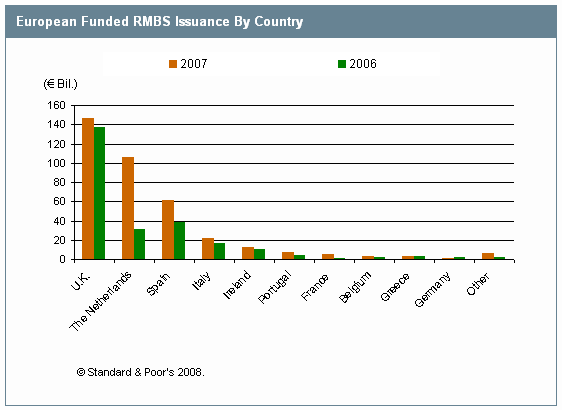 Last year also witnessed a number of "firsts" and other novel developments in European RMBS issuance, once again mostly concentrated in the first half of the year. The former included the first Dutch nonconforming transaction (Eurosail-NL 2007-1 B.V.) and the first Greek revolving structure (Estia Mortgage Finance II PLC). In the synthetic space, innovative transactions included the first synthetic Italian transaction (PB Domicilio 2007-1 Ltd.), a Spanish repack of first-loss pieces from 14 previous transactions (castellana finance. ltd.), and two Danish transactions that combined residential mortgages and small to midsize enterprise (SME) loans (Mermaid Secured Finance Ltd. and Prime Bricks 2007-1 GmbH).
Other developments during the first half of 2007 included an increase in multi-originator nonconforming U.K. transactions (e.g., ALBA 2007 - 1 PLC and Uropa Securities PLC), while the second half of the year witnessed the first Dutch transaction (Arena 2007-I B.V.) where we gave benefit to the guarantee from Nationale Hypotheek Garantie. Finally, the former part of the year saw Birmingham Midshires establish the Pendeford Master Issuer PLC master trust, while the latter part of the year saw Clydesdale Bank PLC establish Lanark Master Issuer PLC.
Three Key Distinctions Will Drive The Market Outlook In 2008
Turning from the year gone by to the year ahead, when reviewing what bearing the events of 2007 could have on the outlook for European RMBS in 2008, it is important to make three distinctions:
Between credit-related and non-credit developments in the market;
Between the current performance of collateral and latent factors that may affect this performance going forward; and
Between those elements of the current market environment that affect the credit quality, and those that affect the structure, of transactions.
Market disruptions amidst stable collateral performance
Regarding the first of these distinctions, many of the developments that adversely affected the European RMBS market in 2007 (and which, in our view, could continue to affect it through 2008) did not arise directly from, or did not typically reflect developments in, the actual performance of collateral underlying transactions during that year. Such developments as increased spread volatility, reduced market liquidity, and decreased investor demand can occur simultaneously with—or can occur in the absence of—a deterioration in collateral performance.
In the case of European RMBS, the current performance of existing transactions—as aggregated and measured by the indices we compile and publish—did not witness a significant deterioration in most individual countries and subsectors during 2007. For example, the levels of serious (90+ day) delinquencies for European prime RMBS by country at the end of Q3 2007 were as follows: 0.60% for the U.K., 0.32% for The Netherlands, 0.54% for Spain, 1.05% for Portugal, and 1.19% for Italy. These levels reflect only incremental changes from those of 2006—improving slightly in some cases (such as The Netherlands), and weakening slightly in others (such as Spain). Transaction-level losses also remained low or negligible (close to 0%) in the prime RMBS indices of most of the aforementioned jurisdictions during 2007.
On the other hand, both delinquencies and losses for the nonconforming sector surpassed (and would be expected to surpass) those of equivalent prime transactions—an effect already intended to be captured in our ratings analysis for this subsector. For instance, in the U.K. nonconforming sector, serious (90+ day) delinquencies stood at 9.65%, but comparable transaction-level losses also remained generally low—albeit with more variation by vintage and transaction (ranging between approximately 0.10% and 0.70% when aggregated according to these latter two factors). However, although these loss levels remain low, there were increases in 2007 for a number of transactions that are likely to persist or increase during 2008.
Potential vulnerability in select jurisdictions, products, and subsectors
This is an appropriate point at which to introduce the second distinction—between the current performance of collateral and developments that could affect this performance in the future. There are indeed latent factors that could potentially challenge collateral performance in select jurisdictions and subsectors in 2008.
Firstly, borrowers with floating-rate loans (or those resetting from a fixed to a floating rate) may face the risk of payment shock as a result of increased interest rates and/or rising credit spreads being reflected in the pricing of mortgage products.
Secondly, the ability of such borrowers to mitigate this first risk by switching product may become increasingly limited, as lenders continue to contract their product range and tighten their eligibility criteria. (This is a particularly plausible development in the U.K. nonconforming sector.)
Thirdly, should the nascent deceleration in house price appreciation in a number of European countries (most notably Spain and Ireland) continue, this could lead to slower deleveraging of recent transactions and possibly also to higher loss severities upon foreclosure. (Incidentally, a by-product of these three trends should be a deceleration in prepayment rates across many European jurisdictions and subsectors, excluding those—such as Italy—which have undergone pertinent legislative changes.)
However, in certain other jurisdictions (such as The Netherlands and Germany) the trend towards an increasingly longer fixed-rate period on loan products should mitigate the former two risks described above. Furthermore, the reverse side to the coin of the developments described above is that the revised pricing of credit risk into lending rates and the ongoing tightening of underwriting criteria should bode well for the characteristics of newly originated collateral in transactions going forward.
Market volatility could expose structural vulnerabilities
The third and final distinction to be made is between those elements of the current market environment that affect the credit quality, and those that affect the structure, of transactions. It was stated above that many of the developments that adversely affected the European RMBS market during the latter half of 2007 did not necessarily reflect changes in the actual performance of collateral during that same year. Conversely, these same market factors can nonetheless create (as opposed to reflect) challenges to the structural (as opposed to the credit) characteristics of select transactions. To choose one example, while the increase in short-term funding rates—for instance, the sterling London Interbank Offered Rate, or LIBOR—is a result of the challenging market environment outlined previously, it in turn can affect select transactions that do not have a perfect hedge between their LIBOR-linked notes and their assets (whose rate-setting mechanism or frequency may not fully match those of the notes). While such interactions between the market environment on the one hand, and a transaction's structure on the other, are considered during our initial ratings analysis, they must nonetheless be continually monitored and assessed throughout the life of the transaction.
A Challenging Market Environment May Offset Stable Collateral Performance In 2008
Looking forward to 2008, it is our opinion that issuance volumes will crucially depend on where pricing settles around the end of the second quarter. However, it is likely that the diversity of publicly placed RMBS issuance will contract somewhat. Securitization is one of a number of alternatives for institutions funding both their existing mortgage book and new origination. We are presently in the midst of a substantive repricing of not just securitization, but of all financing alternatives. Accordingly, the 2008 volumes of mortgage securitization will depend on the relative price attractiveness of this financing tool compared with others after this global repricing has settled down, which we expect to occur around the middle of 2008. However, in certain subsectors (such as U.K. nonconforming) the retrenchment, and even exit, of some lenders may decrease issuance volumes. Finally, the recent declines in reported mortgage approvals across a number of European countries (such as the U.K., Spain, and Ireland) may also herald a potential slowdown in RMBS issuance from these same countries.
In terms of performance, we will maintain surveillance regarding directional shifts in certain key variables (in particular, interest rates and house prices), and the impact of changes in these variables on market segments and geographies more susceptible to their impact will be closely monitored.