S&P Global Ratings is committed to providing transparency to the market through high-quality independent opinions on creditworthiness. Safeguarding the quality, independence and integrity of our ratings, including by identifying and managing potential conflicts of interest, is embedded in our culture and at the core of everything we do.

Watch: Credit Ratings Explained
Understanding Credit Ratings
---
The EU Capital Markets Union
Turning The Tide
This article collects thought leadership pieces from three S&P Global divisions on the EU Capital Markets Union 2.0 project. We feature contributions from S&P Global Ratings (the sections on Lower For Longer Interest Rates and Bank Consolidation by the Ratings Research and Financial Institutions practices), S&P Global Market Intelligence (CMUs, Sustainable Finance and SMEs) and S&P Dow Jones Indices (A Deeper Equity Culture). Though the contributions reflect each division's own separate perspectives and requirements, together they reflect S&P Global's current thinking on this important project.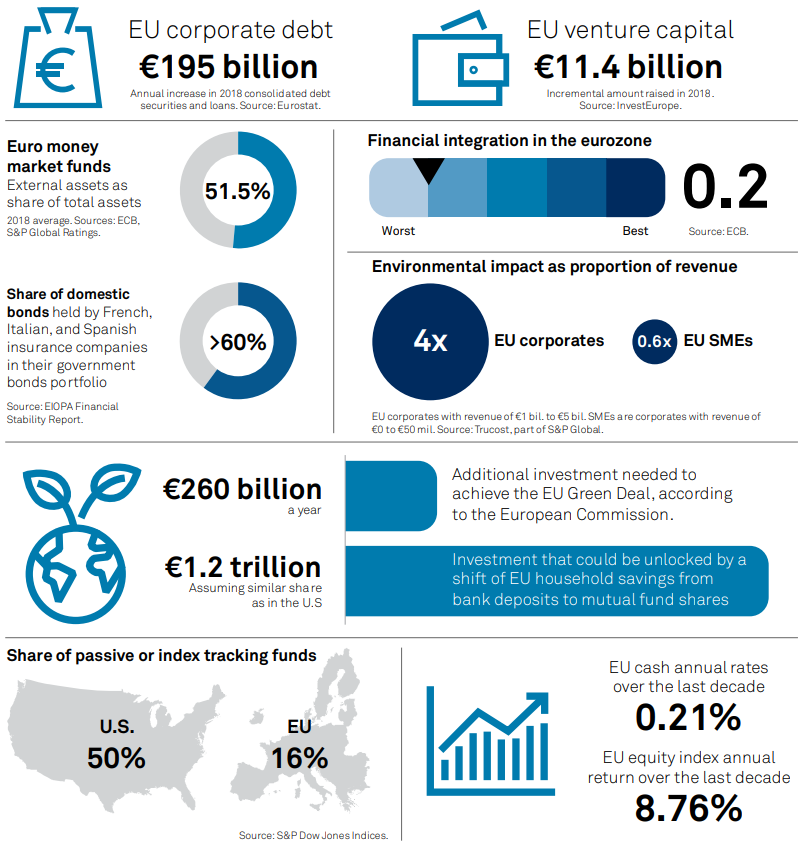 Global Credit Outlook 2021: Back On Track?
Read the Latest Research
S&P Global Essential Economics Newsletter

An inside view into how top S&P Global Ratings economists and researchers analyze macro, credit and market developments.
Subscribe here.
---
Making connections is what we do best. Whether it's developing critical industry relationships, or engaging with fresh ideas: you get immersive intelligence and real-world applications.
View all Upcoming Webinars
---
Credit Conditions North America:
Potholes On The Road To Recovery
While credit conditions are largely favorable for many borrowers, pockets of risk are rising—particularly for U.S. state and local governments, whose tumbling revenues are adding to budget pressures. Risks around commercial real estate, too, are growing.
Listen: The Essential Podcast, Episode 8: The Road Forward – Infrastructure and Recovery

Listen to the latest episode of S&P Global's The Essential Podcast to hear Chief U.S. Economist Beth Ann Bovino discuss her insights on how U.S. infrastructure investment can aid the post-coronavirus economic recovery here and on Apple Podcasts, Spotify, and everywhere podcasts are played.
---
---

Economic Research:
The Eurozone Can Still Rebound In 2021 After Lighter Lockdowns
A second wave of COVID-19 is unlikely to be as disruptive to the eurozone economy as the first. Companies have learned to better operate amid the turmoil, health and safety measures are in place, and protection equipment more widely available. The latest round of lockdowns won't hit the economy at full steam this time; the containment measures haven't tightened from zero as was the case in March. Recent announcements on effective vaccines have also steadied nerves. The fatality rate is now one-tenth the level during the first outbreak, and the second wave could even have already peaked. But Christmas celebrations will be the litmus test.

S&P Global Ratings now expects the eurozone's real GDP to be 6.5% below last year's levels in the fourth quarter, compared with 14.8% below in the second quarter of 2020. This leaves our 2020 GDP forecasts broadly unchanged, given we also underestimated the strength of a rebound in the third quarter.


Chart 1
The EU Recovery Plan Could Create Its Own Green Safe Asset

The EU could become the main liquidity provider for a green safe asset with long duration by financing 30% (€225 billion) of its proposed €750 billion recovery fund through green bond issuance.
Read the Full Report
---
Just as it looks like the eurozone may be on the verge of a crisis, an agreement struck between France and Germany seems to offer a way forward, a proposed 750 billion Euro recovery fund to help member states weather the downturn. What are the implications of this unprecedented action for the future of the EU? Sylvain Broyer, Chief EMEA Economist at S&P Global Ratings, joins The Essential Podcast to discuss.
Listen Here
---
Economic Recovery:
Asia-Pacific Forecasts Stabilize, Risks Now Balanced
Our forecasts have stabilized for the first time since the pandemic began. Risks to growth are more balanced as acute downside risks ease and upside risks emerge.

Notable recent developments--including the just-signed Asia-Pacific free trade deal, a new U.S. administration, and China's quest for technology independence--are more important for growth over the next five years more than the next 12 months.

We still see the region's economy shrinking 2% in 2020 and expanding almost 7% next year. The region will get back to pre-COVID activity levels only at the end of 2020. For the region excluding China, activity will not return to pre-COVID levels before the third quarter of 2021.

We forecast Chinese GDP to grow 7% in 2021 as households spend more. We retain our assumption that India will rebound 10% in fiscal 2021. We see a faster rebound in Australia, a more gradual pick up in Japan. Emerging markets face a slower climb back.
Watch a Summary
Watch a Summary