S&P Global Ratings continues to assess the economic and credit effects of the coronavirus pandemic around the world. Click below for our research and insights across regions and industries.
View all related research
---
COVID-19 Is Testing The Resilience
Of Global Structured Finance
Published May 19, 2020

Extended coronavirus-containment measures are pushing the world into the deepest recession since the Great Depression. Although we expect the drop in economic activity to be sharp but fairly short, the path to recovery remains very uncertain.

So far this year, we have taken 1,190 structured finance rating actions due to the impact of the COVID-19 pandemic and/or the decline in oil and gas prices.

In a hypothetical adverse stress scenario, characterized by a slower and weaker economic recovery, we would expect a significant increase in the risk of the downgrade and defaults, even for investment-grade securities.

The combination of COVID-19 and a sharp decline in oil prices has resulted in a reduction in obligor credit quality within CLO portfolios, and is putting pressure on lower mezzanine and subordinate tranche ratings.

Our main areas of focus in both U.S. and CMBS are the lodging and retail sectors, although there may be some other pockets of weakness.
Testing the Resilience of Structured Finance
Watch a Summary

Coronavirus Impact
Key Takeaways From Our Articles
Published May 7, 2020

Large U.S. banks reported weak earnings in the first quarter, weighed down by substantial provisions for loan losses while other measures held up reasonably well. The banks entered the current crisis in a position of strength, but negative outlooks and downgrades could ensue if economic conditions worsen more than we expect.

U.S. public pension funds lost approximately $850 billion in the first quarter. A return of about 30% in the second quarter is needed for government-sponsored pension systems to maintain the 73% average funded ratio from a year earlier.

Despite ongoing pressure on European commercial mortgage-backed securities transactions, we haven't yet seen any interest shortfalls or liquidity drawings due to COVID-19 disruptions. We continue to expect the hotel and retail sectors to be more exposed to liquidity risks than other commercial real estate sectors.
Register for an account

Register now to access exclusive content, events, tools, and more.
Click Here to Register
---
At S&P Global Ratings we are continuously assessing the economic and credit impact of the COVID-19 pandemic around the world. Subscribe to our Coronavirus Bulletin today and we will ensure you have all our latest research and forecasts as they are published.
Subscribe to our newsletter
---
What Once Was Lost Can Now Be Found
The Productivity Boost
Published May 6, 2020

Because of the coronavirus pandemic, the longest U.S. economic expansion in U.S. history has abruptly ended: We forecast that U.S. economic activity will shrink by 11.8% ($566 billion) in real terms, peak to trough. The well over 30 million jobs lost at the trough will wipe out all the jobs created in 23 or more years. Economic damage will be three times greater than the Great Recession, in one-third the time.

A $2.1 trillion boost of public infrastructure spending over a 10-year period, to the levels (relative to GDP) of the mid-20th century, could add as much as $5.7 trillion to the U.S. over the next decade, creating 2.3 million jobs by 2024 as the work is being completed. The additional 0.3% boost to productivity per year that it generates will lead to a net 713,000 more jobs on the books by 2029.

GDP growth in the past 10 years floundered at around 2.25%--one-third the rate of 1959 when the Eisenhower Interstate Highway System was built. The opportunity to build infrastructure (and create jobs) during the Great Recession in 2009 was missed.

Right now, the U.S. may have a second chance. COVID-19 has created an urgency to invest in much-needed public health infrastructure. Six months from now, we may look back on the pandemic as an event like Super Storm Sandy, which called attention to the need for investing in infrastructure to prevent damage from climate change. Either way, it all comes back to infrastructure investment, which we need to tackle now.
The Essential Podcast, Episode 8: The Road Forward – Infrastructure and Recovery

In this episode, host Nathan Hunt interviews Beth Ann Bovino, S&P Global Ratings' Chief U.S. Economist, the current state of the U.S. economy during the coronavirus pandemic and the role that infrastructure spending may play in an eventual recovery.
Listen to the podcast
Click Here To Read the Full Report

Global Credit Conditions
Rising Credit Pressures Amid Deeper Recession, Uncertain Recovery Path
Published April 22, 2020

Government measures to stem the spread of coronavirus have escalated in the past three weeks amid a tripling of confirmed cases globally, to more than 2.5 million. These measures, together with business and consumer behavioral changes, are resulting in wider and deeper economic effects— and worse credit conditions—than we estimated our previous report, "Global Credit Conditions: Triple Trouble: Virus, Oil, Volatility." published April 1. We also see the post-pandemic recovery taking longer, based on the experience of China, the first major economy to emerge from the crisis.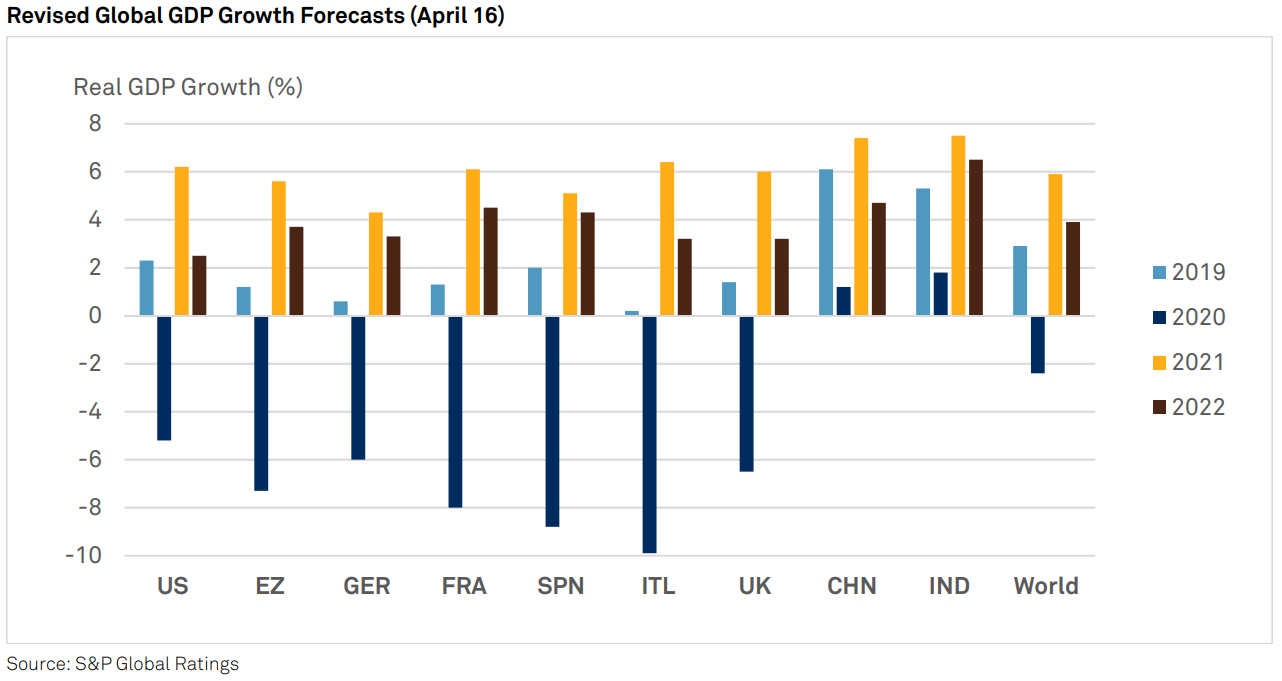 Credit Conditions North America: Pressures Persist, Risks Resound

The path of the U.S. economy's eventual emergence from recession has yet to become clear.
Read the Full Report
Credit Conditions Asia-Pacific: COVID-19: Flatter Growth, Tougher Recovery

Credit conditions in Asia-Pacific going into the second half 2020 will be very tough.
Read the Full Report
Credit Conditions Europe: The Lowdown On Lockdowns

What started as a health scare in China is at risk of becoming a financial crisis in Europe.
Read the Full Report
Credit Conditions Emerging Markets: Longer Lockdowns, Heightened Risks

Credit conditions continue slipping across EMs; we now expect a deeper global recession and a slower recovery.
Read the Full Report
---
Making connections is what we do best. Whether it's developing critical industry relationships, or engaging with fresh ideas: you get immersive intelligence and real-world applications.
View all Upcoming Webinars
---
U.S. Public Finance
COVID-19 Activity In U.S. Public Finance
Published May 7, 2020

Following mobility restrictions and closure of large segments of the economy due to COVID-19 and the swift onset of recession, all of S&P Global Ratings' sector outlooks in U.S. public finance are now negative. At the start of 2020 all sector outlooks were stable with the exception of higher education, ports, and mass transit. The shift in our outlooks to end the first quarter reflects the expectation of sharp decline in the economy through at least the second quarter and uncertainty about the rate of spread and peak of COVID-19 as well as the timing of economic recovery.
S&P Global Ratings LIVE U.S. Public Finance Market Updates

In an initiative to drive transparency and provide the market with timely, essential, and forward-looking credit opinions, S&P Global Ratings will be holding their U.S. Public Finance focused bi-weekly webinar on Thursday, May 28, 2020.
Register Now
---
---