Global Economic Outlook:
Q4 2021
Global Growth Is Steady As Delta Spurs Wide Regional Swings
Growth Is Steady As Delta Spurs Wide Regional Swings
COVID-19 continues to play a central role in global economic activity. In economies where the delta variant has surged in recent months--the U.S. and Southeast Asia in particular--mobility and confidence have declined and growth has slowed. This has happened despite rising vaccination rates in some cases. In contrast, in economies where the spread of the virus has been contained or where tolerance for infections has risen, such as Europe and non-Asia emerging markets, the pace of activity has remained strong.

Another pandemic-related development has been economies' adaptation to the virus. Specifically, economic agents are learning to live with mobility restrictions put in place by governments to combat the spread of COVID-19. Charts 2a and 2b show this trend, with the change in mobility plotted on the horizontal axis against the consumption gap on the vertical axis, both measured against their pre-COVID-19 levels.


Chart 1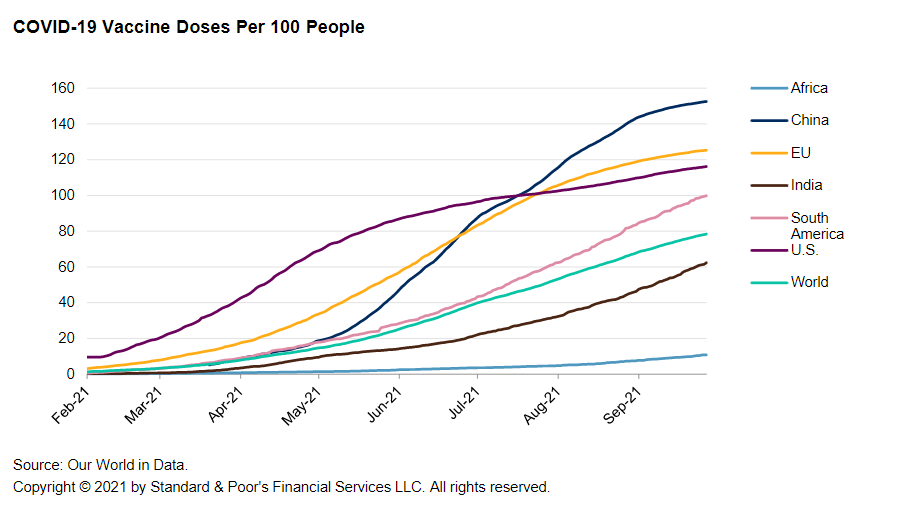 Read the Full Global Economic Forecast
---
Economic Outlook U.S. Q4 2021:
The Rocket is Leveling Off
While still running hot, the U.S. economy has cooled as summer ends. Supply disruptions remain the leading suspect slowing the world's biggest economy, and the delta variant is now an additional drag.
Recent economic data indicates people are pulling back after the reopening earlier this year. Michigan consumer sentiment remains near August's 10-year low. Mobility has cooled, hotel occupancy rates fell below their 2019 average in late August, and TSA checkpoint numbers have fallen to 25% below the 2019 baseline in early September, from 11% below at the end of July.
In this light, we revised our forecasts of real GDP growth for 2021 and 2022 to 5.7% and 4.1%, respectively, from 6.7% and 3.7% in our June report, with our new 2021 GDP forecast down a whopping 1 percentage point from June. Still, the near-term health of the U.S. economy remains strong and our current GDP forecast, if correct, is still the highest reading since 1984. The number of new cases fell in the first week of September, for the first time since late June. The delta variant and FDA approval of the Pfizer vaccine are encouraging more people to get vaccinated, bringing the country closer to herd immunity with 55% of Americans fully vaccinated as of Sept. 20. Moreover, the U.S. economy has felt less impact with each wave of the virus and has been able to withstand the damage. We maintain our assessment of U.S. recession risk over the next 12 months at 10%-15%--our lowest assessment in six years.


Read the Full U.S. Economic Forecast
---
Economic Outlook Europe Q4 2021
A Faster-Than-Expected Liftoff
The eurozone economic rebound surprised on the upside in the second quarter (Q2), with GDP rising by 2.2% over the three months April-June. This was despite some restrictions to economic activity in April, suggesting the vaccination rollout has given consumers more confidence to go back to the shops and hospitality (see charts 1 and 2). The share of the fully vaccinated population has nearly doubled in the past three months in the eurozone to reach 65% by mid-September. Companies have also continued to invest, looking forward to a less disruptive future and increased government investment. As a result, and on the basis of higher GDP at the end of Q2 than assumed in our previous baseline, we have upgraded our growth forecast for this year to 5.1%. This forecast uplift for 2021 means that the pre-crisis level of GDP could be reached before the end of this year, one quarter ahead of our previous projections. Our forecast for 2022 remains unchanged at 4.5%.).
Read the Full European Economic Forecast
---
Economic Outlook Asia-Pacific Q4 2021:
Growth Slows on COVID-19 And Rising China Uncertainty
New daily COVID-19 cases remain high in several parts of Asia-Pacific. This has prompted authorities in some jurisdictions to enforce new lockdowns. However, there is an increasing policy shift toward greater tolerance of COVID-19 outbreaks, especially in the emerging markets. This shift is partly driven by improving vaccination coverage.
Vaccination rates have picked up noticeably across the region since our last report. Indeed, some economies are catching up with the U.S. and Europe in terms of coverage (see chart 1). The advanced economies in Asia-Pacific are generally vaccinating their populations more quickly (excluding Taiwan) while the emerging economies of India and Southeast Asia (excluding Malaysia) generally continue to lag.
Read the Full APAC Economic Forecast
---
Economic Outlook Emerging Markets Q4 2021
Vaccination Progress And Policy Decisions Remain Key To Growth
The pace of vaccine rollouts has accelerated in core emerging markets (EMs) in the past few months. However, EMs continue to lag advanced economies--most EMs are well short of the so-called herd immunity level of 70%-80%--and vaccination rates vary widely remain across subregions. Specifically, countries we cover in EM-EMEA (Europe, the Middle East, and Africa) and Latin America are generally ahead of countries in EM-Asia (see chart 1).
Because of their faster progress on the vaccination front, just as virus-related restrictions eased, recoveries across EM-EMEA and Latin America--as measured by inflation-adjusted GDP (or real GDP)--were stronger in the second quarter than we had expected. Exports, especially commodity-related, expanded rapidly, and the services sectors that are usually vulnerable to the pandemic performed better than expected under the circumstances. The early signs for the third quarter are encouraging as mobility measures continue to move up (see chart 2) with low tolerance for renewed restrictions on economic activity.
On the other hand, in EM-Asia, even as economic growth was better than expected in the second quarter, the delta variant's rise in the third quarter tempered recovery more than we had anticipated. The slow progress of vaccine rollouts in the region combined with low tolerance for virus spread led to renewed restrictions on activity. Only recently has the spread of virus come somewhat under control, and mobility measures have started to normalize.
Read the Full Emerging Markets Economic Forecast
---
Economic Outlook Latin America Q4 2021
Settling Into The New Post-Pandemic Normal Of Slow Growth
Latin American economies performed better than expected during the second quarter. The services sectors in the region were more resilient to the COVID-19 delta variant than we envisioned. Exports also performed well, especially commodities. Although we projected a mild contraction, average GDP grew 0.1% quarter on quarter in the largest six Latin American countries (the LatAm 6, which comprises Argentina, Brazil, Chile, Colombia, Mexico, and Peru). The biggest upside surprise was Chile, which expanded 1.0% quarter on quarter despite reimposing lockdowns, due primarily to very strong growth in durable goods consumption (12.6% quarter on quarter), boosted by allowances to withdraw funds from individual pension accounts. This pushed up our 2021 GDP growth projection for the LatAm 6 by half a percentage point to 6.5%, after contracting 6.8% in 2020. Our forecasts for 2022 and beyond remain broadly unchanged, as we see the region converging toward its long-term average of around 2.5% growth. The region will continue to face the same structural economic challenges it did before the pandemic: slow productivity growth, driven by low and inefficient investment.