Our full agenda is now available for the Annual Health Care Conference: Accelerating Change in Uncertain Times, taking place in a two-part virtual format on Tuesday, October 5.

You may now access the full agenda, which includes our speaker line-up and descriptions on each panel! This year, a cross-section of industry leaders and senior credit analysts from our insurance, corporate, and not-for-profit health care ratings teams will delve into the current state of the U.S. health care sector.

Discussion Topics:
How the evolution of technology and data, in parallel with the pandemic, have accelerated industry transitions

The role partnerships and affiliations play in navigating an evolving sector

How the federal and state governments are addressing health care access, cost, and quality issues

The impact of race, social demographics, and data on the delivery and payor landscape

Check Out Our Featured Panels: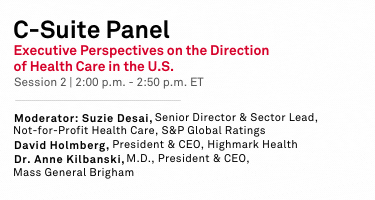 We encourage you to submit your questions in advance via the registration form to ensure they are addressed by our speakers during the event.