hosted-events Ratings /ratings/en/events/hosted-events/financial-institutions-conference-london events-detail__hero js-detail-hero
Hosted Events
Financial Institutions Conference 2019: Future Proofing European Banking - London
Tuesday, November 19th, 08:30 – 13:30
Join S&P Global Ratings and S&P Global Market Intelligence for the Financial Institutions Conference 2019 – Future Proofing European Banking.
This year's future-focused event features speakers and panelists from S&P Global alongside fellow industry experts zeroing in on banks' leadership, business models and strategies.
With slowing economies around the world and the ECB's latest stimulus move, the growth challenges for Europe's banks are mounting. With a keynote address, questions from the audience and panel discussions, the conference will assess Europe's banking landscape from multiple vantage points.
Hear speakers' views on:
Is there any reason to be optimistic about the fortunes of European banks?
Where are bank leadership teams training their sights for growth?
What is expected from banks with regard to ESG factors, and are they up to the task?
This event is provided free of cost to you. Please register to confirm your space at the event.
Other locations include:
Register Today
The time slots shown for each session are indicative and will be confirmed in advance of the event.
Alex, please download the S&P Networking App
The Platts Events mobile app puts conference navigation and networking at your fingertips. Available one week before the event, the mobile app gives delegates :
Advance access to the attendee list
Live agenda updates and networking activities
Immediate access to speaker presentations
Essesntial, real-time event details and notifications
Upload a profile photo, set up a meeting, amd more
* Platts attempts to secure as many speaker presentations as possible, however some speakers choose not to share their materials. Therefore some presentations may not become available. Additionally speaker presentations for this event are only available for download from the networking mobile app and web link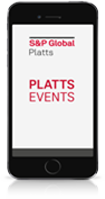 Don't miss out. Reserve your spot now
Register Here
This Event Has Ended.