hosted-events Ratings /ratings/en/events/hosted-events/financial-institutions-conference-2019-london-future-proofing-european-banking events-detail__hero js-detail-hero
Hosted Events
Financial Institutions Conference 2019: Future Proofing European Banking
November 19, 2019, 8:30am - 1:30pm
Banking Hall, 14 Cornhill, London EC3V 3ND, UK
Financial Institutions Conference 2019: London
The theme for this year's series will be 'Future Proofing European Banking' focusing on banks' business models and strategies. The event will also spotlight the C-suite, sharing the views on the role that banking leadership plays in 'future proofing' their companies - where are they excelling, where are they falling short and what lies ahead. All events will feature speakers from S&P Global Ratings and S&P Global Market Intelligence, alongside fellow industry experts.
Other locations include:
Register now
Alex, please download the S&P Networking App
The Platts Events mobile app puts conference navigation and networking at your fingertips. Available one week before the event, the mobile app gives delegates :
Advance access to the attendee list
Live agenda updates and networking activities
Immediate access to speaker presentations
Essesntial, real-time event details and notifications
Upload a profile photo, set up a meeting, amd more
* Platts attempts to secure as many speaker presentations as possible, however some speakers choose not to share their materials. Therefore some presentations may not become available. Additionally speaker presentations for this event are only available for download from the networking mobile app and web link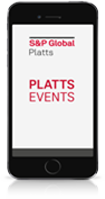 Register now for this complimentary event.
Register Here
This Event Has Ended.