hosted-events Ratings /ratings/en/events/hosted-events/2021-european-insurance-conference events-detail__hero js-detail-hero esgSubNav
Hosted Events
2021 European Insurance Conference: Look Back To Look Forward
18 November 2021, 9:00 a.m. BST, 10:00 a.m. CEST
2021 European Insurance Conference: Look Back To Look Forward
Please save the date in your diary for our

Annual European Insurance Conference

, taking place on

Thursday, November 18, 2021 in virtual format

. We look forward to providing you with the same engaging and interactive experience you have come to know from our flagship event.

We are excited to announce that
Oliver Bäte, Chairman of the Board of Management of Allianz SE (CEO) will be our keynote speaker this year
.

Other prominent industry leaders will also be joining us to share their thoughts and insights.



Our full invitation along with the event agenda and registration link will be released in the coming weeks.




Thursday, 3rd June 2021

Time: 9:00 a.m. GMT | 10:00 a.m. CET
Duration: 4 Hours
Location: Virtual Conference


Alex, please download the S&P Networking App
The Platts Events mobile app puts conference navigation and networking at your fingertips. Available one week before the event, the mobile app gives delegates :
Advance access to the attendee list
Live agenda updates and networking activities
Immediate access to speaker presentations
Essesntial, real-time event details and notifications
Upload a profile photo, set up a meeting, amd more
* Platts attempts to secure as many speaker presentations as possible, however some speakers choose not to share their materials. Therefore some presentations may not become available. Additionally speaker presentations for this event are only available for download from the networking mobile app and web link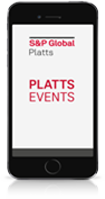 Registration will open shortly for our Virtual Conference!
Check back soon for more information!
View the Webinar Replay
Check back soon for more information!
View the Webinar Replay