hosted-events Ratings /ratings/en/events/hosted-events/2020-36th-annual-insurance-conference events-detail__hero js-detail-hero esgSubNav
Hosted Events
2020 Virtual Insurance Conference
Wednesday - Thursday June 3-4, 2020
10:00 a.m. - 12:00 p.m. EDT
2020 Virtual Insurance Conference
S&P Global Ratings is proud to host our 36th Annual Insurance Conference as a virtual experience - we are excited to welcome you to our transformed cornerstone insurance industry event!
Our conferece will be hosted on on a web-browser based platform, dial in options are not available. The access link to join the event will be sent to registered attendees one day ahead of the event. Our conference sessions will not be recorded, a replay will not be available.
Our event portal is live, and can be accessed through the link below. Please note, you must pre-register to access this event.
In recognizing the impact of the coronavirus and the current situation, for the 2020 conference, S&P Global Ratings will waive registration fees and offer complimentary registration to all attendees.

Click the "Learn More" button to visit our conferene website, including our event agenda, speaker bios, and link to register.
Alex, please download the S&P Networking App
The Platts Events mobile app puts conference navigation and networking at your fingertips. Available one week before the event, the mobile app gives delegates :
Advance access to the attendee list
Live agenda updates and networking activities
Immediate access to speaker presentations
Essesntial, real-time event details and notifications
Upload a profile photo, set up a meeting, amd more
* Platts attempts to secure as many speaker presentations as possible, however some speakers choose not to share their materials. Therefore some presentations may not become available. Additionally speaker presentations for this event are only available for download from the networking mobile app and web link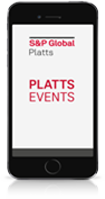 Join us for S&P Global Ratings' inaugural Virtual Event!
Learn More >
This Event Has Ended.