hosted-events Ratings /ratings/en/events/hosted-events/2019-bermuda-reinsurance-conference events-detail__hero js-detail-hero
Hosted Events
2019 Bermuda Reinsurance Conference
The Hamilton Princess Hotel, 76 Pitts Bay Road Hamilton HM, 08, Bermuda
2019 Bermuda Reinsurance Conference
Welcome to S&P Global Ratings' 2019 Bermuda Reinsurance Conference! We are excited to once again deliver the outstanding conference experience you have come to expect from S&P Global Ratings. This premier reinsurance industry event brings together more than 200 reinsurance industry professionals to participate in focused discussions, debate, key insights on industry trends, and valuable networking opportunities.
Top reinsurance leaders from the following companies will be joining us to share their industry insights and perspectives:

AIR Worldwide

American International Group Inc.

Arch Capital Group Ltd.

AXIS Capital Holdings Ltd.

Bank of America Merrill Lynch

GC Securities LLC

Liberty Mutual Holding Co. Inc.

Markel Corp.

Odyssey Group Holdings Inc.

PIMCO LLC

PartnerRe Ltd.

RenaissanceRe Holdings Ltd.

SCOR SE

Spectrum Asset Management Inc.

S

irius International Insurance Group Ltd.

Wells Fargo Securities LLC
Register now
Alex, please download the S&P Networking App
The Platts Events mobile app puts conference navigation and networking at your fingertips. Available one week before the event, the mobile app gives delegates :
Advance access to the attendee list
Live agenda updates and networking activities
Immediate access to speaker presentations
Essesntial, real-time event details and notifications
Upload a profile photo, set up a meeting, amd more
* Platts attempts to secure as many speaker presentations as possible, however some speakers choose not to share their materials. Therefore some presentations may not become available. Additionally speaker presentations for this event are only available for download from the networking mobile app and web link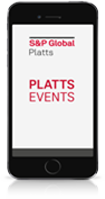 Register Today for the Premiere Reinsurance Conference on the island!
Register Here
This Event Has Ended.