Sep. 17 2018 — Advertising agencies are becoming increasingly frustrated with the inability of Nielsen Holdings PLC's Nielsen Media Research to convince the major media companies to embrace its new cross-platform measurement system, called Total Audience Measurement. This creates a huge opportunity for comScore Inc., formerly Rentrak.
ComScore is trying to reinvent itself following its delisting in 2017 — it was relisted June 1 — following an accounting scandal. The company's stock has fallen from $65 per share intraday on Aug. 17, 2015, to close at just $18.06 per share on Sept. 6. It currently has a total enterprise value of less than $1.2 billion, paltry in comparison to Nielsen Holdings' $12.9 billion.
In April, comScore named Bryan Wiener, previously executive chairman of Dentsu's digital media agency 360i LLC, as its CEO. On Sept. 5, the company announced that it hired Sarah Hofstetter to serve as president and head up commercial strategy, including sales and marketing.
Wiener and Hofstetter have worked together for two decades, most recently at 360i, where Hofstetter was CEO and chairwoman. The two executives' deep ties to the advertising community may be just what is needed to bring a competing cross-platform measurement system to the broadcast and cable network industries.
Cable network ad revenue grew for decades before stumbling, albeit modestly, during the last recession. More recently, despite a booming economy the cable network ad industry has faltered, in part due to cord cutting and cord shaving but also because current ratings do not include all of online viewing and out-of-home viewing.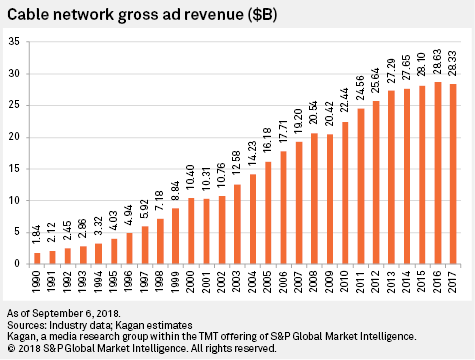 Currently, the ratings only include online viewing within a three-day period, which includes the exact same commercial load as linear. Many media companies do not believe that online viewers will tolerate the huge ad load that exists on linear TV and do not include the same commercial pods that appear on linear TV when serving up the shows online.
Although negotiations between Nielsen Media Research and the major media companies have been going on for some time, many in the industry are tired of the delays in adopting a new system and are looking at alternate ways to measure viewing.