Oct. 18 2018 — Increasing availability of triple-digit advertised speeds, elimination of lower speed packages, free broadband speed upgrades and migration from copper to fiber are paving the way to faster broadband speeds in five major Latin American markets. However, 38% of broadband households still subscribe to packages with speeds under 10 Mbps.
Kagan analyzes reported fixed broadband speeds in the top five broadband markets in Latin America in 2017 — Argentina, Brazil, Chile, Colombia and Mexico — in terms of subscriber numbers. Broadband speeds are divided into three tiers, with the lowest tier defined as speeds below 10 Mbps, the middle tier as speeds in the range of 10 Mbps to 100 Mbps and any speed above 100 Mbps considered the highest tier. Our estimates are based on regulator data, which is used to determine the markets' reported speeds.
Broadband households with 10-100 Mbps speeds dominate in the five major Latin American markets, with 59.6%, or 34.1 million, of the 57.3 million subs. This tier is followed by households with speeds below 10 Mbps with a 37.9% share, while speeds above 100 Mbps remain a niche offering with only 2.5% of broadband households among the five chosen markets.
Diving deeper into each of the five markets, the majority of the broadband households in Brazil, Mexico and Chile have speeds in the 10-100 Mbps tier, while most broadband households in Argentina and Colombia have speeds below 10 Mbps. Chile has the highest percentage of highest tier households due to local operators migrating customers to higher speeds.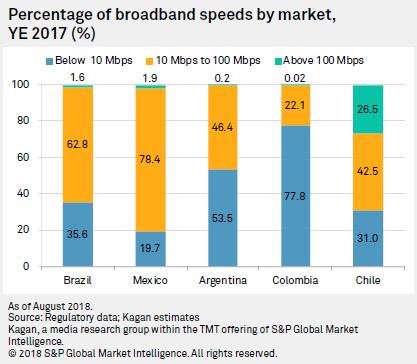 Out of the estimated 7.6 million residential fixed broadband households in Argentina, we estimate 53.5% or 4.1 million subscribers are in the lowest tier at year-end 2017. The middle tier closely follows this with 3.5 million subscribers, leaving households above 100 Mbps as the least penetrated speed with 11,695 subs as of 2017. In the lowest tier, 74% is made up of households with 6 Mbps speeds. Across the middle tier, most households subscribed to speeds in the 10-50 Mbps range. Almost all of the broadband households in the highest tier have 150 Mbps speeds.
As for Brazil, we estimate 26.2 million broadband households are composed of 9.3 million in the lowest speed tier, 16.5 million in the middle tier and around 417,000 subscribers in the highest tier. Aside from being the largest ISP in terms of market share, Claro Brasil also dominates both the middle and highest tiers through its cable service, which operates under the brand name NET. In the middle tier, 15 Mbps is the most penetrated speed with 5.1 million customers, of which 2.7 million are from NET. A huge chunk of the highest tier is in 120 Mbps, with around 317,000 households subscribed to NET.
Despite being the smallest among the five markets, Chile has the most number of broadband households subscribed to speeds above 100 Mbps, as subscribers were recently migrated to higher broadband speeds, particularly from VTR. VTR increased its broadband speeds from 100 Mbps to 120 Mbps in February 2017 with no additional charges.
Unlike the rest of the five markets, dominant speeds per speed tier in Colombia lead by a wide margin, with 5 Mbps, 10 Mbps and 150 Mbps being the most popular contracted speeds in each tier. In the lowest tier, 5 Mbps is dominant with 58.9% or almost 2.7 million homes, around 1.4 million of which are Claro Colombia subscribers. Claro Colombia dominates the middle tier as well, with around 490,000 of its subscriber base in the 10-100 Mbps spectrum, concentrating 70.8% of the middle tier. In the highest tier, 98.8% or 914 households have 150 Mbps, the majority coming from ETB and a very few households from Azteca and Claro Colombia.
Mexico has the highest middle tier percentage among the five markets, with 78.4% or an estimated 11.7 million out of 15 million households subscribed to speeds from 10 Mbps to 100 Mbps. The lowest tier comes next with 19.7% or 2.9 million broadband homes, around 1.1 million of which are from the combined subscriber base of Grupo Televisa SAB's subsidiaries — Cablecom, Cablemás, Cablevisión México, Cablevisión Red SA de CV (Telecable), TVI and Sky México. The highest tier only has 2%, or around 288,000 households with speeds above 100 Mbps.
Average speeds: Ookla and Netflix
Average speeds reported by Netflix Inc. and Ookla should not be taken as the true speed measure of the mentioned markets. Netflix calculates the average prime-time bit rate used when streaming Netflix content across all end-user devices, regardless of the simultaneous internet activity performed on a single connection. Ookla, on the other hand, is limited to reporting broadband connections that actively performed speed tests on its platform.
Demand for higher broadband speeds is increasing as more people prefer to watch content over streaming services. According to Netflix's ISP Index, among the chosen five markets, Chile has both the highest country average and ISP speed.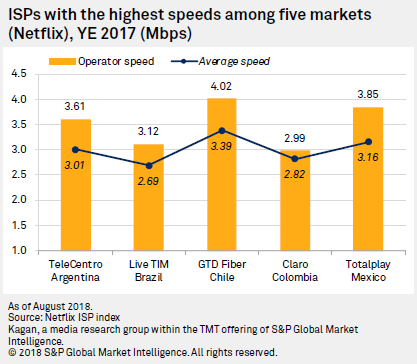 In Argentina, cable operator TeleCentro had the highest average speed at 3.61 Mbps, while Telefónica Argentina's Speedy was at the lowest with 2.38 Mbps. TeleCentro's broadband plans range from 30 Mbps to 1 Gbps, causing it to reach higher average speeds compared to other providers. On the other hand, Speedy only offered plans from 3 Mbps to 10 Mbps in December 2017.
Netflix ranks TIM Participações SA as the ISP with the highest average speed at 3.12 Mbps in Brazil, while Telefónica Vivo falls at the bottom with 2.16 Mbps. Vivo Internet (DSL) and Vivo Fibra (fiber) were ranked separately but are both under Telefónica, which might have affected the average speeds ranking of Telefónica as a whole. Given the FTTH upgrades planned by Brazil's major operators, broadband speeds are expected to increase, driving penetration in the middle and highest broadband tiers.
GTD Internet's Fiber broadband ranks as the fastest ISP in Chile with 4.02 Mbps, which is also the highest ISP speed among the five major Latin American markets. Again, separating the average speed from its DSL counterpart might have affected the total average of the ISP. Fixed wireless provider Entel Chile, aside from having the lowest number of broadband subscribers in Chile among the operators analyzed, also ranks last in the average speeds with 2.45 Mbps as of 2017.
According to Netflix's ranking, Claro Colombia leads the average speeds only by a few points above ETB, with 2.99 Mbps and 2.9 Mbps, respectively. The lowest is DIRECTV Colombia's fixed wireless broadband service with speed offerings ranging from 2-10 Mbps in 2017.
Grupo Salinas' Total Play Telecomunicaciones SA de CV has the highest Netflix average speed in Mexico at year-end 2017, given its full fiber network. Average speeds from providers vary between 2-4 Mbps, except for Axtel's fixed wireless service Acceso Universal. However, separating the average with Axtel's Xtremo fiber service might have affected the company's overall average speeds ranking.
Although Ookla's Speedtest Global Index also shows Chile as the leader in average broadband speeds, it lists Colombia as the market with slowest average speed.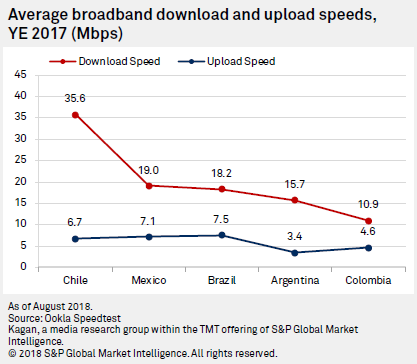 The availability of faster broadband speeds is also attributable to the increasing number of operators deploying their own fiber networks. After the initial trend of fiber rollouts, Kagan forecasts FTTH revenue in the Caribbean and Latin America is set to experience staggered but stable growth until 2022 as ISPs hold off spending until high-end fiber networks become more available, hence incurring lower expenses.
Despite the availability of broadband packages with higher speeds, reported speeds reached remain low. As internet service providers are slowly getting past the hurdles of network upgrades and deployments, the challenge is how to come closer to the maximum advertised speeds in their broadband plans.
Global Multichannel is a service of Kagan, a group within S&P Global Market Intelligence's TMT offering. Clients may access the full article, with detailed breakdown of speed tiers and Netflix ISP average speeds per country, as well as year-end 2017 data available in Excel format, by clicking here.