Mar. 15 2019 — The Corrego do Feijao dam burst on Jan. 25 is the second such disaster at Vale SA operations since Nov. 5, 2015, when Samarco Fundao dam failed. We assess the market scenarios that may develop in this fast-moving situation and conclude that the market will be balanced by marginal Chinese operations. In the immediate aftermath, the disaster added US$15/t to spot prices for 62% Fe iron ores, while the company's share price went from trading at an industry premium to eroding all gains made since Jan. 1, 2018.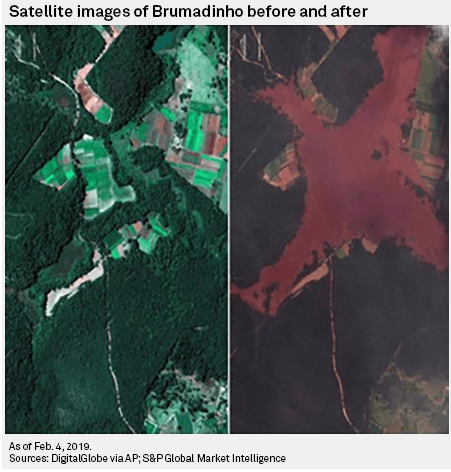 The Feijao mine supplies the market with 5-10 million tonnes of 66% Fe material. Vale initially stated that Feijao would be offline for an undetermined period of time. Since then, Vale has publicly declared that it will extend the halt across some of the mines in its Southern System to remove a total of 40 Mt of 64%-66% Fe grade. It is possible that a further 30 Mt of 64.7% Fe will be removed from the market if the Brucutu mine remains offline for a long period. A total of 70 Mt/y of capacity is affected, but not for the whole year and other mines will be used to mitigate the losses. We therefore expect a net loss of 50 Mt of production in 2019 and for Vale to produce approximately 350 Mt for the year.
We estimate that Vale may exceed its 2019 guidance for 70-80 Mt at the Serra Sul mine in Para state, and to approach current nameplate capacity of 90 Mt. As this represents only 5-10 Mt of mitigating capability, the company's December 2018 guidance for 400 Mt in 2019 is not expected to materialize. We expect Vale to offer further updates soon, although full clarity may not be available until production and sales reports are released on March 26.
Vale's other mines will be challenged to improve capacity to help bridge the gap between the 400 Mt guidance and the volumes impacted by the disaster. The Northern System is close to capacity, so any additional output will need to be made up from production at the Southeastern System, the Midwestern System or stockpiles in Malaysia. However, as we do not expect significant latent capacity from these sources, we estimate a new 35-65-Mt market deficit for higher grade material in 2019.
This is a similar quantity of material as that produced by Samarco, although the chemistry and product are different. Samarco had capacity for 32 Mt/y of pellets, and the removal of the operation has contributed significantly to the rise in pellet premiums, from US$20/t on Nov. 10, 2015 to US$67/t as at Feb. 4, 2019. Supply of iron ore is relatively inelastic over the short term, and a price reaction brought the market into balance. This type of scarcity economics is likely to reoccur due to the Brumadinho dam collapse.
The price implications are likely to be exaggerated in the short term but will cause our expectations for average 2019 prices for 62% Fe ores to rise by approximately US$10/t. Prices for 65% Fe material are likely to average at least US$90/t in 2019, and premiums and discounts are likely to improve compared with 62% Fe ores. We expect headline prices to rise above the cost curve, to induce marginal supply of Chinese 66% Fe Tangshan concentrate.
Alternate supply options limited
It is more likely that "capacity creep" will be incentivized at existing operations, encouraging producers to outperform management forecasts, if possible. Guidance for 338-350 Mt of production across Australian operations was provided by Rio Tinto on Jan. 18, and we now expect the upper end of this guidance if not an early effort to hit nameplate capacity of 360 Mt/y as 2019 progresses.
Meanwhile, BHP Group will likely maximize its constrained port capacity of 285 Mt/y due to limitations at Port Hedland; and Fortescue Metals Group Ltd., may stretch past 170 Mt/y despite similar port restrictions. Roy Hill is likely to attain 55 Mt/y, although it too is constrained at port, as are a number of other smaller producers in Western Australia. We expect the net reaction from these other miners to total approximately 10-15 Mt.
We do not expect much reaction from higher-grade Indian suppliers, due to prohibitive export policies. Likewise, other African and marginal Brazilian producers are unlikely to be able to react due to high levels of impurities and cost respectively. We expect the market will be balanced by marginal Chinese mines of lower alumina content, which are able to restart immediately and are close to market.
This article was published by S&P Global Market Intelligence and not by S&P Global Ratings, which is a separately managed division of S&P Global.
Miners' Margins To Increase By US$13.7B To Reach 37% In 2019
Learn more
Webinar Replay: State of the Market - Mining Q4 2018
Learn more