Feb. 07 2019 — Atlanta-based SunTrust Banks Inc. and Winston-Salem, N.C.-based BB&T Corp. have agreed to combine in an all-stock merger of equals valued at about $66 billion.
Under the terms of the deal, SunTrust shareholders will receive 1.295 shares of BB&T for each SunTrust share they own. BB&T shareholders will own approximately 57% and SunTrust shareholders will own approximately 43% of the combined company.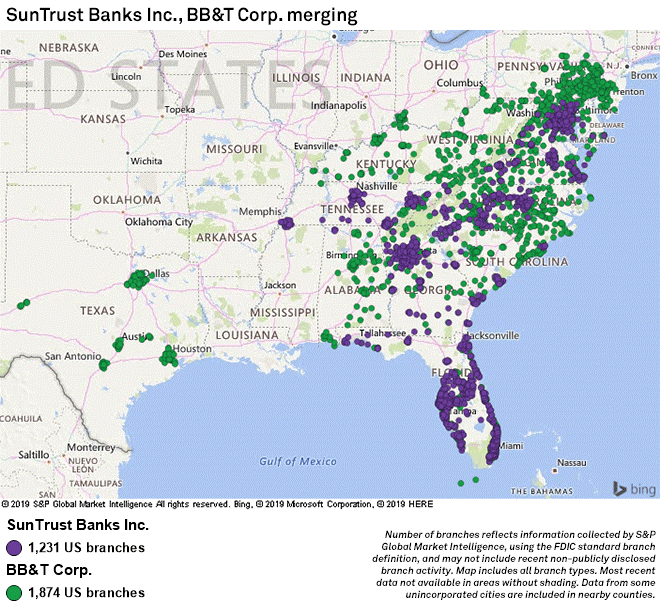 GAAP and cash EPS accretion per BB&T share in 2021 is expected to be about 13% and 17%, respectively. GAAP and cash EPS accretion per SunTrust share in 2021 is expected to be approximately 9% and 16%, respectively. SunTrust shareholders will receive a 5% increase in their dividend upon consummation of the transaction based upon each company's current dividend per share.
The deal is expected to be completed in the fourth quarter. The resulting company will operate under a new name and brand, to be determined prior to closing. It will have approximately $442 billion in assets, $301 billion in loans, and $324 billion in deposits.
Expected transaction benefits include a pro forma efficiency ratio of 51%, peer best return on average tangible common equity of 22% and projected tangible book value per share accretion at close for BB&T shareholders of approximately 11%, or 6% fully accounting for one-time merger charges. The merger is expected to generate an internal rate of return of approximately 18%. The transaction is also expected to deliver about $1.6 billion in annual net cost synergies by 2022. The primary sources of cost savings are expected to be in facilities, information technology/systems, shared services, retail banking and third-party vendors.
BB&T Chairman and CEO Kelly King will serve as chairman and CEO of the combined company and its bank subsidiary until Sept. 12, 2021, and SunTrust Chairman and CEO William Rogers Jr. will serve as president and COO of both entities. After that date, King will serve as executive chairman of the combined company and the bank until March 12, 2022, and Rogers will become CEO of both entities. On March 12, 2022, Rogers will also become chairman and CEO of the combined company and the bank.
King will continue to serve on the combined company's board until the end of 2023. Rogers will hold a seat on the combined company's board through his position as president and COO and then CEO.
David Ratcliffe, SunTrust's lead director, will serve as the combined company's lead director until March 12, 2022, after which the lead director will be a legacy BB&T director. The board of the combined company will consist of members equally split between BB&T and SunTrust's current directors.
The combined company's executive management team will be comprised equally from SunTrust and BB&T. They include Chris Henson, Clarke Starnes, Daryl Bible, Allison Dukes, Brant Standridge, David Weaver, Dontá Wilson, Ellen Fitzsimmons, Ellen Koebler, Hugh Cummins, Joseph Thompson and Scott Case.
A new corporate headquarters will be established in Charlotte, N.C., including an innovation and technology center to drive digital transformation.
In the current home markets for both companies, the combined company will maintain the community banking center in Winston-Salem and the wholesale banking center in Atlanta.
The terms of the transaction also include a mutual breakup fee of about $1.1 billion, payable in customary circumstances.
RBC Capital Markets served as financial adviser to BB&T, and Wachtell Lipton Rosen & Katz served as its legal counsel. Goldman Sachs and SunTrust Robinson Humphrey served as financial advisers to SunTrust, and Sullivan & Cromwell served as its legal counsel.
To use S&P Global Market Intelligence's branch analytics tools to compare market overlap, click here. To create custom maps, click here.