Apr. 16 2018 — Subscription video on demand has struggled to gain ground in Taiwan due to the prevalence of free content in the form of value-added video options utilized by telcos in an extremely saturated and competitive mobile market, legitimate ad-supported video platforms, and pirated content.
Kagan, a media research group within S&P Global Market Intelligence, estimates that mobile penetration rates reached 124% in 2017 and are projected to climb to 140% by 2022. The major mobile players in Taiwan (Chunghwa Telecom, Taiwan Mobile Co. Ltd., and FarEastOne Communications) each offer forms of over-the-top video. Taiwan is also characterized by high rates of video piracy. In June 2017, an iQIYI Inc. executive claimed that levels of piracy in Taiwan exceeded those in China. He said Taiwanese regulators have not done enough to combat piracy and shore up the legal video market.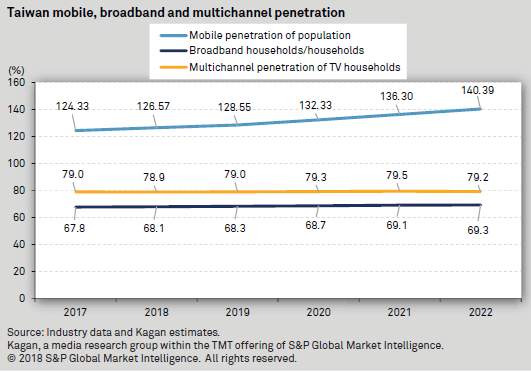 For those SVOD players operating in the market, we have identified iQIYI, Catchplay On Demand, and Netflix Inc. as having made the most progress.
IQIYI is China's most popular SVOD service in terms of estimated paid subscribers. In March 2016, the service expanded to Taiwan in order to monetize its content in the second largest Chinese-speaking market in the world. The service operates both ad-supported and subscription revenue models in the country. Currently, iQIYI is a subsidiary of Baidu Inc., but the streaming service and its parent have recently announced plans to list iQIYI service on the Nasdaq Stock Market, having submitted a draft prospectus to the SEC for an IPO. Baidu plans to remain the majority shareholder, but listing the company would provide an influx of capital that would provide additional resources for acquiring and producing content in the extremely competitive Chinese OTT market.
Launched in China through a partnership with local content distributor OTT Entertainment Ltd., iQIYI has repeatedly applied to establish a local subsidiary in the country, but policies regulating the type of investment coming into the country from mainland China are prohibitive. Regulators cite the need to protect their right to broadcast and promote their own cultural content, as well as China's insistence on barring Taiwanese OTT services from operating on the mainland as primary factors in the issue.
Catchplay Group's roots are in theatrical and DVD distribution in the Taiwan market. By branching into content production, investment, and aggregation, the group has built a sizable film library that it monetizes through various ventures. In March 2016, with Netflix having launched in the country only months prior, the group launched SVOD platform Catchplay On Demand. The group's existing film assets allowed the service to enter the market with an advantage in terms of diversity of content and new releases. The service provides Chinese and Asian-language films as well as Hollywood content from independent and major studios including Comcast Corp.'s NBCUniversal Media LLC, Time Warner Inc.'s Warner Bros., and Walt Disney Co. The service also monetizes its film catalog through a rental revenue model in Taiwan.
Netflix launched in Taiwan in January 2016 as part of its global expansion. The service has not been successful in partnering with major telcos in the area possibly due to incumbent telcos offering their own OTT packages. Whether by design or default, Netflix instead pursued partnerships with system-on-a-chip manufacturers in the country. In mid-2016, Netflix began partnering with these regional manufacturers as part of its Recommended TV program. Through the program, Netflix evaluates the quality of smart TV delivery of Netflix content, bestowing a Netflix Recommended TV designation to quality products.
Pricing
SVOD is very reasonably priced in Taiwan. All three services register less than 0.3% on our affordability index, which is based on gross national income purchasing power parity. The affordability of the dominant pay TV platform is 0.4%. Even Netflix, which has typically priced its service on a premium tier throughout Asia, is affordable in the market. Netflix's most expensive four-screen subscription also registers lower than Taiwan's dominant pay TV platform on the affordability index. To provide context, Netflix's two-screen plans register 0.31% and 0.19% on the affordability index in the U.K. and the U.S., respectively.