Prices for 62% Fe iron ores have remained at approximately US$90/t to US$100/t since the beginning of April and have been above US$100/t in their latest run since June 10. We have increased our price expectations on increased supply disruptions, though we hold our estimates for steel demand broadly constant given policy uncertainty and a long-held assumption of capacity curbs for the December half of 2019. We expect a greater seaborne iron ore deficit of 54 million tonnes, which is increased from 36 Mt due to larger-than-expected disruption at Rio Tinto's Pilbara mines in Australia and a slower resumption of idled Chinese concentrate capacity.
Access the Iron Ore Commodity Briefing Service July 2019 report and slide deck.
Iron ore prices increased 6.7% to US$121.90/t on July 19 from US$114.30/t on June 19. Prices peaked at US$126.40/t on July 3 but declined on reticent buying activity. Technical trading signals continue to suggest upside risk to current prices despite fundamentals.
Global iron ore production is expected to grow by 1.2% year over year in 2019 to 2.2 billion tonnes. The reduced year-over-year growth rate is due to continued disruption at major miners' operations, most notably Vale SA and Rio Tinto.
Global pig iron production is expected to remain broadly constant year over year at 1.2 billion tonnes as capacity rationalization in China substitutes blast furnace activity for electric-arc furnace activity in a push to modernize the nation's stock of steelmaking equipment.
China's steel mills now profit by US$37/t and US$5/t at rebar and hot-rolled coil facilities, respectively. We expect steelmaking activity in China to decrease over the December half of 2019.
China's volume of floor space increased 10.5% year over year as demand for housing remains robust and China's fiscal and monetary stimulus moves to counteract pressure in the external sector by supporting domestic economic activity.
We expect prices for 62% Fe iron ore to increase to average US$95.50/t in 2020 but to decline to an average of US$86/t in 2021 as the seaborne deficit decreases.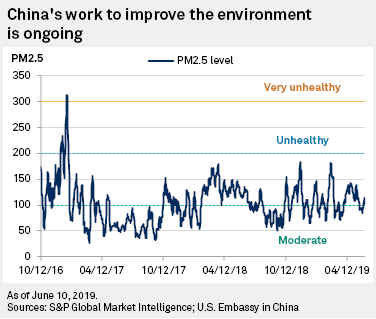 In China there has been heavy promotion of electric vehicles for environmental reasons. Electric vehicle growth is driving steel substitution by aluminum for weight reduction as well as increased demand for copper, nickel, cobalt and lithium. In its latest policy, the government requires all light vehicles to adhere to tougher "China VI" emission standards by 2020 as part of efforts to combat pollution. The reinvigorated growth in demand for electric vehicles has caused an 18% year-over-year increase to 97,000 units in April while China's total car sales fell by 15% to 1.98 million, according to the China Association of Automobile Manufacturers.
Iron ore - direct intervention to increase
We expect the environmental pressures within China's iron ore and steel supply chain to spread throughout the more economically developed world, and even more so in emerging economies such as India. The environment becomes an important issue once citizens have the space to consider it without depriving themselves of other, more essential short-term items. China has already achieved peak production in a multitude of metals including steel, where consumption is already at approximately 560 kilograms per capita, with only the likes of South Korea and Japan boasting greater rates due to their significant export share in a number of end-use goods such as vehicles and shipbuilding.
For the full Iron Ore Commodity Briefing Service report
Download Here