Boasting an unrivaled combination of aggressive green energy commitments and massive energy demand, the datacenter industry continues to pace the corporate renewables market. US wind and solar capacity contracted to data center providers and customers jumped over 50% in this update to 40 GW — two-thirds of the total US corporate renewables market.

Amazon, Apple, Google, Meta and Microsoft are among the major tech companies known as hyperscalers that rely heavily on datacenters as part of their core business. As a result of the enormous energy demand from datacenters, along with commitments to be 100% renewable, these five companies alone account for over 45 GW of corporate renewable purchases worldwide — over half of the global corporate renewables market.
Virginia, specifically the northern part, remains the datacenter hub, not just in the US, but the world. Combined with the massive operating fleet of datacenters, planned facilities would push energy demand from datacenters alone to nearly 9 GW in Virginia. Dozens of other markets are emerging as focal points for datacenter development, including Texas, Ohio, Arizona, Iowa, Washington and the Southeast. Corporate renewable purchases and utility-led renewable procurement programs have increased in activity in response to these growing datacenter markets.

The top five companies in contracted renewable energy capacity rely heavily on datacenters as part of their core business operations. In 2022, the online retailer and cloud service provider Amazon.com Inc. extended its lead in contracted renewable energy, as it surpassed 20 GW of wind and solar capacity. Fellow tech industry leaders Google LLC, Meta Platforms Inc. and Microsoft Corp. are second, third and fourth, respectively, in renewable purchases.
These companies are known as hyperscalers, which are large cloud service providers that offer computing and storage services at a massive scale. Datacenters — the backbone of this industry — continue to expand to keep pace with the exponentially growing global data market. According to industry estimates, 90% of the world's data was created in just the last two years.

The top five hyperscalers — Amazon, Google, Meta, Microsoft and Apple Inc. — have a combined renewable portfolio totaling over 45 GW around the globe. Roughly 57% of the global corporate wind and solar capacity tracked by S&P Global Commodity Insights is tied to just these five companies. This does not include most on-site renewable generation.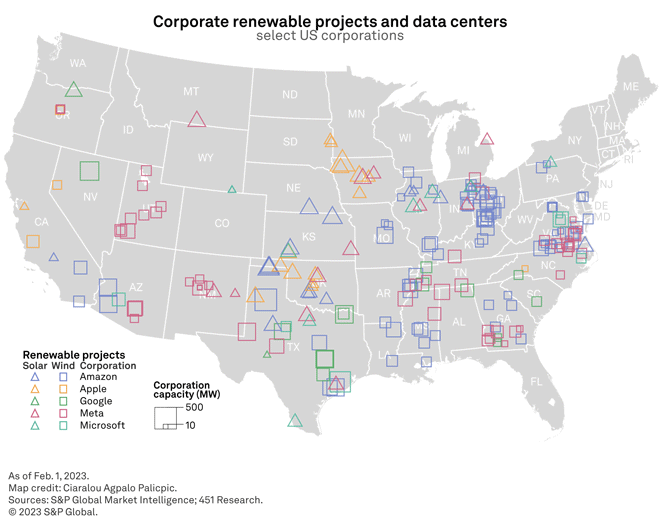 Current estimated energy demand from datacenters in the US is just over 22 GW. Based on current development plans, this will jump to 33 GW in only a few years, though that may underestimate the future market, based on the amount of renewable capacity purchased by hyperscalers and datacenter companies from projects yet to come online.

Major datacenter providers Iron Mountain Inc., Digital Realty Trust Inc., QTS Realty Trust Inc. and Switch Inc. have bumped up their renewable investments to a combined 1,500 MW. These major datacenter companies and the aforementioned hyperscalers have 100% renewable energy commitments. Google, Microsoft and Iron Mountain are taking extra steps in order to be powered by clean energy around the clock.

Major markets

Virginia remains the dominant datacenter market, not just for the US but for the world. According to 451 Research data, nearly 50 million square feet of gross datacenter space are in operation in Virginia alone. The top five hyperscalers own or lease 116 datacenters in Virginia — both online and in development. California is a distant second, with just 31 million square feet of datacenter space.

Dominion Energy Inc. and its subsidiary Virginia Electric and Power Co. provide power to a majority of these datacenters, particularly in the so-called datacenter alley in Northern Virginia, which includes Loudon, Fairfax and Prince William counties. According to Dominion, datacenters account for roughly 20% of its total sales in Virginia. Accordingly, forecast load growth in the state continues to exceed expectations. Dominion's 2023 load forecast shows its summer peak load will reach 31.6 GW by 2030. This is a 28% increase from its 2022 load forecast for the same time frame and is largely due to increasing datacenter investment in the area.

In a July 2022 earnings call, Dominion expressed concerns that this rapid rise in forecast load could lead to an increase in transmission constraints, particularly in Loudon County, potentially causing delays in the connection of new datacenters in the future. This announcement sent shockwaves through the industry, though Dominion has since taken steps to mitigate the problem.

The company noted the need for at least two 500 kV transmission lines in Loudon County and has already submitted plans to PJM Interconnection LLC for one to come online by 2026. Dominion will likely work to expedite the permitting processes for these transmission lines, given the expected influx of datacenters in the region. Amazon recently announced plans to invest $35 billion by 2040 for new datacenter campuses across Virginia.

Planned datacenters in Virginia are expected to need just over 4 GW of power — more than the next seven ranked states combined. Virginia currently ranks fifth in corporate renewable capacity at 3.3 GW. State law requires energy providers to supply 100% renewable energy by 2050.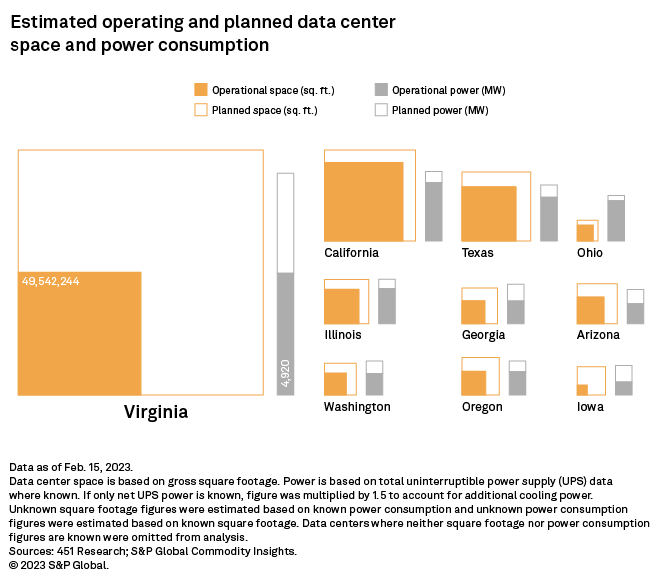 California ranks second in operational datacenter power at 2.3 GW, though the state has a relatively moderate 1.3 GW of corporate renewable capacity currently contracted. Amazon holds the largest renewable contract with the 150 MW solar and 75 MW storage Baldy Mesa Solar Project owned by AES Corp. Apple, Digital Realty, Google and Microsoft also have renewable contracts with projects in the state. California has the second-largest installed base of renewable capacity in the US at 18.4 GW of wind and solar and a statewide goal of 100% carbon-free energy by 2045.

Texas has 1.8 GW of operating datacenter capacity and another 500 MW planned. The Dallas/Fort Worth and San Antonio metropolitan areas have emerged as hubs for datacenters in the state. Among the top hyperscalers, Microsoft leads the way in Texas with 11 datacenters in operation or in development. Texas dominates the corporate renewable market, with over 20 GW contracted to nonutility offtakers. The pipeline in Texas continues to grow with 62.1 GW of solar and 11.6 GW of wind in planning, indicating plenty of headroom for it to extend its lead in corporate renewable capacity.

The Southeast is emerging as a major datacenter market. Georgia ranks second, behind Virginia, in planned datacenters by power consumption at 679 MW. Tennessee and Alabama add another 369 MW. Meta and Google are leading the way in datacenter development in the Southeast, with 11 and five datacenters, respectively, operating or planned in the region. Datacenter development in the region is primarily focused in the metropolitan areas of Atlanta; Nashville, Tenn.; and Huntsville, Ala. The states of Georgia, Tennessee and Alabama have nearly 2.5 GW of combined contracted corporate renewable capacity, aided by corporate renewable procurement programs from Tennessee Valley Authority and Southern Co. subsidiary Georgia Power Co.

Iowa ranks third in planned datacenter power capacity, with 666 MW. Meta, Google and Microsoft have an increasingly strong presence in the state, with a total of 19 facilities in development or online. There are 1.7 GW of wind capacity contracted to corporate offtakers in Iowa, led by Berkshire Hathaway Inc. subsidiary MidAmerican Energy Co. whose projects include the 502-MW Highland Wind (Wind VIII & IX Project) contracted to Google and the 141-MW Wellsburg Wind (Wind VIII Project) contracted to Meta. Further, Iowa ranks first in renewable generation share, as wind and solar make up 54% of the state's operating energy generation, helping make the case for clean-energy-committed hyperscalers to expand their footprint in the state.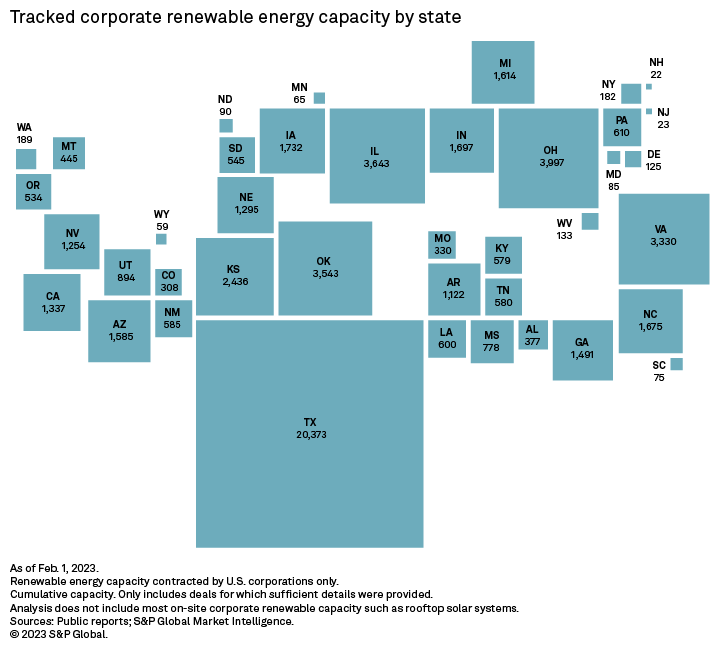 Finally, in addition to the yet-to-be-mentioned states of Ohio, Illinois and Arizona, the Pacific Northwest is joining the ranks of datacenter destinations in the US. Datacenters are popping up in the suburban markets of Seattle and Portland, Ore., as well as the more rural areas of Washington and Oregon. Both Amazon and Microsoft were founded in Washington and are unsurprisingly investing in datacenter campuses across the region. Amazon leads with 17 facilities and Microsoft is right behind with 16. Meta and Google also have a significant presence in the growing market, with 18 facilities between them in the region. Planned new datacenters will add an estimated 900 MW of load in Washington and Oregon combined.
Apple is the largest corporate renewable buyer in the region, led by the 217-MW Montague Wind Facility (Leaning Juniper III) in Oregon owned by Avangrid Inc. and Iberdrola SA. Green tariff programs from Puget Sound Energy Inc., Portland General Electric Co. and PacifiCorp are driving additional renewable investment in the region with offtakers that include Digital Realty and Intel Corp.

Looking ahead

At a high level, the datacenter market appears to be in full force and, as a result, the corporate renewables market is, too. Recent recession concerns, however, may begin to slow new datacenter development. In light of increasing layoffs in the tech sector, hyperscalers continuing to invest billions of dollars in brand new datacenters may not provide the best optics. Amazon recently announced it is delaying construction of the second phase of its new headquarters in Northern Virginia. Microsoft similarly paused the development of its new campus in Atlanta.

That said, the global exponential growth of data is real, and this data needs to be stored somewhere. While a recession may alter plans for the development of new datacenters, it is likely to be a small bump in the road, if anything. New datacenters will contribute thousands of megawatts in new energy demand in the US and other markets, and corporate renewable purchases will continue to follow suit.

Regulatory Research Associates is a group within S&P Global Commodity Insights.
Ciaralou Palicpic, Joseph Reyes, Tony Lenoir, Dan Thompson and Kelly Morgan contributed to this article.
This article was published by S&P Global Market Intelligence and not by S&P Global Ratings, which is a separately managed division of S&P Global.
Gain energy intelligence to quantify the value of energy transition for the US power sector
Request Follow Up