Following Comcast Corp.'s lead, AT&T Inc. announced the availability of a smart home Wi-Fi extender, designed to eliminate dead spots and boost signal coverage in homes with its U-Verse broadband service. The device, designed and manufactured by AirTies, is an 802.11ac access point with integrated mesh network capabilities. The device ties into AT&T's Smart Home Manager software platform, which helps broadband customers manage the performance of their Wi-Fi networks.
With the rollout of the Wi-Fi extender, AT&T is addressing a growing set of problems customers encounter when relying on Wi-Fi in their homes. First, traditional home routers, while powerful enough to generate a signal for a good percentage of a home, often have very limited and clunky user interfaces, making it challenging for users to set specific network parameters or preferences. Second, in larger or older homes, where brick or cinder block walls can quickly dampen a Wi-Fi signal, there are likely to be dead spots. Historically, these dead spots have been addressed through the use of Wi-Fi extenders, which simply repeat the signal generated by the central access point. But the problem with traditional Wi-Fi extenders is two-fold:
The extender can only do its job when it can detect the original Wi-Fi signal.
Each time the signal is repeated or extended, signal loss occurs, to the tune of a 30% to 60% reduction in throughput.
Mesh networking capabilities, such as those included in the AirTies extender, as well as from companies such as eero, Luma, Google Inc., NetGear Inc., and D-Link Corp., do a far better job of maintaining a clean wireless signal, though they do still rely on signal repetition. By having multiple units spaced throughout a home, these systems effectively create multi-hop communications for wireless devices. Essentially a wireless device, when it receives or transmits data, is either the first leg or anchor in a Wi-Fi relay race, with the data transfer hopping from one access point to another until it reaches the primary access point, which is connected to the DSL, cable, or fiber gateway. The multi-hop attributes of a mesh network essentially reduce the distance the wireless signal has to hop from one point to the next.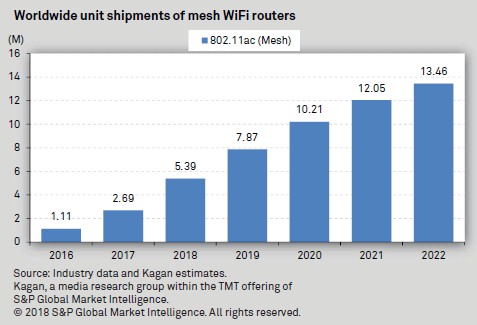 Kagan, a media research group within S&P Global Market Intelligence, expects shipments of mesh Wi-Fi routers to increase from 2.7 million units in 2017 to 13.5 million units in 2022. Mesh routers and extenders will primarily be limited to the North American market, where homes are typically large enough to have signal dead spots. Also, there is a natural ceiling to the adoption of mesh routers, as not every household will need them, particularly multiple dwelling units and smaller single-family homes.
Just as crucial to AT&T as the improvement of the Wi-Fi signal itself is the increase in control users will have over their Wi-Fi networks, passwords, and devices on those networks. Like Comcast, AT&T is betting on its Smart Home Manager platform as a means to not only retain broadband customers, but also as a means to expand into new services, including home automation and security. A centralized dashboard for the control of a customer's total online experience is an important tool in the fight to maintain control over the home experience with Amazon.com Inc., Google, Apple Inc., and Roku, among others.
At this point, AT&T's Smart Home Manager is focused solely on managing the in-home Wi-Fi experience. Through the online portal or smartphone apps, a customer can:
View devices on their network
Invite guests to connect to the network
Disconnect devices from their network
View their Wi-Fi network information
Change their Wi-Fi network name or password
These are very basic functions that are generally included with all Wi-Fi routers. The addition of the AirTies Wi-Fi extender does provide for some additional capabilities, including:
Creation of individual user profiles with the devices belonging to these users and traffic prioritization by user and device
The ability to pause Wi-Fi access on demand and at scheduled times for all users or for selected users
An advanced set of parental controls, restricting access to a pre-defined or customized set of Web locations
But AT&T will also need to update its existing roster of xDSL gateways principally because many are 802.11n only. The most recent VDSL2 gateways — the ARRIS 5268AC and BGW-210 — both support 802.11ac and are compatible with the new Wi-Fi extender. But true end-to-end mesh networking functionality, as well as the additional features listed above won't be offered as part of the Smart Home Manager platform until a new set of xDSL or GPON gateways with those integrated capabilities are made available.