Local governments, commonly in conjunction with private entities, continue to be drawn into providing broadband in the U.S. to satisfy demand for more quality choices in high-speed internet service. An analysis by Kagan, a media research group within S&P Global Market Intelligence, counted 218 municipal-run internet service providers (ISPs) in the continental U.S. as of January 2018, up 25% since October 2015.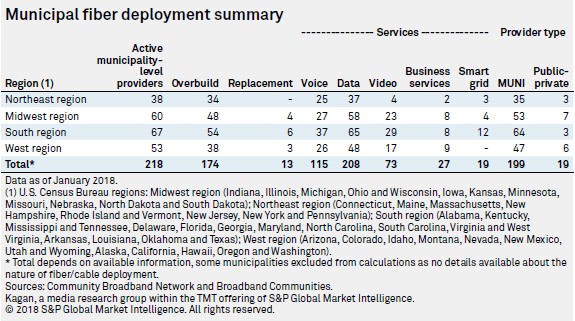 The trend could continue if national and state governments allow it. Incumbent wireline ISPs contend that municipal-backed broadband services are anti-competitive, and some argue the infrastructure expense exposes taxpayers to unnecessary debt. Kagan research shows 19 states have laws restricting municipal broadband projects. For instance, Louisiana requires a municipality to pass a referendum. In Pennsylvania, communities cannot build their own broadband networks unless the incumbent telco will not offer a service at the same speed or higher. The continental U.S. counted 218 municipal-run internet service providers in January 2018.
On Jan. 18, House Democrats introduced legislation that would stop states from writing such laws. Similar bills struggled in the past. However, despite regulatory attempts to restrict the industry, at least 28 municipalities either launched or secured necessary funding to launch operations in 2017 through January 2018, according to data compiled by Community Broadband Network and Broadband Communities. Sixteen of these were in Massachusetts, where such initiatives are openly supported.
Of the 218 municipal and public-private broadband operators identified from Broadband Communities' database, 168, or 77%, are overbuilding a company offering similar services. That's down from 83% in our previous update, suggesting that recent builds are focused more on unserved areas. Of those 168 operators, 69 are in states with some kind of restriction. The largest number of operators that have undertaken overbuilding projects are in Massachusetts, Washington and Tennessee.
Separately, our analysis indicates that 54 municipal-level operators offer gigabit internet in 135 locations, up from 84 locations as of October 2015, according to data compiled by Community Broadband Networks as of January 2018. Nearly 80% of these locations are in states with some kind of regulation against municipal-level deployments.
Our analysis also surveyed nearly 19 electric utility cooperatives providing 1 Gbps broadband services in underserved or unserved areas. There are 163 locations where local cooperatives are providing gigabit-tier internet. Up to 91 of these locations are in restrictive states. Co-ops have been excluded from our main analysis as they distorted historical comparison.
Operators of all stripes prefer to target dense population clusters, which often leaves sparsely populated regions underserved or unserved. Utility co-ops with smart-grid technology would be especially well-positioned to fill that gap. FCC Chairman Ajit Pai recently proposed giving small rural providers and cooperatives $500 million to expand their broadband offerings in rural areas.