Feb. 11 2019 — While the high-profile PG&E Corp. bankruptcy provided some excitement to start off 2019, according to Regulatory Research Associates, a group within S&P Global Market Intelligence, the year is shaping up to be more or less "business as usual" for the rest of the energy utility sector, as the same issues that have garnered attention in recent years will continue to dominate utility, regulator and stakeholder attention.
That is not to say that these issues are mundane or should be taken lightly, but the industry has been in the midst of another wave of transformative change for some time. The need to address such bedrock issues as infrastructure reliability and modernization will continue to focus attention on traditional ratemaking issues. At the same time, the industry will need to continue to evolve to address "disruptors" and "game changers" like renewables, battery storage and electric vehicles.
Federal tax reform was something of a distraction in 2018, and some states have yet to finalize their treatment of this issue, which, with implications for how other matters can/will be addressed, continues to warrant watching.
Utility merger activity, robust over the last few years, has begun to taper off, and RRA expects this trend to continue.
Capital spending to continue unabated
Projected capital expenditures for the 50 gas and electric utility holding companies followed by RRA reached $133.8 billion in 2018, a recent high and roughly a 24% increase over 2017 actual capex of $108 million.
RRA expects capital spending to continue to expand over the next several years as the utilities strive to make up ground for previous decades of relative inattention to electric and gas utility infrastructure and improve grid reliability, resilience and physical and cyber security, deploy new technologies, meet renewable resource mandates, replace retiring generation assets and build transmission systems to move power from new generation to load centers.
While public policy favors these investments, the industry does face certain headwinds that may make it difficult to achieve rate recognition of these investments, including rising interest rates and the impacts of federal tax reform.
Capital spending drives rate case activity
Elevated levels of capital spending in combination with flat or declining sales and rising employee benefit costs have made for an active rate case agenda over the last several years, and all indications are that this will continue for the foreseeable future.
There were 134 electric and gas rate cases adjudicated for the companies in RRA's coverage universe during 2018, including select limited-issue rider cases where substantial rate base items were addressed. This experience was consistent with that observed in 2017, when 133 cases were adjudicated.
RRA expects rate case activity to remain robust for the foreseeable future, as capital spending continues unabated, interest rate changes cause capital costs to rise and inflation again becomes part of the lexicon.
Authorized equity returns to lag rising interest rates
Despite a rising interest rate environment and increased volatility in financial markets in the U.S., the equity returns authorized by state commissions for energy utilities nationwide continued to fall in 2018. The average ROE authorized electric utilities was 9.59% in rate cases decided during 2018, somewhat below the 9.74% average for cases decided in 2017.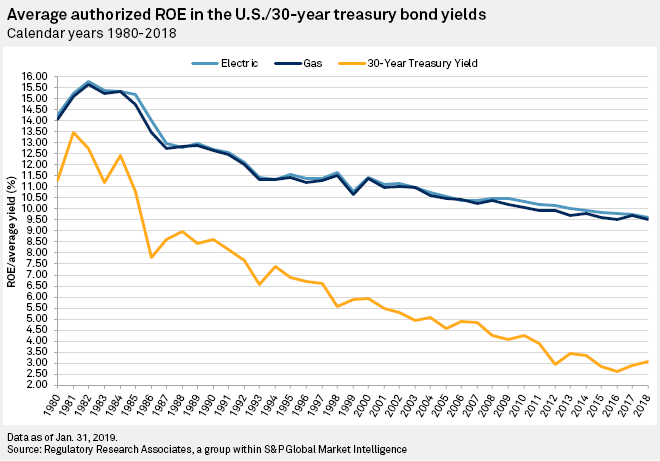 From a longer-term perspective, interest rates, as measured by the U.S. Treasury bond yield, fell almost steadily from the early 1980s until 2015 or so, placing downward pressure on authorized ROEs. Even though the decline has been less dramatic in the period since 1990, average authorized ROEs fell below 10% for gas utilities in 2011 and for electric utilities in 2014. While the U.S. Federal Reserve has begun to unwind its monetary policy and raise interest rates, authorized ROEs have continued to fall modestly.
Authorized ROEs do not move in lock-step with interest rates, and it may be some time before a noticeable change in average authorized ROEs is discernible. Aside from the fact that the normal process of filing and completing rate cases takes time, intervenors continue to argue that factors such as limited-issue riders and decoupling mechanisms reduce risk and warrant lower authorized ROEs.
Another consideration is that while authorized ROEs have fallen over time, the gap between authorized ROEs and interest rates has widened somewhat, largely as a result of an often unstated understanding by regulators that the drop in interest rates caused by Federal Reserve intervention was unusual. As interest rates rise, regulators may be content to allow the gap between interest rates and authorized ROEs to narrow to more "normal" ranges.
Regulatory lag — a pervasive concern, but not much in the way of answers
Despite the heightened level of rate case activity and the prevalence of limited-issue rider mechanisms to address new investment between rate cases, companies in many states continue to face challenges in overcoming regulatory lag and earning the authorized return on a weather-adjusted basis.
While the terms formula-based rates and performance-based ratemaking, or PBR, are being heard more frequently among regulators, RRA has observed minimal progress on this front. While several states — Alabama, Louisiana, Mississippi, Arkansas to name a few — have employed these types of mechanisms for many years and Massachusetts recently approved its first rate change under a PBR plan, a broad-based movement toward this construct does not appear likely in the short term.
A handful of states such as New York, Connecticut and California rely on multiyear rate cases in an attempt to address regulatory lag, but again, RRA has not observed nor does expect a mass migration to this approach.
Renewables power on despite a lack of support at the federal level
Despite the Trump administration's roll back of Obama-era environmental mandates, the states have continued to pursue renewables development, buoyed by public support for these options.
For the past several years, renewable energy has been a hot topic for state legislatures, and while several major bills have been enacted in a handful of states, renewable energy standards will most likely remain at the forefront.
During the 2018 general election, several gubernatorial candidates took a pledge to support clean energy and move the "country toward 100% clean energy" by 2050. The Clean Energy for All campaign, initiated by the League of Conservation Voters, secured commitments from several governor-elects in several states, including Colorado, Connecticut, Illinois, Maine, Michigan, Nevada, Oregon and Washington. Thus far in 2019, New York Gov. Andrew Cuomo, a Democrat, proposed a mandate of 100% clean energy by 2040 as part of the Green New Deal. Cuomo is not alone in that governors in Colorado, Idaho, Maine, New Jersey, New Mexico, Pennsylvania, Wisconsin and Wyoming have issued statements or executive orders focused on climate change.
Multiple states along the east coast have instituted goals specifically for offshore wind. Maine, Massachusetts, New York and New Jersey all have capacity targets ranging from 1,600 MW to 5,000 MW. Connecticut is aiming for production of 825,000 MWh annually by 2025, while Maryland has a carve-out within its RPS for offshore to account for up to 2.5% of the state's generation. In Delaware, a working group is studying the feasibility of offshore wind, and in New York, Cuomo's Green New Deal calls for quadrupling the state's offshore wind target to 9,000 MW by 2035, up from 2,400 MW by 2030.
Battery storage and electric vehicles go hand in hand with renewables initiatives
As of June 2018, the U.S. had deployed 108 GW of cumulative utility-scale electricity storage. More than 7 GW of utility-scale and grid-connected battery storage will be operating in the U.S. by 2022, according to Platts Analytics.
State regulators and policy makers will play a key role in whether and how these developments come to fruition. Much of the impetus will come from legislative initiatives, but individual companies and commissions are moving forward even in the absence of legislation.
California, New Jersey, Massachusetts, New York and Oregon already have state-level storage mandates, and energy storage discussions and proposals are underway in several states, including Connecticut, Maryland, Nevada, New Jersey, Oregon, Texas and Virginia.
While many of the changes going on in the industry appear to pose threats to the traditional utility business model, it is becoming clear that electric vehicles, or EVs, also known as zero-emissions vehicles, or ZEVs, could foster significant new demand growth for the electric utility sector. Unlike most initiatives in the electric utility industry, proliferation of electric vehicle technology has been more of a bottom-up than a top-down experience, spurred by automobile manufacturers responding to consumer demands, rather than a broad-based governmental public policy initiative.
A key issue that utility commissions are grappling with is whether third-party entities that own EV charging stations should be treated like regulated utilities due to the fact that they are essentially resellers of electricity. Another issue garnering considerable attention is the need to design time-of-use rates to incentivize off-peak EV charging, thereby minimizing adverse effects on the larger distribution grid. In fact, if structured correctly, funneling load to off-peak periods could smooth out demand, creating less dramatic peaks and valleys, thereby allowing the grid to operate more efficiently.
Nuclear — What happens to legacy nuclear facilities in this brave new world?
Within the past three years, four states — Connecticut, Illinois, New Jersey and New York — have enacted state-level policies to prevent the premature retirement of their respective nuclear plants. So far, these measures have withstood court challenges where it was argued that granting these facilities zero emissions credits, or ZECs, to keep them economically viable was anti-competitive and would impinge on the Federal Energy Regulatory Commissions' ratemaking authority.
There has been some discussion of the possibility of similar ZECs legislation being introduced in Pennsylvania, but a bill has yet to be introduced. Similar measures introduced in Minnesota and Ohio failed to advance, but could easily resurface in the newly initiated 2019 sessions.
Against this backdrop, disputes over state policies that favor "at-risk" nuclear power plants returned to the U.S. Supreme Court on Jan. 7, further escalating the tension between FERC's exclusive jurisdiction over wholesale power markets and state efforts to provide financial support to local generation resources.
Electric industry restructuring, Part 2 — Can the industry avoid the pitfalls of Part 1?
The first major restructuring of the electric industry began more than 20 years ago as states began the debate regarding whether to permit retail competition for generation service. When the dust settled, 21 states had implemented a framework where at least a portion of customers can select a generation supplier other than the incumbent utility. The last formal "transition period" ended in 2011, with the conclusion of restructuring-related rate freezes for certain Pennsylvania utilities.
The evolutionary process was a messy one, raising controversial issues including what to do about stranded costs, i.e., good faith investments made by utilities under the regulatory compact that would be potentially be de-valued in a competitive market place, how to ensure that all customers benefited and how to maintain universal service.
Some of these same issues will need to be addressed as the industry faces the second wave of restructuring brought on by the proliferation of distributed renewable energy resources, new technologies such as battery storage and EVs, and customer demands for changes in the way energy service is offered and priced. And, like Part 1, legislative intervention may ultimately be necessary to get the job done. While these developments impact legacy baseload generation to some extent, the primary impact will be on the delivery system once thought to be sacrosanct.
Federal tax reform — Implications continue to bear watching
While many states and companies addressed the impacts of 2017 federal tax reform during 2018, there are still some out there that have yet to resolve the issues raised by the reduction in the federal corporate tax rate to 21% from 35%.
For most of the companies that have already addressed the implications with regulators, rates have been reduced to reflect the ongoing impact of the lower tax rate, refunds to return to ratepayers and related deferred overcollections are occurring over a relatively short time period, and amortization of the related excess accumulated deferred income tax liabilities is occurring over varying time periods.
In the short term, these "remedies" may deplete cash reserves and reduce cash flow, possibly negatively impacting credit metrics and the utilities' ability to finance expansion initiatives.
In the longer term, the effects are less clear, as the lower tax rate could provide headroom for rate recognition of additional capital spending, but the elimination or reduction of accumulated deferred taxes as an offset to ratebase may have the opposite effect. Also, in RRA's view the uncertainties around federal tax reform have had and will continue to have a dampening effect on utility merger activity in the sector.
Mergers — Regulatory scrutiny will continue to intensify
In the years 2015-2018 merger activity showed a marked increase versus prior years. However, there has been a bit of a drop-off since 2016, when announced deals topped $50 billion in transaction value. The decline is attributable to uncertainty regarding the impact of tax reform, financing concerns in the wake of rising interest rates and headwinds in the form of increasing demands from regulators for enhanced customer benefits.
The main drivers of mergers in recent years have been adoption by competitive generation-intensive companies of "back to basics" strategies to de-risk their portfolios, a desire by electric utility holding companies to get a toe-hold in the gas midstream business, interest in infrastructure investments by both private equity players and foreign energy companies, and more recently cross-sector mergers between energy and water utilities.
A couple of high-profile mergers in recent years were facilitated by a utility and/or the parent company finding themselves in dire straits — the Sempra Energy acquisition of Energy Future Holdings Corp, then the majority owner of Oncor Electric Delivery Co. LLC, and the Dominion Energy Inc. acquisition of SCANA Corp.
State standards with respect to merger reviews vary from a broad public-interest standard to a specific requirement that participants demonstrate a positive net benefit for ratepayers.
As mergers have become more complex, scrutiny by regulators has intensified, and the related proceedings have become more contentious and protracted.
Regulators are more aware of, and in some cases concerned by, the premiums being paid for utility assets, and intervening parties have become bolder about seeking a portion of that premium for ratepayers. It is established policy that goodwill is excluded from rate base, with acquired assets valued at original cost less depreciation; however, the suggestion that ratepayers are owners of the assets because they financed them is troubling and may be a harbinger of things to come.
The continuing impact of federal tax reform on utility cash flows, overall economic volatility, fears of a cooling U.S. economy and more stringent standards being imposed by regulators can be expected to put a damper on merger activity in 2019 and beyond. Future deals are more likely to be smaller in scale, involving individual assets or subsidiaries rather entire holding companies, and the high valuations observed in recent deals may be a thing of the past.