Pressure on bank net interest margins intensified in the third quarter as front-end rates fell with Federal Reserve cuts and the yield on 10-year Treasurys briefly dropped below 1.5% on fears over the economic outlook.
Analysts and investors will be looking for guidance in third-quarter reports about how banks are navigating the environment and, in particular, how much success they are having in lowering deposit costs.
Mid-quarter guidance at some large banks on net interest income was better than feared, Keefe Bruyette & Woods analysts wrote in a note previewing third-quarter earnings season. But the analysts expect "forward commentary to be guarded" and said that further declines in interest rates could bite harder.
Overall, analysts expect that declines in asset yields will outpace any drops in funding expenses, and they are predicting nearly universal — and sometimes severe — damage to NIMs of large banks.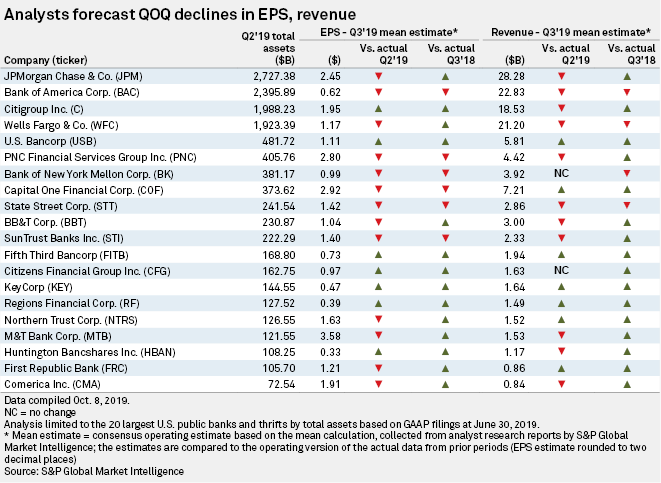 Among the 20 largest banks, consensus forecasts anticipate a median quarter-over-quarter drop of 6 basis points in NIM, led by a slide of 16 basis points for Comerica Inc. to 3.50%. Analysts foresee a NIM increase for just one bank in the list: Capital One Financial Corp., projected to rise by 3 basis points to 6.83%.
Comerica has an asset-sensitive balance sheet, and former CFO Muneera Carr acknowledged during a presentation in September that changes in rates are "really impactful" for the bank. At the same conference, Capital One CFO Richard Blackley said falling rates are creating a drag but that the company tries to position itself neutrally for changes in interest rates.
On the funding side, analysts at Jefferies predicted in a note that average deposit costs will start to turn the corner in the third quarter for most banks, but they also said continued customer movement into interest-bearing accounts will limit the decline.
The headwind from clients moving into expensive time deposits has tailed off as interest rates have fallen, but significant pools of deposits remain priced below market benchmarks. Demand for funds at banks with high loan-to-deposit ratios is generating price competition, and many banks are likely to moderate growth targets because of thin margins, Scott Hildenbrand, the chief balance sheet strategist for Sandler O'Neill, said in an interview.
Banks should make sure they are "being compensated correctly for late-cycle growth," he said.
The squeeze on margins is set to dampen earnings, according to forecasts. Consensus estimates anticipate that 11 banks in the group will post quarter-over-quarter declines in revenue, and 13 will post quarter-over-quarter declines in EPS. Ahead of the second-quarter earnings season, analyst forecasts showed linked-quarter EPS declines for just five banks in the group even though net interest income was already under pressure.
For the third quarter, analysts have forecast that the biggest banks will report the largest drops in revenue. In early October, KBW trimmed its estimates for JPMorgan Chase & Co. and Citigroup Inc. based in part on expectations for lower trading and investment banking earnings after a volatile quarter. In September, Wells Fargo & Co. lowered its guidance for net interest income, saying that the pace of change in interest rates had accelerated. The bank projected that its net interest income would decline 7% in the second half of the year compared with the first half.
If the economy avoids a recession, lower interest rates might ultimately bolster credit performance by making it easier for borrowers to access loans and service their debt. Analysts predict loan losses will increase from the previous quarter at the majority of companies in the large bank group but that the deterioration will be modest. The median consensus forecast for net charge-offs to loans for the group in the third quarter is a relatively benign 0.32%, up 4 basis points from the reported median of 0.28% in the second quarter.
In a note previewing earnings reports, analysts at Sandler O'Neill said that "asset quality metrics remain very healthy," but further improvement from near-cyclical lows may not materialize. "We assume a path of normalization for credit costs," they said.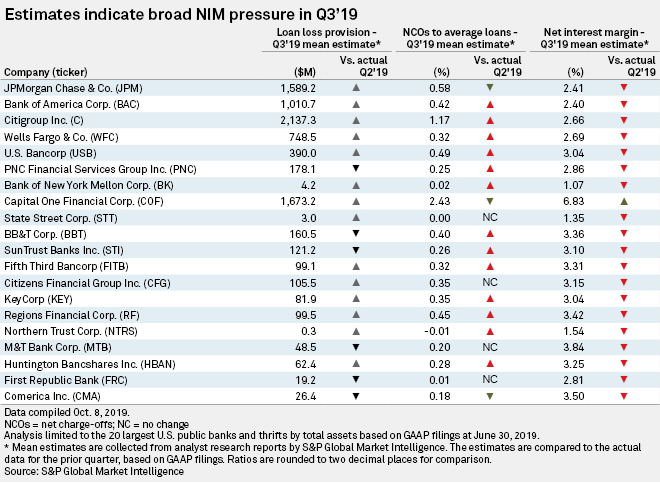 Analysts and investors also expect third-quarter earnings to include initial estimates on the impact of adopting the current expected credit loss accounting standard. Some banks have already provided estimates under the new framework for accounting for credit losses, which will go into effect for large publicly traded banks in 2020.
The Jefferies analysts said that estimates could vary substantially because of company-specific assumptions about macroeconomic conditions and other factors. They calculated that the average immediate increase to loan loss allowances was about 30% among banks that had made disclosures so far. The Jefferies analysts projected that the ongoing impact of the new CECL standard would be modest — on the order of a reduction in 2020 EPS of less than 1% — because of low expectations for loan growth.