In the latest Capital Markets View video, LCD's Ruth Yang and S&P Global's Chris Porter cover the main trends in the European leveraged finance market, including the supply/demand balance and its impact on CLOs.
Discussed this month:
Loan volume has been lumpy this year, and though M&A supply has been decent the market has faced a shortage of smaller deals, which can be a problem as it restricts portfolio diversity.
While some smaller transactions will go to direct lenders and managed accounts, these players' share of the syndicated space remains limited, suggesting there's simply a lack of formation when it comes to such deals.
CLO demand is strong, with these players now accounting for roughly 45% of the loan investor market. However primary loan volume has slowed just as more CLOs have priced, which creates a technical challenge.
Indeed, CLO demand now exceeds primary loan supply, with CLO volumes having risen each year since 2016, and LCD's supply/demand measure in the red for the last three months. Clearly, CLO managers need more paper than the current issuance levels are providing.
CLO pricing reflects this dynamic and looking at the WACC across the stack, costs for CLOs have risen as the market becomes more concerned about credit quality, while TLB spreads have been volatile. This has sparked concern that loan spreads are not keeping pace with CLO liabilities.
Meanwhile, there has been a rise in loan add-ons in the European primary market in 2019, with such deals accounting for a 28% slice of the market on an issuer-count basis in the year to date.
Secondary pricing firmed throughout 1Q, driven by the lack of consistent primary issuance. The average bid of the S&P European Leveraged Loan Index (ELLI) was just below 97.5 at the start of the year, and is now up around 98.5, with 30% of the Index priced above par.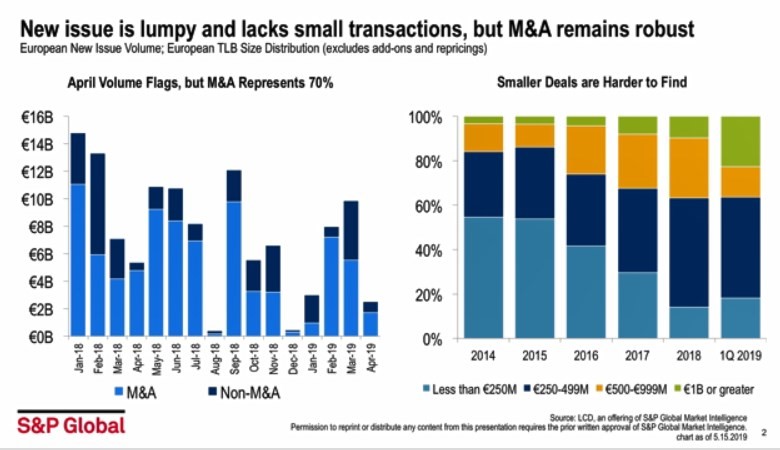 More S&P Global video and audio resources are available here.
Ruth Yang is Managing Director of LCD. Chris Porter is Head of Loan Recovery & CLO Business Development, S&P Global.
Please feel free to contact Chris if you'd like a particular topic discussed in next month's video.
Try LCD for Free! News, analysis, and data.
Follow LCD on Twitter.
LCD comps is an offering of S&P Global Market Intelligence. LCD's subscription site offers complete news, analysis, and data covering the global leveraged loan and high yield bond markets. You can learn more about LCD here.