Amid softening technical conditions and the risk-off theme that has dominated capital markets lately, loan yields have climbed 50-75 bps over the past month, with prices on loans falling markedly, as evidenced by the secondary bid distribution chart.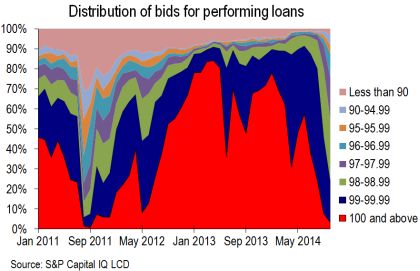 Does the softer market represent a new normal for leveraged loans?
The outlook, as always, is in the eye of the beholder. In recent days, stability in the equity markets has allowed loan prices to find a bottom. That said, participants suggest the bias for the time being may be negative. Here's why:
Loan fund flows: managers expect outflows to persist, what with rates falling in recent weeks. That will put more supply in the system as managers sell loans to meet redemptions.
Relative-value players: HY funds also remain net sellers of loans, participants say, further pressuring prices.
CLOs: The pace of prints remained robust in early October with managers inking $6.5 billion through the 16th, pushing year-to-date issuance to a record $99.9 billion. Still, players expect the number of new deals to fall significantly until conditions improve. That may drain liquidity from the system in the months ahead.
Supply: while off the post-credit-crunch highs of August, there remains $33.7 billion on the M&A forward calendar, much of which will hit the market over the final months of 2014. Given today's flagging loan demand, placing this paper may be challenging.
This analysis is part of a more detailed LCD News story, available to subscribers here. – Steve Miller
Follow Steve on Twitter for an early look at LCD analysis, plus market commentary.