Despite recent criticism and scrutiny regarding the asset class, participants in the U.S. leveraged loan market continue to take a benign view of defaults.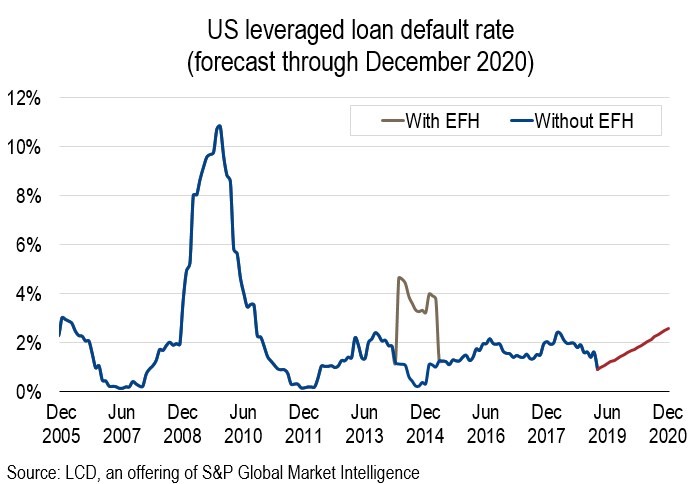 According to LCD's Leveraged Loan Default Survey - conducted at the end of March, after the Fed adopted a relatively dovish stance regarding rate hikes - portfolio managers predict the loan default rate one year from now will be 1.82%. That's up from 1.01% currently but is well below the roughly 3.1% historical average, according to LCD.
The rate inched to 1.01% from 0.93% on Monday as S&P lowered its issue-level credit rating on Crossmark Holdings after the consumer goods sales concern missed interest and principal payments on outstanding debt.
The leveraged loan default rate has become a somewhat contentious issue. While the rate stubbornly remains low, market detractors point out that part of the explanation has to do with covenant-lite loans, which have become the norm in both the U.S. and Europe. Cov-lite loans offer lenders and investors fewer protections than do traditionally structured deals, meaning borrowers can potentially avoid performance tests that might technically point toward distress or default.
As of 2019's first quarter roughly 78% of the $1.19 trillion in outstanding U.S. leveraged loans were cov-lite, according to the S&P/LSTA Loan Index.
LCD's Default Survey also asked portfolio managers their predictions on the loan default rate at the end of 2020. The consensus was 2.58%, a slightly more bullish read this time around, with managers reining in the forecast from 2.79% when the December survey was conducted.
Try LCD for Free! News, analysis, and data.
Follow LCD on Twitter.
LCD comps is an offering of S&P Global Market Intelligence. LCD's subscription site offers complete news, analysis, and data covering the global leveraged loan and high yield bond markets. You can learn more about LCD here.