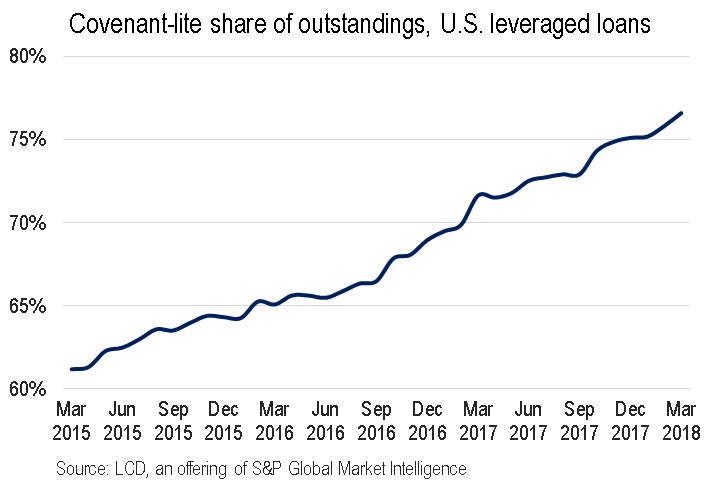 Covenant-lite credits continue to dominate the U.S. leveraged loan market.
These deals, which offer loan investors protection that is more akin to a junk bond than a traditional senior secured credit, now account for 76.58% of the approximately $994 billion of U.S. leveraged loans outstanding as of March 31, according to LCD.
That's yet another record. For perspective, just 60% of the market was cov-lite at the end of 2014.
The predominance of cov-lite has prompted concern in various corners of the leveraged finance world, as some market players think the preponderance of these deals will hinder recoveries on leveraged loans once the current issuer-friendly credit cycle – now in its 10th year – turns.
Historically, cov-lite loans have defaulted at a lower rate than fully-covenanted loans. This seems counter-intuitive, but in cycles past it was better-quality borrowers that were afforded covenant-lite deals, sources explain.
Today, amid much talk of credit deterioration in the U.S. leveraged loan market – a result of sustained retail investor demand for deals – cov-lite has become the market norm. Again, the cov-lite amount preceding the financial crisis was but a fraction of the volume seen today, leading many to point out that the U.S. loan market is well into uncharted territory.
Some background. Historically, leveraged loans have featured maintenance covenants, which are fairly restrictive. They would require an issuer to meet regular financial tests, regardless of whether the issuer was undertaking some action (issuing a dividend, for instance).
Today, however, a covenant-lite loan is more likely to feature incurrence covenants, which are far less restrictive. These generally require an issuer to be in compliance only if takes a particular action (paying a dividend, making an acquisition, issuing more debt).
This scenario has prompted investors to complain that, in theory, cov-light issuers today can come closer to default before lenders and investors have any recourse, or even receive warning of possible default. – Staff reports
Try LCD for Free! News, analysis, data
LCD comps is an offering of S&P Global Market Intelligence. LCD's subscription site offers complete news, analysis and data covering the global leveraged loan and high yield bond markets. You can learn more about LCD here.