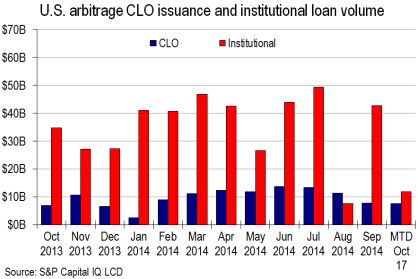 Broader market volatility gave the CLO market cause for concern last week with widening liability spreads threatening to disrupt the new-issue pipeline over the coming weeks. Still, for others, the sharp drop in loan prices created opportunity, with one of last week's transactions widely rumoured to be a print and sprint. This week should again be eventful with two industry conferences and the anticipated release of the U.S. risk retention rules.
Against this backdrop, U.S. CLO new-issue volume in the year-to-date rose to $101.01 billion by the end of the week, from 187 deals, according to LCD. During the same period a year ago the market had issued $61.42 billion from 127 CLOs. – Staff Reports
For more news, analysis, and data on the leveraged loan market and CLO segment check out or Loan Market Primer.