It's easy to forget that 2015 has been the second busiest year for CLO issuance in the U.S., with the full-year volume total of $97.89 billion behind only the record $124.1 billion from last year. While activity was brisk in the first half of the year, with volume averaging $9.9 billion a month, the tone was markedly different in the second half as the pace dwindled to $6.3 billion a month. CLO managers and arrangers were confronted with volatile conditions in the second half that required creativity to get these transactions to the finish line.
Of this year's $97.89 billion total, middle market CLO issuance accounts for $5.81 billion via 14 transactions.
Refinancings, which are not included in the new-issue volume tally, total $10.2 billion in 2015 from 25 transactions. That figure includes resets where existing CLOs have their non-call, refinancing, and WAL tests extended.
Predictions for 2016, however, aren't as positive. Weaker demand for mezzanine and equity tranches, concerns over more loans being downgraded to CCC, rising interest rates causing decreased cash flows to equity holders, and challenges from risk retention are all expected to contribute to lower issuance.
CLO market participants foresee a smaller new-issue calendar for 2016, with credit allocation remaining front-and-center as the credit cycle matures.
Bank analysts are universally predicting lower issuance:
Bank of America: $70 billion
Deutsche Bank: $70 billion
Morgan Stanley: $60–70 billion
Wells Fargo: $75 billion
Barclays: $70–80 billion
Nomura: $70 billion
Investors are even more pessimistic, predicting issuance of $50–60 billion, as investors taking mark-to-market losses get pushed to the sidelines.
The number of managers able to print deals fell to 86 in 2015, from a post-credit-crunch high of 105 last year. Likewise, the number of new CLO 2.0 issuers fell to just six—Z Capital Credit Partners, Doubleline Capital, Loomis Sayles, Wellfleet Credit Partners, Maranon Capital, and Fifth Street Management—from 19 last year and 30 in 2013.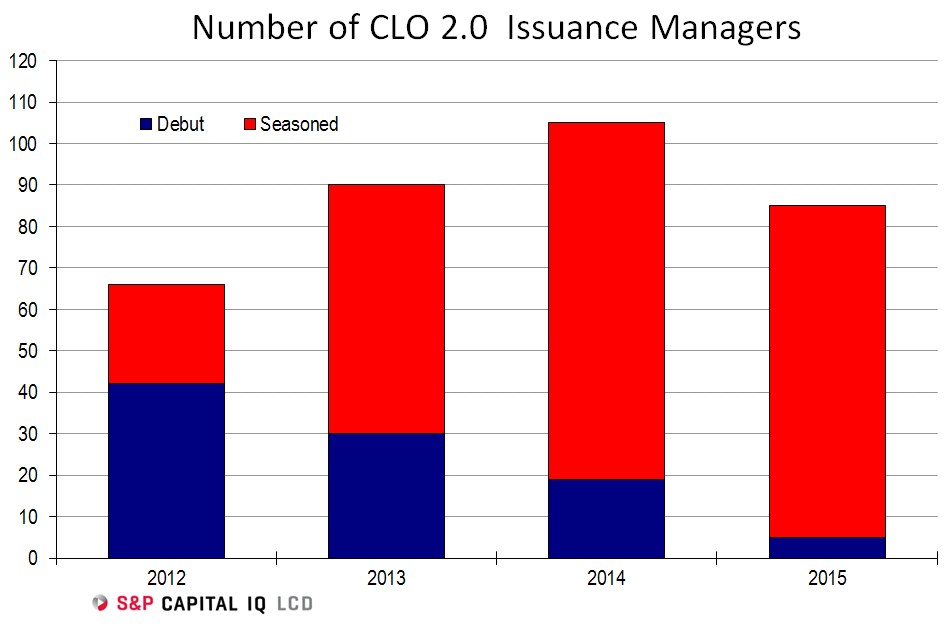 The most immediate reason for the fall-off in CLO issuance in the second half of 2015 is the sell-off in the secondary market of CLO equity. Indeed, managers say placing new equity has become extremely challenging, especially with BDCs and hedge funds largely on the sidelines as a result of declining NAVs. The average CLO 2.0 equity NAV is currently around 31%, according to BAML. NAVs started the year around 50% and rose to the mid-60s around May.
With the secondary market for CLO equity on its heels—managers report that seasoned 2.0 paper is trading by appointment with some energy-heavy vehicles bid as low as 30–40 while other paper is in a 50–70 context depending the particulars of the portfolio—new-issue equity is being marketed in the 80s, with bids generally inside of that.
Risk retention was also a key factor preventing more managers from tapping the market in 2015, as CLO equity investors are increasingly focused on risk-retention compliant vehicles that offer the option to reprice AAA paper once the typical two-year non-call period expires. Given the wide AAA discount margins at which CLOs are clearing in recent months—generally in a 150–165 context, depending on the gravitas and track record of the manager—this has become a prominent concern.
Even as the manager ranks decline, the pace of U.S. CLO transactions pricing that are structured to comply with U.S. risk-retention regulation when it goes effective next year has risen. That's perhaps no surprise given the market now less than one year from the Dec. 24, 2016 effective date, but sources also say that pressure from investors to demonstrate compliance makes it difficult to avoid structuring compliant transactions.
As the specter of risk retention approaches, there have been a slew of consolidation deals in 2015 in which large asset managers with the capability to hold 5% of the capital stack acquired boutique loan managers. Such deals include Rothschild's acquisition of West Gate Horizons; NewStar Financial/Feingold O'Keefe Capital; and Conning/Octagon Credit. In addition, Kramer Van Kirk Credit Strategies formed a strategic partnership with Public Pension Capital (PPC), and Sankaty bought the CLO business from Regiment.
Given that CLOs last quarter made up 60.8% of the demand in the primary institutional loan market, according to LCD, the impact of lower issuance—and consequently lower demand for loans—will be seen next year, although fewer loans are also expected to be issued next year.
Analysts are predicting slightly higher loan issuance in 2016, with estimates ranging from $250–280 billion of institutional loans. Issuance for 2015 is $254.8 billion, according to LCD data, down 31% from the $376.74 billion at this time last year.

State of the primary market
Looking into 2016, conditions are expected to remain tough absent some tightening across liabilities. BB and B spreads hit wides of around 800 bps and 1000 bps respectively after starting the year around 675 bps and 850 bps as investor appetite dried up. Triple A spreads, the largest piece of the CLO structure, are now at 160 bps, similar to levels from the beginning of the year, but wider than lows of 140 bps in the spring.
Investors who had been buying BB and equity as they were falling last year are now unable to purchase more, so it remains to be seen who will step in to take their place.
Managers opening new warehouses in the coming year should be better situated to source new assets, given how loans have sold off in the fourth quarter.
The average bid of the S&P/LSTA U.S. B/BB rated loan index peaked around 98.86 on April 24 and has since declined to 93.78 recently, although the market remains bifurcated between strong and weaker borrowers, according to LCD data. Cheaper asset prices have helped the CLO arbitrage return close to 300 bps, from around 200 bps earlier in the year, according to data from Deutsche Bank analysts.
The improved arbitrage has been driven by widening primary loan spreads, which have risen above 500 bps from a little over 400 bps since July. CLO liability spreads have only risen slightly above 200 bps during that same time period, according to DB. Higher all-in yields of 5.34% on double-B rated loans and 6.12% on single-B rated loans are offsetting the higher liability costs. Those yields were previously around 3.75% and 5%, respectively, at the start of the summer.
Investor demand in 2016
Given the investor base has been taking mark-to-market losses in the mezz and equity tranches, questions remain over how active these investors will be, especially if spreads continue to gap wider to start the year.
This question is especially prevalent for the equity tranches. The mix of an already banged-up investor base that J.P. Morgan analysts have described as "one of [CLO equity investors'] more challenging years in recent memory" and lower-than-expected cash flow going forward is pushing managers to purchase more of their own equity.
Equity holders are also expected to take a cash-flow hit as the spread benefit from the current LIBOR rate to LIBOR floors, usually around 99.7 bps, shrinks. LIBOR usually follows closely after the federal funds rate. The market is currently pricing that the Federal Reserve will bring the fed funds rate above 100 bps by the end of 2016, though changes in inflation projections and growth may slow the pace.
Existing hedge fund investors taking mark-to-market losses on mezz holdings while also dealing with increased AUM redemption requests have stepped out of the market, though other hedge funds, some with freshly minted capital, are expected to fill the void.
Real money investors have consequently been more active lower in the capital structure than usual. Insurance companies, for one, have been purchasing lower investment grade tranches than in the past, rolling down in credit to AA, and in some cases even the BBB, rated classes.
Banks have been getting more active in the AAAs as asset managers, insurance companies, and pension funds have become less so in the second half of the year.
Bank investors, especially those domiciled overseas in Japan, are also important AAA buyers. With LIBOR rising rapidly over the last few months, debt investors should see higher all-in yields once their coupons reset in 2016, according to J.P. Morgan.
CLO AAA tranches will still compete against fixed-rate ABS products like CMBS as a heavy supply calendar in that market and a synchronized sell-off in tandem with other risk assets keeps that asset class competitive.
And for Japanese bank investors, currency considerations also come into play between U.S. CLO AAAs and those being marketed in Europe.

Concerns over losses and downgrades
Although credit concerns at the bottom of the capital structure remain worrisome, CLO investors don't expect to see a significant rise in defaults or losses at this juncture in the credit cycle just yet, although this may become a more prominent issue in 2017 or 2018.
Leveraged loan default rates are predicted to rise to 3% in 2016, from just under 2% this year, according to LCD's quarterly buyside survey.
Some investors, anticipating benign levels of defaults, will look to see whether mezzanine spreads and equity prices offer value at current levels. Hedge funds, especially those with freshly raised capital, who are newcomers to the asset class may look to fill the void left by existing hedge fund investors and purchase mezz and equity tranches that have seen mark-to-market losses during this past year.
The lower prices may also be attractive to investors who are willing to provide liquidity and have longer holding periods. BAML analysts noted that of the cash invested into equity tranches, returns are between 18–21%, while Wells Fargo analysts are projecting that cash-flow diversions due to par test failures won't occur for the next 18–24 months, at least.
Morgan Stanley's credit analysts have found that, compared to the peak of the previous cycle in 2007, a number of indicators are not as "frothy." While certain metrics like the significantly higher percentage of covenant-lite loans, leverage levels on loan new issues, and the growth of leveraged debt outstanding are notable; leveraged buyout volumes are lower, interest coverage ratios are higher, and CCC issuance is lower than in the previous cycle.
Risk retention
The countdown continues to Dec. 24, 2016 when risk retention comes online in the U.S. Already the impact has been felt across the market with investors turning up the pressure on managers in 2015 for more details about how they plan to comply with the upcoming regulation.
LCD so far has tracked 26 U.S. CLOs structured to comply with the rule this year, though the actual number of CLOs structured to comply is likely higher as some managers are not yet ready to publicize their retention strategy.
Managers have a number of structure options including the majority-owned affiliate (MOA) and capitalized-manager vehicle (CMV), as well as vertical-slice financing.
These rules may change in 2016, however, if one of two slim outcomes manage to occur. For example, if the Federal Reserve were to allow for the concept of a Qualified CLO, then managers would only need to retain 5% of the equity, assuming the CLO meet certain standardized criteria.
And if the Loan Syndications and Trading Association (LSTA) manages to win its suit against both the Federal Reserve and Securities and Exchange Commission (SEC) over risk retention, the rule could be re-proposed to 5% of the outstanding equity, or even more dramatically, the CLO market would be exempt from current risk retention regulation altogether. — Andrew Park
Follow Andrew on Twitter for CLO market news and insights. 
This story first appeared on www.lcdcomps.com, LCD's subscription site offering complete news, analysis and data covering the global leveraged loan and high yield bond markets. You can learn more about LCD here.