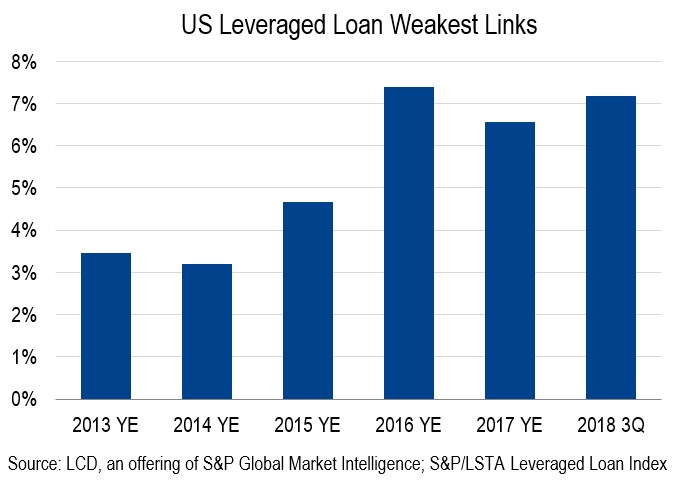 LCD's Weakest Links analysis for the U.S. leveraged loan market continues to highlight a strong undercurrent of risk.
During the third quarter of 2018, the share of loan Weakest Links was unchanged from the second quarter, at 7.2%. But the absolute number of issuers making up the Weakest Links rose from 87 to 93 during the third quarter. LCD's loan Weakest Links are issuers in the institutional loan market with a corporate credit rating of B– or lower and a negative outlook.
The third-quarter count is the highest since LCD began tracking the number in 2013. Since that time the count has more than tripled, from 28 to the current 93.
An increase in Weakest Links can be an indicator of financial distress down the road, as the default rate on these issues remains sharply higher than credits not in the Weakest Links grouping. In the first three quarters of 2018, 11% of the credits from the 2017 year-end loan Weakest Links cohort have restructured, including the defaults of retailers Nine West and Sears, as well as Oil & Gas issuers Fieldwood Energy, Philadelphia Energy, and Harvey Gulf. Looking back further to the Weakest Links from 2013, 32% have defaulted or restructured through the third quarter of 2018.
In contrast, 0% of the credits rated B or higher at the end of 2017 have defaulted or restructured, and just 6% in total of that pool at year end 2013 had done so in through today. – Ruth Yang