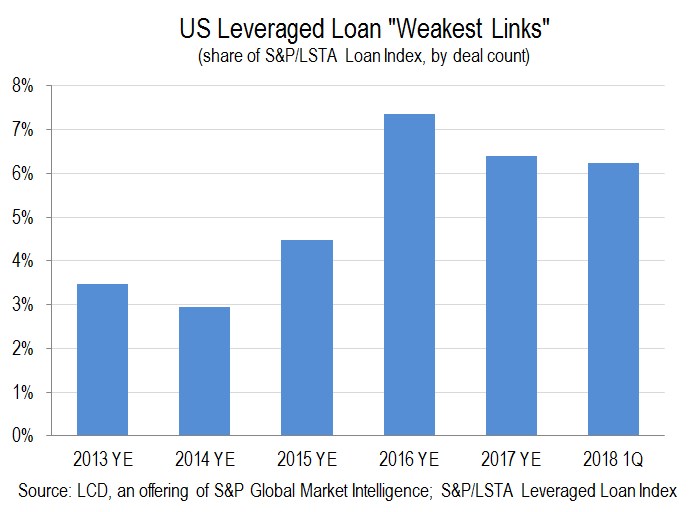 The U.S. leveraged loan market continues to hum along, as the issuer-friendly post-crisis credit cycle approaches its tenth year. But defaults remain of particular interest, as investors cast a watchful eye for signs that the cycle might finally be turning.
One metric used to gauge potential default activity—LCD's Weakest Links analysis—indicates that the queue of at-risk credit remains significant, though it is trending downward, after an uptick in 2017. Weakest Links are defined as U.S. loan issuers rated B– or lower (excluding defaults) by S&P Global Ratings, with a negative outlook or implication.
Currently, the Weakest Links share of the Index is 6.2% (72 issuers), down slightly from 6.4% (76 issuers) at the end of 2017, and down more than one point from the 7.4% at the end of 2016 (81 issuers). However, all of these shares are markedly higher than levels in 2013, 2014, and 2015.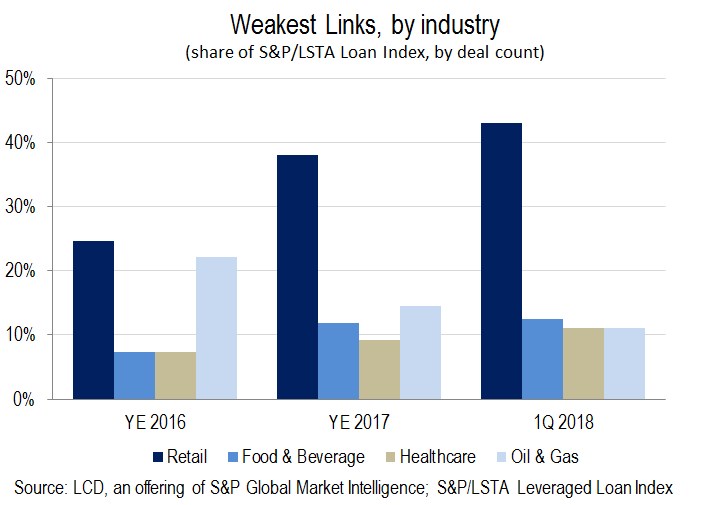 Industry-wise, for the past few years, Retail, Food & Beverage, Healthcare, and Oil & Gas have maintained high profiles among the Weakest Links. Retail has been the most prominent industry in this analysis for the past five years. Currently it represents 43% of Weakest Links (31 issuers), well beyond the 25% (20 issuers) at the end of 2016. Food & Beverage and Healthcare have remained steady, but Oil & Gas has trended lower, from 22% at the end of 2016 to its current 11%.
The bad news for Oil & Gas: Of the 18 issuers in the segment that were Weakest Links at the end of 2016, 44% (eight issuers) have defaulted, while only 17% (three issuers) have been upgraded out of the Weakest Links category. The remaining 39% continue as Weakest Links. – Ruth Yang
Try LCD for Free! News, analysis, data
LCD comps is an offering of S&P Global Market Intelligence. LCD's subscription site offers complete news, analysis and data covering the global leveraged loan and high yield bond markets. You can learn more about LCD here.