Propelled by first-half cash inflows into loan funds and surprisingly robust CLO issuance throughout the year, institutional investors grabbed an unprecedented share of the U.S. leveraged loan market in 2017. All told, institutions accounted for 90% of primary allocations this year—excluding those taken by deal arrangers—up from 88% in 2016, according to LCD. The institutional investor dominance was consistent in 2017, ranging from 89% of allocations in the first quarter to nearly 94% in the fourth.
One thing that drove institutional investor market dominance this year: U.S. CLO issuance has topped even the most optimistic predictions made at the beginning of 2017, when the specter of risk retention hung heavily over the market. In the year to date, $115.9 billion of CLO vehicles have priced (including $33.8 billion in the fourth quarter), easily topping the $72.3 billion full-year total in 2016.
Of course, as CLO issuance remains in high gear, that investor component gobbles up market share. So far this year, CLOs account for 64% of institutional loan allocations, up from 62% in 2016 and from 50% in the wake of the financial crisis in 2009.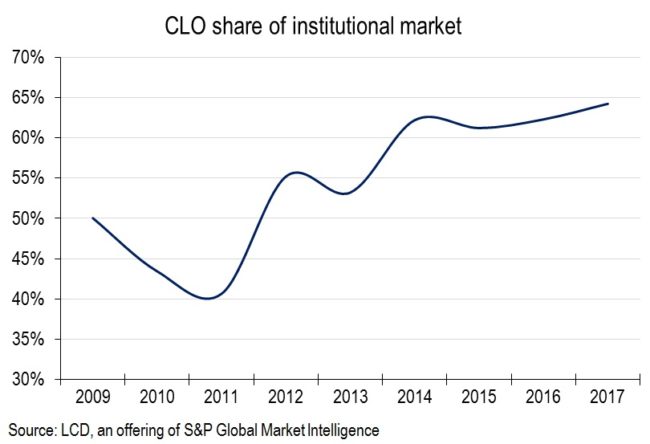 What's more, as the segment continues to heat up and investors get more comfortable around the CLO asset class, the market for U.S. CLOs has expanded from a clubby group of asset managers, hedge funds, and banks to now include insurance companies and pension funds across the U.S., China, Korea, Japan, and Australia. — Staff reports
Try LCD for Free! News, analysis, data
LCD comps is an offering of S&P Global Market Intelligence. LCD's subscription site offers complete news, analysis and data covering the global leveraged loan and high yield bond markets. You can learn more about LCD here.