In the latest Capital Markets View video, LCD's Nina Flitman and S&P Global's Chris Porter cover the main trends in the European leveraged finance market.
Discussed this month:
CLO new-issue volume came in at €14.3 billion for 1H19, which is a record for a half-year period, with that supply including some debut issuers. However, this market may be set for a slowdown in 2H19.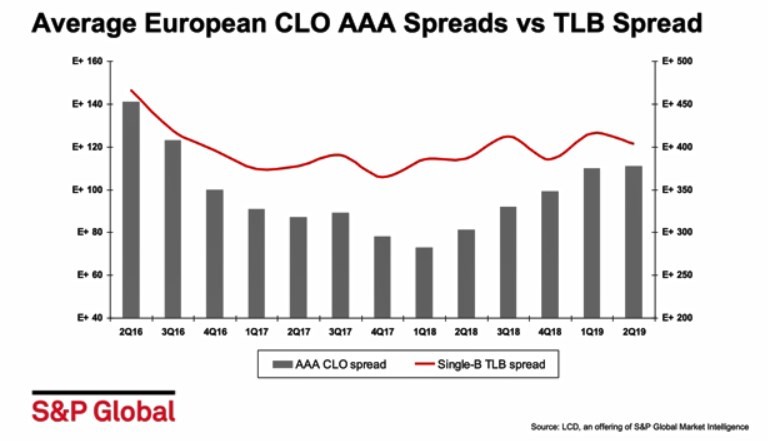 The loan market generated €7.76 billion of supply in June. This is down from €9.38 billion in May, but with a busy July in progress the recent monthly totals are looking decent — especially given volume has been so lumpy this year.
Big LBOs were broadly missing in the first half but 2H19 is looking a far better period for buyout supply, with a busy September expected and a strong pipeline for such deals.
Looking at the size of the overall market, the European Leveraged Loan Index (ELLI) currently stands just shy of €200 billion, its highest-ever level, and is expected to exceed that threshold soon.
Term loans in the E+400–499 range still account for the biggest share of the market in 2019 so far, but pricing may grind tighter after the summer break. Some 'choreography' from borrowers is expected to stop too many deals emerging at the same time.
Some 42% of all loan deals flexed pricing tighter in 2Q, but this play was only available for certain favoured credits, with others needing to boost pricing to get deals over the line — in some cases dramatically.
Cross-border volume is down sharply year on year, at roughly €22 billion in 1H19, from €55 billion in 1H18. And while the aggregate data simply shows a large differential between dollar and euro tranches on the all-in YTM measure, pricing has been far more idiosyncratic when looking at comparative margins on some recent cross-border deals.
More S&P Global video and audio resources are available here.
Nina Flitman is senior editor at LCD. Chris Porter is Head of Loan Recovery & CLO Business Development, S&P Global.
Please feel free to contact Chris if you'd like a particular topic discussed in next month's video.
Follow LCD onTwitter.
LCD comps is an offering of S&P Global Market Intelligence. LCD's subscription site offers complete news, analysis and data covering the global leveraged loan and high yield bond markets. You can learn more about LCD here.