Looking ahead at 2018, Street predictions suggest another year-to-year increase in volume for high-yield bonds, albeit under wide-ranging projections for defaults and returns, and considerable uncertainty regarding how emerging tax policy will impact the most highly leveraged entities and select sectors.
Sectors
After years of concern surrounding the energy sector, aside from retail, investor skittishness will now shift to telecom, largely due to projected M&A activity in the space.
"One area we've seen some increased widening is in the telecom area as folks are concerned about the ongoing discussion about cash flow from legacy businesses," says Jim Brilliant, co-chief investment officer and portfolio manager at Century Management, also noting that spread trends there are mimicking what was witnessed as energy prices plummeted and spreads in the sector ballooned. "The recent widening of spreads in telecom may be early signs of a similar thing happening in telecom."
"We are likely to see more attempts at M&A in the wireless space as consolidation will likely remain a theme," says Scott Roberts, head of high-yield for Invesco. "This consolidation may also mean we see combinations between cable and wireless companies, especially while cable companies navigate costumer cord cutting."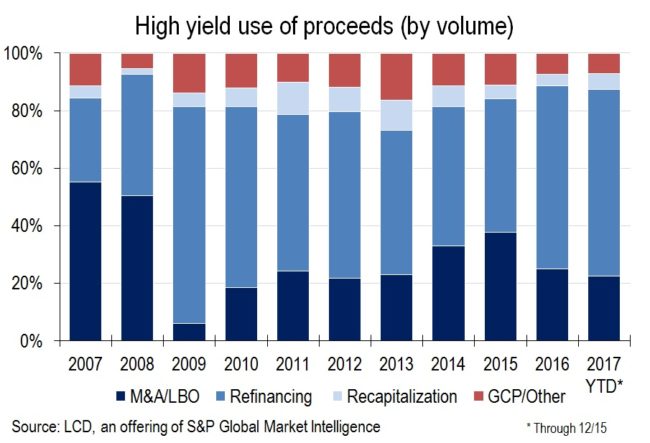 Apprehension around healthcare will also remain next year in light of "risks on the macro level" and stifled growth, says Andrew Feltus, co-head of high yield at Amundi Pioneer. "We're also seeing problems, such as collusion, in the generic drug market, and the opioid epidemic is starting to blow back on these guys a little bit."
S&P Global Ratings notes that negative bias for the healthcare sector reflects a 5-to-1 rate of downgrades to upgrades this year, concentrated in low-rated service providers and generic pharmaceutical companies. (Big pharma and medical-device concerns are relatively insulated.) "Our base-case expectation is for no major effects from legislation, but we can't discount the risk that further attempts to dismantle the Affordable Care Act, convert Medicaid to block grants, or regulate drug pricing at the federal level are possible," S&P Global said.
The agency assesses negative baseline outlooks for the retail and healthcare services sectors, and sees the outlooks as leaning negative for capital goods, chemicals, and telecom, the latter amid weak subscriber average revenue per unit (ARPU) trends, high capital spending for spectrum assets, and M&A risks. While discounters are a bright spot in retail, ratings outlooks across the broad retail sector were tilted heavily as of October to 34% negative, and just 4% positive.
Already in 2017, the thin ice cracked for some issuers, including PetSmart in retail and Community Health Systems in healthcare. Once considered a recession-proof retailer, PetSmart saw its 8.875% unsecured issue due 2025—which was placed in May at par as part of a $2 billion offering backing its ballyhooed purchase of Chewy.com—tumble on the break and continue on to trade as a distressed issue in December, at 60 cents on the dollar. Community Health 6.875% notes due 2022 traded at 57 this month, from 92 just five months earlier, amid swooning earnings and legislative tension.
Fallen angels
Morgan Stanley is prepping for roughly $70 billion total debt to enter the high-yield market via fallen-angel downgrades during 2018, or double the amount of bonds it expects to be lifted to investment-grade on rising-star boosts.
"Looking at the level of M&A activity by investment grade companies, should some stumble they could be downgraded and enter the high-yield market as many of them are already aggressively levered," says Ken Monaghan, co-head of high yield at Amundi Pioneer.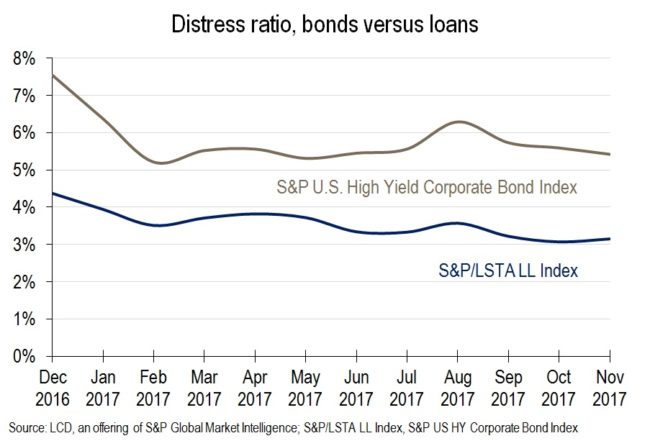 The market has already been preparing to transition Teva Pharmaceutical Industries' considerable $35 billion of debt to high-yield desks. Fitch in November lowered the company by two notches, to BB. As of mid-December, current ratings at S&P Global Ratings and Moody's were BBB–/Baa3, under negative outlooks. The company on Dec. 14 revealed a gutting restructuring plan to cut costs, but analysts and investors were left underwhelmed by the company's more vague assurances on its deleveraging capabilities and ability to retain the remaining investment-grade ratings. — Jakema Lewis
Try LCD for Free! News, analysis, data
LCD comps is an offering of S&P Global Market Intelligence. LCD's subscription site offers complete news, analysis and data covering the global leveraged loan and high yield bond markets. You can learn more about LCD here.