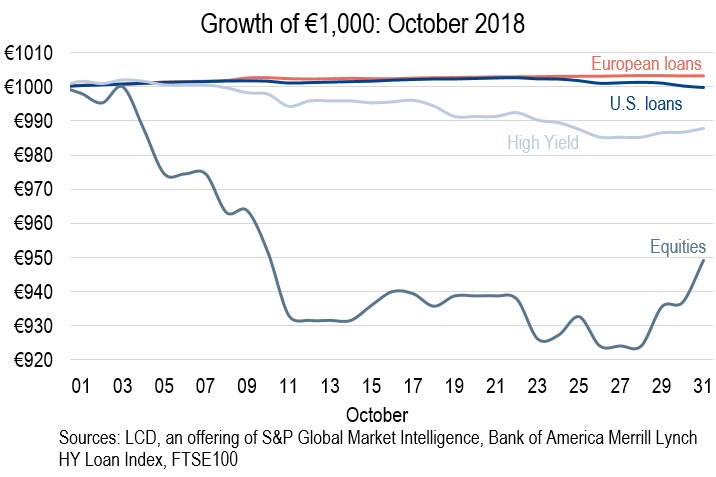 The European leveraged loan market proved its resilience once again in October. Amid a sharp sell-off in global equity markets and losses in high-yield, European loans remained in the black, while its U.S. counterpart and other European asset classes dipped into the red.
Consequently, the S&P European Leveraged Loan Index (ELLI) gained 0.33% last month — down from 0.56% in September and the lowest reading since the 0.43% loss in June. Nonetheless, October's return exceeded the monthly average so far this year of 0.27%, and the trailing 12-month average of 0.24%. For the year through Oct. 31 the ELLI was up 2.69%, lagging last year at this time, when it had returned 3.87%.
European high-yield bonds tracked by the Merrill Lynch European High-Yield Bond Index lost 1.22% in October, a five-month low, while equities were down 5.09%, for the worst decline since August 2015. As a result, European loans outperformed all the other asset classes that LCD tracks in October. – Marina Lukatsky
Try LCD for Free! News, analysis, data
LCD comps is an offering of S&P Global Market Intelligence. LCD's subscription site offers complete news, analysis and data covering the global leveraged loan and high yield bond markets. You can learn more about LCD here.