Issuance of leveraged loans in Europe hit a two-year high in October as speculative-grade corporate borrowers take advantage of cheaper financing now on offer in that market. But scratch the surface and conditions in the €211 billion asset class might not be as benign as they seem, participants say.
At first glance the European loan market appears to be heading to year-end in fine form. Deal volume in October, at €15.89 billion, was the highest since November 2017, propelled by a surge in "opportunistic" issuance, chiefly recapitalizations and refinancings, which accounted for €9.48 billion of activity, according to LCD. And the €6.14 billion of M&A-related loan issuance is the second-highest monthly total for that category so far this year.
The heavy flow of opportunistic deals comes amid continued pressure on pricing, with the yield to maturity on euro-denominated loans sold to institutional investors, such as CLOs, slipping below 4% for the first time this year. The average spread for riskier, single-B rated, euro-denominated deals in October fell to its lowest level since the start of January, to roughly E+380, according to LCD. Deals of note here include debt backing Blackstone and KIRKBI's take-private of British attractions group Merlin Entertainments PLC, which featured a £1.252 billion-equivalent institutional loan that priced at E+300, at a B+/B1 corporate rating.
But deals such as this tell only half of the story.
"The market in Europe is heavily bifurcated," said one fund manager. "It is possible to build a B/B+ rated portfolio yielding 3.5%, or one yielding 5%."
Looking at loans that were allocated for trading through October, single-B credits have prices ranging from E+300, as with fintech concern Finastra Global Ltd., Merlin, and healthcare company Sebia, up to E+500 for market research firm Kantar Group Ltd. and media concern Axel Springer.
Regarding higher-priced deals, a third of the loans completed in October that saw pricing altered during syndication — known as a price-flex — did so in favor of investors. In fact, the ratio of investor-friendly price flexes to issuer-friendly price-flexes in October matches April as the highest share in 2019, according to LCD.
The Kantar deal illustrates the pitfalls in the current European leveraged loan market.
The cross-border credit launched at the start of the month as part of a roughly $3 billion financing package supporting private equity firm Bain's carve-out of the research firm from WPP. Syndication of the loan quickly ran into investor reticence towards a credit that has underperformed in recent years, and to a structure that featured a high leverage multiple and skinny equity check. The investor stance reflects increasing lender sensitivity toward not only cyclical credits, but names that are perceived to be vulnerable to the type of technology-driven disruption which continues to cut and fell previously stalwart corporate names. The U.K. said goodbye, for example, to Thomas Cook UK Ltd. in October, a travel agent now in liquidation that was able to trace its history back to 1841.
Kantar also struggled in a rapidly weakening U.S. market for single-B loans. For Kantar, this resulted in a dollar tranche of just $250 million, priced at L+500, from a cross-border loan execution that was initially guided at $2.25 billion. The euro loan settled at €750 million, leaving the lead banks to carve out a $300 million amortizing term loan — to be sold to traditional, bank investors, as opposed to CLOs — to make up some of the dollar shortfall. The euros, too, priced a point tighter than the dollars, with the same margin, at 97 cents on the dollar.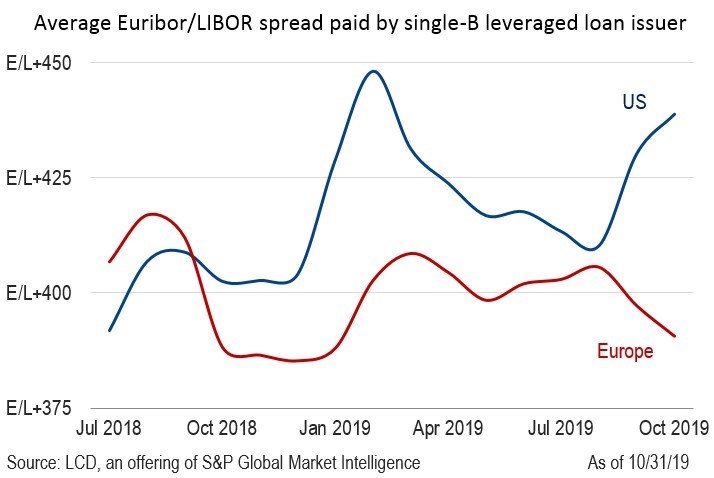 Stepping back a bit, weak demand in the U.S. has sent the average bid on U.S. leveraged loans down to levels last seen early in the year, when the market was finding its footing after a dramatic December sell-off. For all of 2019 there have been sustained outflows from mutual funds and similar vehicles, as retail investors shift away from floating-rate assets in a weakening-rate environment. Europe does not face the same problem, given that negative rates are floored at zero, thereby turning loans into a quasi-fixed-rate product, sources note.
"I'm not sure if anyone expected to get to this point of the year and find that loan demand in Europe is far stronger than in the U.S," a source says.
This dynamic has a real impact for issuers, as the single-B spread differential between euro and dollar markets is now at its widest level in at least 13 months.
Contributing to the U.S. market's woes is a spate of downgrades and trouble in key sectors such as energy, retail, and healthcare. This has impacted CLOs, which comprise 70% of U.S. demand for new-issue loans, and specifically CLOs' demand for riskier, single-B rated paper. This dynamic is pushing many lower-rated names to turn to BDCs or private credit for financing, sources said.
In contrast, creation of collateralized loan obligation vehicles in Europe has already surpassed last year's record volume. Activity may slow, however, in the final couple months of the year.
CLOs remain the biggest investor in leveraged loans.
"There has been so much supply in recent months from both new CLO vehicles and resets that liabilities are widening as a result," said one manager.
CLO liabilities are equity issued and funds borrowed by CLOs, to invest in bank loans.
Either way, the month's burst of new-issue loan activity has helped dampen some of the excess demand in the CLO space, according to LCD's net supply measure, although this does not take into account demand from European non-CLO loan managers.
Europe has not been immune from the troubles seen in the U.S. European leveraged loans posted their first monthly loss for 2019 in October, at 0.37%, and the average loan bid is now down to levels last seen in February. Even so, the effects are far from uniform.
"Much of the [secondary] fall is optical, and reflects shifting capital allocations, rather than a meaningful sell-off," said one portfolio manager. The market continues to see, for example, a move away from cyclical industrial names, which continue to trade down as a result, and there is a growing community of underperforming credits that look to be drifting into distressed territory, with little to no buying support.
Bank debt backing French funeral provider OGF, for one, lost around 10 points across October, taking it into the mid- to low 80s.
"Some of these falls look overdone, and provide a good buying opportunity for those with room," said one manager, who nevertheless did not include OGF in this category.
Europe, too, has seen BWICs — bids wanted in competition — emerge at a rate perhaps not seen since the final wind-down of the CLO 1.0 era, across the earlier part of 2018 (CLO 1.0 comprises vehicles established through 2007-08). These include the largest portfolio seen since the financial crisis, through a €425 million BWIC that emerged recently across 45 European and U.S names. Cumulatively, these sales have helped blunt some of the toppier secondary bids that proved more illusory than real, when tested through actual trading. Sources note that, for a loan without any meaningful call protection, it makes little sense to trade at the type of par-plus levels seen in high yield, and some of the month's falls have merely brought the market down to more realistic levels. This still leaves the roughly 42% of LCD's European Leveraged Loan Index quoted at par or above, though the share above 101 is now at almost negligible levels.
This still leaves room for loan repricings, which continue to emerge as credits put in place at higher price points at the start of the year exit out of their call-protection period. Colisee, Amedes and IFCO are just the latest examples. There is also exceptionally strong demand for double-B credits in Europe, even if loans will struggle to match the razor-fine terms on offer in the high yield bond market for many of these names. B+/B1 VodafoneZiggo, for example, priced its €2.25 billion, 9.25-year refinancing at E+300 in the middle of last month, which compares with a yield of 2.875% for a simultaneous offer of €425 million of 10-year notes. Grifols, meanwhile, looks set to price its eight-year offer of secured loans and bonds on top of each other.
These types of opportunistic trades may yet provide the main source of loan supply in Europe for the final couple months of the year. The near-term pipeline of M&A deals readying for launch is far from full, and many of the larger situations are more likely to emerge for syndication in the New Year. Cross-border borrowers, too, are likely to hold their fire while they wait for U.S. conditions to improve.
This could mean a cool end to the year for a European leveraged loan market that appeared to be heating rapidly little more than a month ago. But it could protect returns that are running at a more than respectable 3.6% for the year.
"It's been a decent enough year for most managers in Europe. Nobody is going to want to risk that at this late stage," said one investor.
This article was written by David Cox, who covers the European leveraged finance markets for LCD.
LCD is an offering of S&P Global Market Intelligence. S&P Global Ratings is a separately managed division of S&P Global.
Follow LCD onTwitter.
LCD comps is an offering of S&P Global Market Intelligence. LCD's subscription site offers complete news, analysis and data covering the global leveraged loan and high yield bond markets. You can learn more about LCD here.