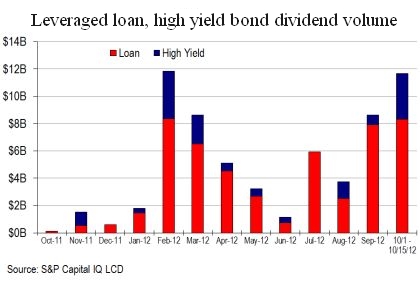 The leveraged finance market continues torrid. Indeed, one reliable indicator of capital markets froth is financing backing dividends, where an issuer – these days, often a company backed by a private equity sponsor – leverages up via a loan or high yield bond offering to fund a payout to shareholders.
How hot is the market? From Oct. 1-15 there were $12 billion of recap/dividend leveraged loans and high yield bonds launched, the busiest two-week period ever. Assuming those deals print, YTD dividend volume would total $61.7 billion, topping the prior full-year record of $56.9 billion in 2011.
You can read about how dividend loans work in LCD's Loan Market Primer.
This analysis is taken from a longer story, available to LCD News subscribers.
Other charts in that analysis
Volume of debt backing dividends  – annual
Dividend volume – high yield bonds
Dividend volume – leveraged loans
Dividend volume – private equity sponsors
EBITDA growth since 2008
New-issue yields, loans v bonds
Private equity-backed IPO volume
Average deal leverage, LBO v dividend