With more than $2.5 trillion outstanding in the U.S. high-yield bond and leveraged loan markets—twice that of pre-crisis volumes—and leverage at lofty levels, the opportunity set for investors specializing in buying up the debt of troubled companies could be significant. In time.
In this long bull market, default rates have remained stubbornly low, with the pool of debt trading in distress at nearly 80% less than the February 2016 peak. Right now, there just aren't as many companies in distress as there used to be.
"Pickings for distressed investors are very slim right now, but that can change on a dime," says Jeff Hammer, co-head of Houlihan Lokey's illiquid financial assets practice, adding that this market has always proven to be one where you need to move quickly, and in size, in order to make the kind of returns that can carry you through to the next cycle.
Covenant erosion
Covenant erosion has been an ever-present concern for investors on both sides of the Atlantic over the last few years, and while a lack of investor protections is deemed unlikely to increase the overall default volume, it may lengthen the default process if there is no covenant-related event to force struggling borrowers to the bargaining table with their lenders. Such a delayed default could potentially worsen recoveries.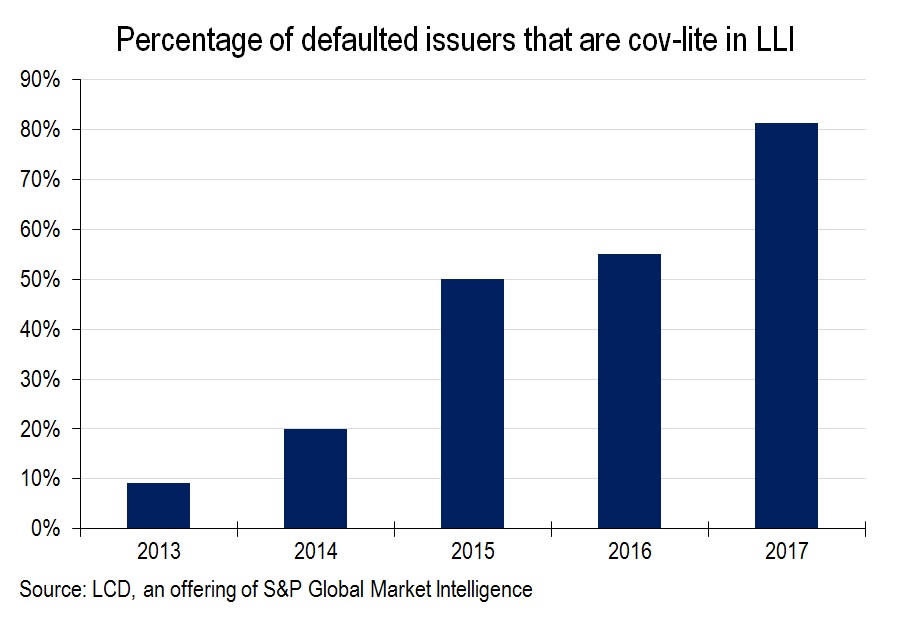 Among defaulted credits within the loan market, 81% of issuers in the S&P/LSTA Index in 2017 were covenant-lite. This compares to 55% in 2016 and to just 14.3% during the 2009 default peak. — Rachelle Kakouris