The surge in U.S. leveraged loan issuance last year brought covenant-lite loan outstandings to record highs. This is not surprising, of course, as seemingly every first-lien institutional credit rushed to market in recent memory has been cov-lite, as issuers take advantage of the insatiable investor demand for paper.
Cov-lite deals in some ways are structured akin to high yield bonds and are less restrictive than fully covenanted loans. Cov-lite loans feature incurrance covenants, meaning an issuer must meet financial tests only if it wants to take particular actions (pay a dividend to its private equity owner, for instance). Read more here.
As lower-rated borrowers came to the fore in 2017—single-B issuers accounted for 66.4% of all institutional activity last year, the most since 2014—the amount of single-B cov-lite issuance skyrocketed to a whopping $273 billion, far and away a record, and marking a roughly 77% increase over 2016.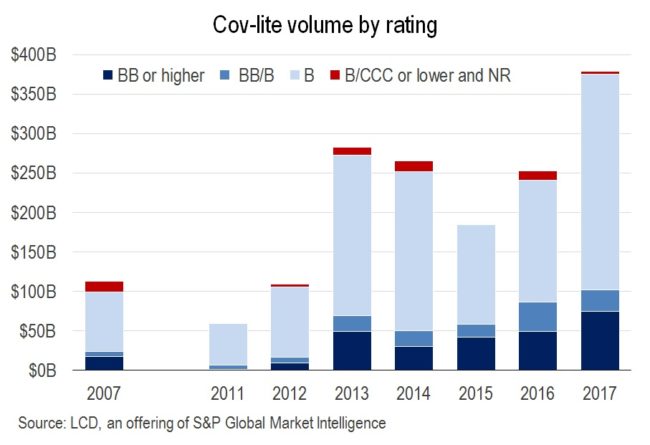 (S&P Global Ratings defines single-B rated issuers as "more vulnerable to adverse business, financial and economic conditions but currently [having] the capacity to meet financial commitments.")
And this activity from the lower-rated-issuer category is grabbing an even larger portion of market share in 2018 (though activity is down this year, overall).
A cov-lite world
Just how much did single-B issuers dominate the cov-lite landscape last year? Roughly 72% of all cov-lite issuance in 2017 came courtesy of these lower-rated entities, the most since the 76% in 2014 (again, activity in those previous years was well short of that seen last year).
This bull credit market cov-lite frenzy from the low end of the borrower spectrum has had a predictable result on outstandings. As of year-end, some $390 billion of the $959 billion in U.S. leveraged loans outstanding were cov-lite/single-B, compared to $320 billion at the end of 2016, according to the S&P/LSTA Loan Index.
While the overall market has downshifted so far in 2018, single-B issuance (and cov-lite) continues to drive the sector. Of the $46.7 billion in institutional issuance so far this year (through Feb. 9), $32.6 billion is single-B, or a 70% share. Of that amount, $27.8 billion is cov-lite. That's 85.2%, a record-high.—Tim Cross
Try LCD for Free! News, analysis, data
LCD comps is an offering of S&P Global Market Intelligence. LCD's subscription site offers complete news, analysis and data covering the global leveraged loan and high yield bond markets. You can learn more about LCD here.