U.S. high-yield funds recorded an inflow of $2.2 billion for the week ended July 19, the largest such inflow since the week ended April 5, when the total was $2.4 billion, according to weekly reporters to Lipper only.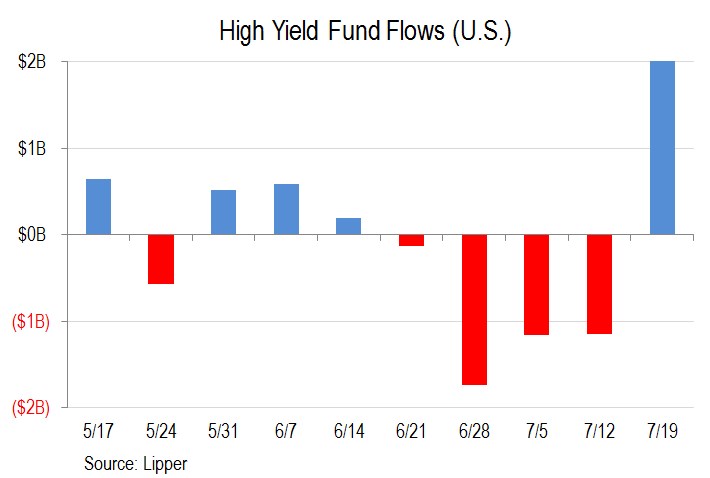 This inflow snaps four straight weeks of outflows from the asset class for a total outflow of $4.2 billion over that period.
ETFs made up the bulk of the inflow this week, at $2 billion. The $200 million inflow to mutual funds follows last week's exit of $1.4 billion.
The four-week trailing average remains in negative territory for the fourth consecutive week, rising to negative $453 million, from negative $1 billion last week.
The year-to-date total outflow is $6.6 billion, with a $8.3 million outflow from mutual funds outweighing a $1.7 billion inflow to ETFs.
The change due to market conditions this past week was an increase of $1.3 billion. Total assets were $210 billion at the end of the observation period. ETFs represent about 24% of the total, at $49.7 billion. — James Passeri
Try LCD for Free! News, analysis, data
This story first appeared on www.lcdcomps.com, an offering of S&P Global Market Intelligence. LCD's subscription site offers complete news, analysis and data covering the global leveraged loan and high yield bond markets. You can learn more about LCD here.