The global weakest links count continues elevated in 2016, led by oil and gas names, which comprise nearly a quarter of all weak links (59 issuers), according to S&P Global Fixed Income Research.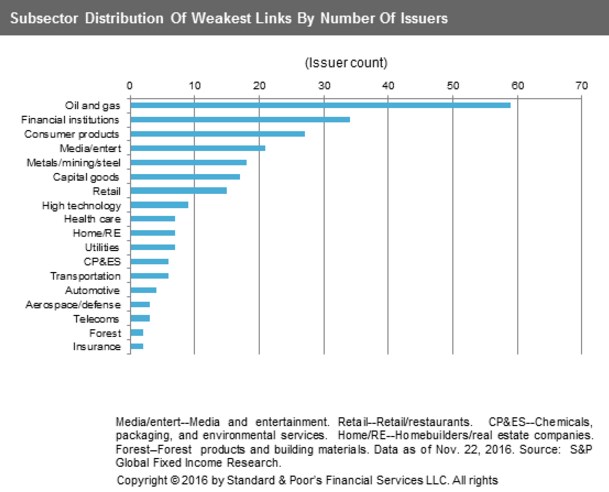 Weakest links are issuers rated B- or lower by S&P Global, with a negative outlook or implication. They are useful as potential default indicators because these issuers on the lower end of the speculative-grade spectrum are poised to be downgraded, and have a greater default risk than higher-rated issuers.
Total rated debt among the 247 weakest links clocks in at $346 billion.
S&P Global Credit Portal subscribers can access the full report here. 
Of the 250 corporate U.S. CLOs tracked by the composite, 16 fell in the weakest links category, led by oil-and-gas and media issuers, with four issuers each. Behind oil and gas, financial and consumer markets topped the weakest link issuer list.
Among the group of the top 250 corporate obligors in outstanding rated U.S. cash flow CLOs, technology firm Avaya was given a CCC rating, and put on a negative CreditWatch, along with Cumulus Media, Fieldwood Energy and Sequa. Ocean Rig and Caesars Entertainment also were booked with negative outlooks, both at CCC-.
There are 16 issuers that overlap with the CLO list, whose corporate ratings range from B- and CC, six being rated B-, four rated CCC, three CCC+, two CCC-, and one CC.
The top new addictions to the weakest links default count, primarily stemmed from the U.S., with 171, or 69%.2 of the global composite.
The average monthly weakest-link issuers count has not been higher since the 2009 recession. – James Passeri
Try LCD for Free! News, analysis, data
LCD is an offering of S&P Global Market Intelligence. LCD's subscription site offers complete news, analysis and data covering the global leveraged loan and high yield bond markets. You can learn more about LCD here.