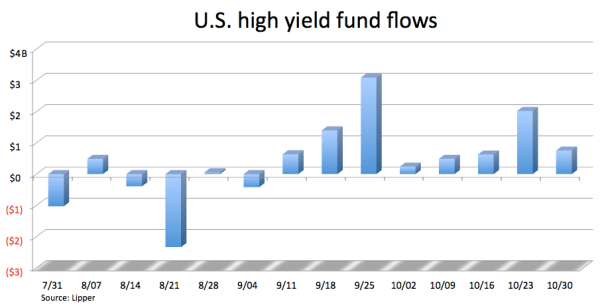 Retail cash inflows to high-yield funds contracted to $753 million for the week ended Oct. 30, from $2 billion last week, and ETFs again were a huge influence, at 67% of the total, versus 72% last week, according to Lipper, a division of Thomson Reuters.
It's the eighth straight week of inflows for a total of $9.2 billion over that span. The four-week-trailing inflow average expands to $972 million per week, from $843 million last week, and $1.1 billion in the week prior.
Inflows total $2.2 billion for the year to date, versus a modestly negative reading two weeks ago. ETF inflows total $2.37 billion in the year to date, versus outflows of $136,530 for mutual funds.
Seven weeks ago, during the depths of cash withdrawals over the summer, the year-to-date reading was for outflows of $7.6 billion.
Inflows stood at $22.7 billion at this point in 2012 with 38% tied to ETFs.
Net assets of the weekly reporter sample totaled $170.3 billion at the end of the observation period, with ETFs representing roughly 21% of the total, at $36 billion. Net assets are up $8.3 billion in the year to date, a gain of 5% for the year.
The change due to market conditions was positive $478 million. The change due to market conditions in the year to date is positive $11.2 billion, a gain of 7%, according to Lipper. – Matt Fuller
Follow Matthew on Twitter @mfuller2009 for leveraged debt deal-flow, fund-flow, and trading news